Not as good as before
By
Heather O.

(Douglassville, PA) - February 18, 2014 (
See all reviews by this customer
)
I purchased one of these frames 4 years ago and absolutely loved it, this purchase seems to be produced with much cheaper product then prior. It was very disappointing to open the box to a cheaply made frame compared to the previous one I had purchased.

Product has been changed and not for the better
By
Shopper

(Topsfield, MA) - March 2, 2013
I had been given this frame as a gift for my first daughter, 3 years ago, and was beyond thrilled with it. The color pink was perfect, almost a mauve, and it had the option of being hung on the wall. Because of this, I ordered one myself for my second daughter and was expecting the same frame. However, it is very changed. The color pink is very light and bright, making the white text on the frame hard to read. And, the option of hanging the frame has been removed, so it can only sit on a table. I had planned on hanging both frames next to each other on the wall but this is now going to require some work on my part to attach a hanger and also the pinks do not match - they clash. I'm very disappointed.

Color is off
By
Shopper

(Eldersburg, MD) - January 29, 2013
I was not pleased with the shade of pink. It doesn't match the color that shows up on the computer. It is brighter. I was looking for a softer baby pink.

Pretty
By
Shopper

(Hamilton, OH) - March 30, 2012
The frame is beautiful. My only disappointement was online the pink looks a lot softer. When it arrived, I was shocked how bright the pink was. I'd recommend choosing a different color if you don't like flashy colors.

Personalized Baby Frame
By
Shopper

(Los Angeles, CA) - November 27, 2011
The frame looked very nice and it was beautifully engraved. I don't know what I was expecting but the material it was made of was not the quality I thought it would be. From a picture you can't touch it.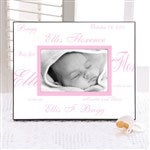 Good not Great
By
Shopper

(Mitchellville, MD) - September 20, 2011
The pink is very sweet and perfect for a baby girl however the contrast between the pink and white does not allow the words to show off as much as the black and white wedding one of these I gave another couple. It is still a much appreciated gift.

baby frame
Nice personalised gift, different and original.

cute but plain
By
Shopper

(Kearny , NJ) - May 3, 2011
order this frame as a gift. Love the frame with all the information. But is was missing something the pink on white made it seem like the frame was too plain even though it had the name, weight and day the baby was born. Mabe if the pink was a little darker. If the frame had like a little faded back ground picture of little baby hands of little baby feet. It wouldn't look so plain. The white frame was too much. Over all the frame was cute and with all the babys information it nice. The quality and the price was great. They person still loved the gift.

Different Color - Not as vibrant
By
Aliyah S.

(Los Angeles, CA) - December 3, 2010 (
See all reviews by this customer
)
I ordered this to match the one I have for my older daughter and the color is very different. The older one - from two years ago - is a vibrant salmon. This is much paler and I think not as pretty.

Aliyah

Could have been happier
By
Rochelle H.

(Louisville, KY) - May 18, 2010 (
See all reviews by this customer
)
I ordered my frame and got it in record time. Unfortunately the blue trim around the picture hole was not staight. I was sent another frame in a timely manner, but it's only slightly better. Love the frame and everything about it....just wish the blue trim was straight. I think they need to calibrate their template. I did not bother trying to get another frame.

boys frame
By
claudia R.

(satellite beach, FL) - April 9, 2010 (
See all reviews by this customer
)
I have ordered frame in the past from personalization and have been happy with them however this time the frame didnt look that great..it looked very cheap maybe it was because the blue and white just dont show up well together..I ordered a pink frame previously not this style and it was really nice. I would not buy this particular frame again.
I didnt think it was worth the price. Maybe 12 dollars or something but certainly not 20.

Slightly Disappointed
By
Emily O.

(Eau Claire, WI) - March 3, 2010 (
See all reviews by this customer
)
I ordered this frame thinking it was inscribed on the frame similar to the wooden frames offered, but it was printed. It is definitely not as nice as the wooden frames.

Great gift
By
Mary M.

(Shelby Township, MI) - February 3, 2010 (
See all reviews by this customer
)
Quality is okay however I have purchased quite often--mainly because new parents absolutely love this!!!

Its alright
By
Michelle Q.

(Maplewood, NJ) - February 3, 2010 (
See all reviews by this customer
)
I thought that the letters would be as bright and clear as the proof was- It looks more like a it was printed out of the computer and taped on. I've had better luck with other items.

Personalized Baby Frame
By
Shawn S.

(Auburndale, FL) - December 8, 2009 (
See all reviews by this customer
)
I am a little disappointed with this item. The pink on white background colors aren't as vibrant as they appear on the website. In reality, the pink looks faded, almost as if the printer was low on ink when it was printed. I have purchased the white and black personalized wedding frame before and was very pleased with it. This is still a nice gift, mostly because of the personal touch, but just doesn't meet my expectations based on the website presentation.

simplify
By
Stephanie R.

(Highland Mills, NY) - October 29, 2009 (
See all reviews by this customer
)
Wish I did not have to enter the birthdate so that it does not look so babyish and can be used for many more years.