Durable
By
Cynthia O.

(Champaign, IL) - February 20, 2014 (
See all reviews by this customer
)
My husband was thrilled about having a personalized mug, especially because its difficult to find things with his name on it. But I do think it was a little overpriced for only being 12 oz. Overall, he loves it and that's is all that matters.

Do Not Soak
By
Gwendolyn H.

(Prestonsburg, KY) - April 1, 2013 (
See all reviews by this customer
)
My husband loved this mug (probably because of the design), but the handle fell off after the cup soaked in dishwater overnight! I'm ordering another, and will be more careful. However, our other travel mugs have lasted 10 years and numerous "soakings".

Great graphic
By
Shopper

(Riverview, FL) - February 11, 2012
Mug is smaller and lighter than I expected. Printing was superb! Very professionally done.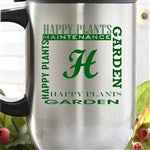 the cover is not very securee
By
Shopper

(Roseville, MN) - January 3, 2012
The color and design are ok

too small for a man
By
Shopper

(Charlotte, NC) - December 29, 2011
I ordered this for my husband for Christmas. What he does not like about it is that the handle is much too small for his hand and that is is not dishwasher safe. Otherwise, the mug is good and the personalization is great.

Good cup......
By
Shopper

(lithia springs, GA) - December 22, 2011
I brought this a few months ago and the cup handle broke almost as soon as I opened it. However customer service was great the mailed me another one and this one feels much stronger. I will continue to buy from personalization mall........


print
By
LORRAINE G.

(Canada) - September 19, 2011 (
See all reviews by this customer
)
nice mug but I was a little dissapointed that the print was only on one side and the person using the cup cannot see it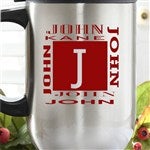 Fast, Nice, but...
By
Shopper

(Oak Hill, VA) - February 20, 2011
Does not really fit the cup holder well. Measurements do not give total picture since it is narrower at bottom and wider at top. Also, these mugs here are elsewhere never seem to be dishwasher safe. Wish they were. Great turn around speed as ever.

mugs ok
By
Shopper

(Alva, FL) - January 17, 2011
The personalization on the mugs were terrific but I was disappointed not so much in the mugs themselves but the handles. They were a little flimsy to me. I would not have bought them had I seen them in a store, but with the discounted price they were acceptable.

disappointed
By
Deanna R.

(Sistersville, WV) - December 31, 2010 (
See all reviews by this customer
)
I ordered two of these, one in blue and one in red. The blue one looked like the picture, but the red one was definitely not a red. The color was more of a copper. Very disappointing.

A Little Disappointed
By
Brenda D.

(Birmingham, AL) - June 25, 2010 (
See all reviews by this customer
)
Perhaps I should have read the description more closely. I had anticipated a slightly larger mug. And I had hoped that it would have a plastic liner similar to the one I currently own.

I think $22.95 is a bit pricey for the quality of this mug. Most of the charge must be for the personalization. I purchased two mugs as gifts for Father's Day. One lid didn't fit at all, and the other was not as secure as I would have liked. However, the company promised to send two replacement lids.

The personalization and turnaround on the product were excellent. I am willing to try other products in the future.

Travel Mug
By
char T.

(East Leroy, MI) - June 17, 2010 (
See all reviews by this customer
)
The quality of this travel mug is good. The lettering and design are clear and crisp...no running or blotching of the ink.
Although the preview picture showed the BLUE I ordered as "BLUE",(to match the blue of my husbands' company) it actually looks more like a dark purple on the travel mug.

You Name It© Personalized Travel Mug
By
Rosalind N.

(Bedford, TX) - March 4, 2010 (
See all reviews by this customer
)
I purchased 4 mugs for business purposes. I love the personalization. It came out perfectly!!! However, the quality of the mugs itself has a little to be desired. First of all it isn't insulated inside, and the lid just pushes in and doesn't fit real tightly on it. I would not order them again only due to the mugs they use.

Cup
By
Gloria Yvonne A.

(Chicago, IL) - December 28, 2009 (
See all reviews by this customer
)
Cup was smaller then it looks online and the Name appear smaller as well

Medium quality mug
By
Sharon T.

(Broadway, NC) - December 26, 2009 (
See all reviews by this customer
)
The personalization on the mug was great but the quality of the mug was just okay. I have seen much better mugs, this one was very light weight.

red not bright
By
Sharon R.

(houston, TX) - December 25, 2009 (
See all reviews by this customer
)
I chose the red ink version of this mug and it was more rust colored. I also expected, from the preview picture, that the print would be bigger so I was dissappointed in that too. The mug is a nice size for a travel mug, but the personalization could have been more true to the preview picture.

Light and bright, but will it last??
By
Chris F.

(San Francisco, CA) - December 19, 2009 (
See all reviews by this customer
)
Excellent personalization of the product.
The mug is rather thin, and light for me, so not sure of how it will stand up to long term use