Personalized Jewelry Box
By
Shopper

(San Diego, CA) - May 6, 2013
Fast delivery and pack in good condition.

cute
By
Shopper

(Milton, MA) - May 16, 2012
For a jewelry box it is very small and it is hard to see the engraving. Besides that it's very cute and I am thinking of getting one for my cousin.

jewerly box
By
Shopper

(malvern, PA) - January 29, 2012
i was a little disappointed with the jewerly box. the trim around the top piece of glass did not meet up and there was a gap. also the name i had put on the top was already starting to come off a little. looks like it was a transfer rather then enscribedon the glass which i would've prefered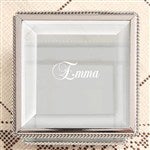 Nice but fragile
By
Amanda P.

(MIAMI, FL) - December 27, 2011 (
See all reviews by this customer
)
I bought 2 of this item but unfortunately 1 came broken. It's nice but I thought it would be bigger as shown in the picture. Overall, it's nice but you have to be careful and pray it doesn't break on the way.

Used for GiftCard
By
Martina F.

(Mount Vernon, NY) - December 28, 2010 (
See all reviews by this customer
)
It is not big enough to be considered a jeweyery box. So, I used it for a gift card holder and the presentation was beautiful and the person who received it loved it and will used as a small candy dish.

So-So
By
Kimberly B.

(Quakertown, PA) - December 13, 2010 (
See all reviews by this customer
)
Wasn't that impressed. I imagined this item would be somewhat sturdy. I could hear it rattle in the box. While it is pretty, I thought the quality would be better. The lid doesn't seem to be attached strongly enough. This was purchased for a Christmas present and I can honestly say I am not sure I will give it to the recipient even though it is engraved.

the box
By
Michelle H.

(Waldorf, MD) - November 1, 2010 (
See all reviews by this customer
)
The box was nice, but the price was to high for what it is and for the small size of it, and with shipping incl it was not worth the cost.....

Pretty/Too Small
By
Danielle C.

(Southaven, MS) - August 26, 2010 (
See all reviews by this customer
)
I received my order today and to my surprise.....I immediately noticed how small the package box was. I then became alarmed into thinking to myself...please tell me my order is as big as this package box. Surprised no more...I opened the package box and then saw the lil white box inside of it...I was so disappointed with my findings. The engraving is pretty, but the box is much too small for what I was thinking it was going to be. It's a gift for my sister and the only jewerlry she will be able to put in this box is her wedding ring.

Pretty but Lacking
By
Terry H.

(Cleveland, TN) - July 5, 2010 (
See all reviews by this customer
)
Overall the box is pretty even tho xtra small for the $. I was disappointed in the quality as it arrived with the lid hinge off on one side. I did manage to find the pin in the box but it is still flimsy/shaky...a little embarassed giving it to my new daughter in law as she was dressing for the ceremony....but not much could be done at that point.

A little disappointed
By
Jessica D.

(Aliquippa, PA) - June 10, 2010 (
See all reviews by this customer
)
Although the jewelry box was very close to its description, I was a little disappointed in the overall quality for the price. However, I was very happy with the engraving of the name.

Size
By
Shari S.

(Milford, CT) - May 7, 2010 (
See all reviews by this customer
)
When I first got the package in the mail I was surprised that the box was so small. and as I unwrapped the package when I was even further disappointed by the actual size of the jewelry box. Its pretty but thats about it!

Jewelry Box
By
Janet D.

(Forest Lake , MN) - April 21, 2010 (
See all reviews by this customer
)
I was surprised at how small it was- It looks a little cheap for the price I paid

broken
By
Clare M.

(Hampstead, MD) - April 19, 2010 (
See all reviews by this customer
)
Very pretty box. Ordered it on a Sunday,received it two days later.

The packaging for shipping could be better. The screw from one of the hinges was rolling around in the box when I recieved it. I do not have time to send it back and get a new one. I will try to fix it on my own.


A bit expensive
By
Laurie M.

(Aurora, CO) - November 22, 2009 (
See all reviews by this customer
)
Nice but very small. Too expensive for what you get