Pocket watch
By
Karen H.

(Lahaska, PA) - September 19, 2014 (
See all reviews by this customer
)
I was disappointed with the engraving. I had expected it to be etched. I had also expected a larger center initial and possibly a fancier font.
The watch is quality. The personalization disappointing.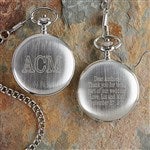 Nice but difficult to read engraving
By
Shopper

(Saint Paul, NE) - July 24, 2014
For the most part the watch that I purchased is very nice. However it is a little difficult to read the engraving on it, because the metal on the watch is not smooth. There is kind of a scuff pattern on it perpendicular to the writing. You can only read the engraving if you look at it from certain angles. Other than that it is a nice watch.

Bad engraving
By
Deborah S.

(Booneville, KY) - December 22, 2013 (
See all reviews by this customer
)
I love the watch itself, but the engraving I had was not very good. You have to keep moving it around to see what it says, it is barely noticeable!

Nice, but???
By
Shopper

(Auburn, NY) - December 12, 2013
The watch was a good value for the price, but the engaving is hard to see if not in the correct angle to the light. If the engraving was deeper/ heavier I think that might solve the problem. I hope the engraving department reads this review.

Herrington Engraved Silver Pocket Watch
By
Shopper

(Hoover, AL) - June 17, 2013
I am Not very satisfied. It is hard to read the written peom inside the pocket watch because of the silver color used to write on silver pocket watch.

SEEMS FINE BUT
By
david F.

(ELMIRA, NY) - May 14, 2013 (
See all reviews by this customer
)
iT SEEMS LIKE A FINE WATCH BUT VERY MODERN LOOKING PICTURE NOT ACCURATE

It was okay.
By
Shopper

(Wagoner, OK) - February 16, 2013
Not at all what i was expecting. It wasn't even real silver. It was plastic and silver colored. The quality was okay, but he loved it so I guess I'm happy. Sometimes when you open it on top it stops the whole watch.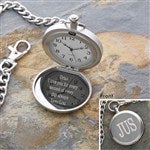 A Bit Cheap Looking
By
Shopper

(Milford, CT) - January 25, 2013
While the shipping was decent and the company followed all of my instructions, I found that the product itself was a bit cheap looking.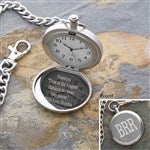 nice but not as nice
By
Bianca C.

(Ronkonkoma, NY) - December 10, 2012 (
See all reviews by this customer
)
I had purchased a clip-on watch from this site earlier this year. Unfortunately, my husband left it on his jeans and it went thru the wash. Not offered anymore, I bought this one but the quality is not as good. It's just OK. Perhaps I'd feel differently had I not seen or bought the other.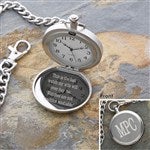 Cheap look
By
Catherine X.

(Westfield, NJ) - November 23, 2012 (
See all reviews by this customer
)
I was disappointed in this watch. It felt tinnie and cheap. The chain was bulky and cheap, too. The engraving was nice, but the watch was not!

Fast isn't always best
By
Shopper

(Plainwell, MI) - June 25, 2012
The watch works pretty good and the engraving is beautiful. The only complaint I have is that it was put together so fast that the outside plate wasn't put on correctly and was already partially falling off when I received it 2 days after ordering.

Pocket Watch for Fathers Day
By
Shopper

(Brentwood, TN) - June 21, 2012
After comparing prices for engraved pocket watches, I thought I had found a fantastic deal! It looks really good in the picture however, the quality is not that good- it is made of a very light weight, soft metal that scratches easily. The engraving is really the best feature here as the watch itself is more of a token than a quality product. If your looking for more of a thoughful personal gesture than an actual useful watch, then this probably is your best bet for the money but if you are looking for a sturdy, watch you may be dissapointed.

watch
By
Shopper

(El Paso , TX) - March 5, 2012
this watch is nice and very touching however the quality isn't as well as I thought and the engraving want on the watch gave its on the inside cover instead.

Engraving needs some work
By
Kristin N.

(Glen Burnie, MD) - January 27, 2012 (
See all reviews by this customer
)
The pocket watch itself was pretty nice, but the engraving was off center and not as thick as I would have hoped for. You really have to look closely to see what it says.

Good value for the price
By
Shopper

(Glendale Heights, IL) - January 11, 2012
I was rather disappointed with the engraving on this item. I felt the monogram on the outside of the watch was too large, stretching the letters out and making them difficult to read. I would have liked to be able to choose the size of the font. The four lines of engraving on the inside cover was impressive and looked attractive, but the entire thing was off-center. Since it was a last-minute idea for Christmas, I didn't have time to return it to have it redone. I would still purchase items from this site, but I'd allow more time when ordering around the holidays so that more care is taken. Since I ordered it in the evening and the watch was out the door and on its way to me by the next morning so that I could get it by Christmas, I'm sure the engraving was rushed a bit!

Everything was great except...
By
Rosie A.

(Union City, NJ) - December 23, 2011 (
See all reviews by this customer
)
They did not center the engraving inside the watch. That was REALLY irritating to me. As you can see, it's beautiful and centered in the preview, but it was off to one side in the real one. I still get upset when I think about it. But of course my boyfriend saw past that and adored the gift; the whole Life (without parole) thing made him chuckle just as I had hoped. I had gotten it for our one year anniversary.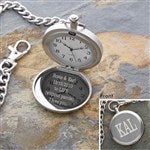 Very lovely at first glance
By
Shopper

(Long Beach, CA) - November 28, 2011
Looking at the pocket watch, it is very shiny and beautiful. I just wish that it were a little less traditional in the number font. The chain is also too long. But it is going to make a nice gift.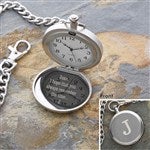 Don't buy the "gift box"!!!!
By
Emily F.

(Winston-Salem, NC) - November 20, 2011 (
See all reviews by this customer
)
The watch itself was great and the engraving was just as I ordered it. What bugged me, however, was the fact that I paid $5 for a gift box that had personalizationmall.com's logo all over it!!!!! They actually had the nerve to have ME PAY to advertise for THEM! Absolutely not! I threw it out and bought a plain box. Had it not been a week before my wedding (which of course meant chaos and zero time to do anything else) I would have called to complain and to get my $5 back. Every piece of packaging they sent had their logo on it. Not a small, inconspicuous logo, either, it was big and in your face. Not something I was ok wrapping a sentimental groomsman gift in. Ugh!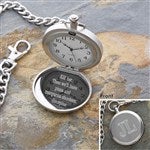 Inscription too fine
By
Nariman P.

(Seaford, NY) - September 24, 2011 (
See all reviews by this customer
)
The watch was beautiful but the inscription was so fine you could barely see it. In the future please make the inscription a little deeper.

Father's day gift
By
Tara K.

(Blackwood, NJ) - June 28, 2011 (
See all reviews by this customer
)
loved the engraving...however a little disappointed in the quality of the watch. Expected it to be much more "substantial" .

Clunky
By
Shopper

(Pueblo, CO) - April 13, 2011
I ordered this as a keepsake present and am not very happy with the product. It is "clunky" and seems inexpensive. The engraving is small so a bit hard to read. the watch feels heavy, but definitely not high quality. you are better off finding something from one of those kiosks in the mall.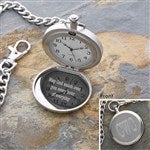 Decent
By
Tabetha R.

(Brook Park, OH) - January 2, 2011 (
See all reviews by this customer
)
It looks really nice but it scratches really easily.

nice but disappointed
By
Jaime I.

(Belleville , NJ) - December 13, 2010 (
See all reviews by this customer
)
christmas is around the corner and i was looking forward to this gift for my father and when i got it it doest even work wow i order from this place for a long time and i ran into this not happy about it

Ok watch......
By
Courtney N.

(Le Roy, KS) - April 28, 2010 (
See all reviews by this customer
)
this watch is okay, however, the same day i gave it to my boyfriend, the front of the the watch got all scratched and it was in his pocket the whole time. Other than that the watch seemed to be okay.

Looks great
By
Rachael R.

(Columbia, SC) - January 28, 2010 (
See all reviews by this customer
)
Giving it three stars because I'm not sure of its mechanical capabilities yet (bought it as a gift and haven't set the time yet). Looks fine. Wish there were more options for the font engraving - would have preferred filled in block letters for the initials.

cute
By
Myka K.

(Leitchfield, KY) - December 26, 2009 (
See all reviews by this customer
)
It is cute but not very well made.

Wife in New Mexico
By
Dali F.

(Roswell, NM) - December 25, 2009 (
See all reviews by this customer
)
Ordered this for husbands Xmas gift. He really liked it but I was disappointed in the fact that the engraving is hard to read set against the mirrored backing and for the price it is kinda of cheap looking. Don't think I will order this type of jewelry in the future on the internet. Better to see in person this sort of purchase.

JUST OK
By
Roberta L P.

(Clearwater, FL) - December 14, 2009 (
See all reviews by this customer
)
This was a great idea for Christmas but the product is not as nice as I thought it would be. The watch is cheap looking.

Engraved pocket watch
By
Cindy K. O.

(Clearwater, FL) - December 6, 2009 (
See all reviews by this customer
)
I ordered several personalized items at the same time for Christmas gifts. Everything was perfect, however, the engraving on the pocket watch for my son is so "faint" that it's difficult to read. You must hold it at an angle in just the perfect light to be able to tell that there's any engraving at all.