Printing too light in color
By
Lynne K.

(Macomb, MI) - June 3, 2014 (
See all reviews by this customer
)
I love the items that I choose as gifts, but must say I am disappointed that the pink and light blue colors that I choose for 2 of the Personalized Travel Mugs as they are not as noticeable as I thought they would be. I thought the printing would show up much better on the silver.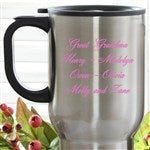 Good looking mug
By
Shopper

(Rome, GA) - October 8, 2013
The only reason I am rating this mug a 3 is because it is a Birthday gift for my
Husband and I have not yet given it to him. I am sure it will be a 5 star because the tumbler I bought is.

Good
By
Shopper

(Stamford, CT) - July 28, 2013
The person love the present

Personalized Travel Mug - printing choices
By
Shopper

(Snohomish, WA) - June 18, 2013
I was disappointed that I didn't get to choose which side the printing would be on the mug. My husband is right handed and would have liked to see the personization when he picks up his mug to drink his coffee.

This mug is a little plain!
By
Nicole C.

(Mays Landing, NJ) - December 13, 2012 (
See all reviews by this customer
)
The quality was good. I just thought it was a little plain when I saw it. It was smaller than I thought also but that was my fault because I didnt pay attention to the ounces it holds. I did like the printing of the quote!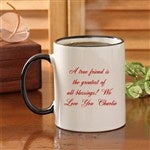 Ok... nothing special
By
Shopper

(San Mateo, CA) - December 12, 2012
This mug is sturdy and seems well made and durable. However it looks a little plain, it's just write with the red font. The font size is a little small so the mug is a little boring looking.

Little pricey
By
Sharon B.

(Murfreesboro, TN) - November 14, 2012 (
See all reviews by this customer
)
Even though this was a little high in price, I bought it for my son-in-law who is going to be a new father and it gave me the space I needed for all the words.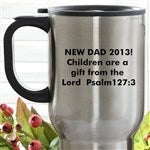 Hygeine Quality Low
By
David D.

(APO, AP) - January 27, 2012 (
See all reviews by this customer
)
I currently live in South Korea and I had this item mailed to my PO Box. It took 6 weeks for it to arrive through FEDEX smartpost so if you have an overseas P.O. Box address like I did, then you will have to consider the amount of time it'll take to arrive to your address. It usually only takes orders like this to arrive within two weeks but FEDEX smartpost wasn't like that. I didn't know it would take 6 weeks so I was very late to give my present to a friend of mine. Also, the cup came to me a bit dirty. It had marks here and there with a little bit of scratches so I had to wipe it with a cloth a lot. I also thought it would be a bit taller but it's only about 6-7 inches tall. I think it looks cute, though. It's a nice little travel mug. The letter engraving on the front looks great. I just hoped it would have been a little bit more clean and arrived faster than it did.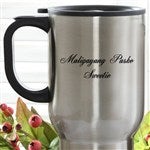 Great Scripture, Cheap Mug
By
Shopper

(Topeka, KS) - December 27, 2011
The personalization was great! The mug wasn't terrible, just kind of Generic.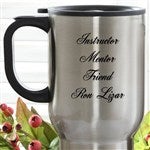 Nice
By
Marie C.

(Plant City, FL) - December 23, 2011 (
See all reviews by this customer
)
The cup was of good quality however the writing was very thin and because of the type of writing you can barely see it..looked better in the picture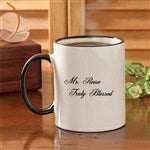 Personalized mug
By
Shopper

(port jefferson station, NY) - June 17, 2011
The mug is nice but smaller than an actual travel mug. Also I ordered red ink and it looks brown.

smaller than it looked
By
Shopper

(st. louis, MO) - March 20, 2011
For the price, I thought that the mug should of been bigger. I would not purchase it again, unless on sale.

Color of wordings are very light
By
Elsa L.

(Forest Hills, NY) - February 22, 2011 (
See all reviews by this customer
)
The travel mug is a fine one but I do have some issues with the quality of the personalization of the item. The color of the wordings are very very light (I chose light blue) and they are almost hardly visible. The fonts are also very tiny and cannot be read without zooming real in.

Good
By
Deyan K.

(Augusta, MI) - June 4, 2010 (
See all reviews by this customer
)
The stainless steel mugs aren't as high quality as I thought they would be. They look very cheap and not durable at all. I just hope my first impression is not right and they will last long time.

Crooked writing...
By
Neil W.

(Somerset, PA) - December 15, 2009 (
See all reviews by this customer
)
I have to say I was really excited about this travel mug for a christmas present for my stepmother, when I got it, the writing was crooked :( I was a little disappointed, however it arrived 3 days after I ordered it. Which was nice!