Cool but small
By
Shopper

(Lakehills, TX) - December 8, 2013
I like this mat but it was wayy thinner than i thought it would be. Looks good tho!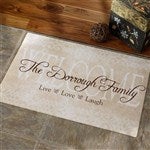 Good wedding Gift
By
Shopper

(Orient, OH) - April 8, 2013
I purchased three of these mats for friends that are getting married later this year. The design and overall look of the mats are wonderful, they came out great. I did get them on sale which was awesome but I probably would of not bought them for full retail. They are very thin and I don't think they would work to well to actually clean off your shoes, but it is a cute decoration.

Product Cost alittle High
By
Mathew B.

(Gladstone, MO) - April 7, 2013 (
See all reviews by this customer
)
I like the product and it seems to be made of okay material. But in this time when the economy isnt great the Price is way to high you should meet more with the median within times. I think that you would gain more return business if you lowered your price

Pretty but thin
By
Shopper

(Mayville, ND) - December 29, 2012
The doormat is very nice looking and the personalization fits perfectly with the colors already on the mat. The doormat is very thin and doesn't look very durable. The mat was rolled up and taped when shipped. When I took the tape off some of the backing came off. I don't think the mat will last long. This should be sold as decorative only.

Doormat
By
Christine Y.

(Roslindale, MA) - December 26, 2012 (
See all reviews by this customer
)
Love the printing but I wasn't impressed with the quality of the doormat nor the color....I thought it was going to be darker and thicker.

Looks Great!
By
Joanna W.

(Isanti, MN) - February 13, 2012 (
See all reviews by this customer
)
I purchased this for a wedding gift! The recipients loved it, however, they put it inside their bedroom, so it wouldn't get ruined. Cheap rug, with paper screenprint added on. Seems undurable, so don't recommend if buying for its actual purposes.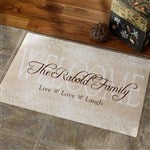 Great Doormat but a little small and thin
By
Shopper

(Playa Vista, CA) - January 17, 2012
Loved the look of this doormat, especially with the personalization, but it really should be larger and thicker to serve as a more useful, and lasting, doormat.

Nice from the front
By
Shopper

(Methuen, MA) - December 6, 2011
I love, love, love all the products I purchase from Personalization Mall. I was, however, disappointed with this item. The rubber on the back had several dots that were deteriorating. This is a gift for my boss, so needless to say, I am hesitent as to what he will say! I would have given 5 stars if not for that issue.

Nice Welcome Mat
By
Shopper

(Penngrove, CA) - November 22, 2011
This welcome mat is very nice. It arrived very quickly and looks exactly like the picture. It has a rubber type back and is a good size. The reason I am only giving it 3 stars is because it looks dirty very quickly. The color of the mat is a light tan as seen and it is showing every foot mark. Next time I would order a darker colored one.

Colorful and correct but lacking quality
By
Shopper

(Sagamore Hills, OH) - October 7, 2011
This is a pretty door mat, but would never stand up as it is very thin and not durable. It is just for show.

Beautiful, but probably not durable.
By
Shopper

(Mount Vernon, SD) - September 6, 2011
It is a beautiful rug, but very difficult to keep clean/or clean it once soiled. Any suggestions? The material gets very "fuzzy" and kind of lifts when you start to clean it.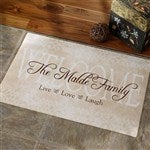 Pretty/durable?
By
Shopper

(Hilton Head, SC) - August 26, 2011
They are pretty to look at. After a small amount of use the material seems to pill so do not use in heavy traffic area. The other one I purchased is stained and cannot be removed so a mat that is fragile is hampering the effectiveness of the product

disappointed with personalization
By
Joy K.

(Graceville, FL) - March 19, 2011 (
See all reviews by this customer
)
I ordered this as a housewarming gift for neighbors. When it arrived, it simply had their surname, not 'The Adams Family', as I was expecting. Upon careful review, I did notice the small print, that you had to insert 'The' and 'Family', which I had assumed would be done....nevertheless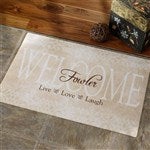 Rug gift
By
Shopper

(Wakefield, MA) - February 11, 2011
Bought this as a gift. I have yet to hear how it will clean. It looks more life a show piece than everyday use.

Purchased this as a thank you gift for a client, wouldn't buy another.
By
Misty H.

(Boonville, IN) - January 3, 2011 (
See all reviews by this customer
)
The look of the doormat is very nice but it is so thin and flimsy that it would not hold up to actual use. It seems that it is just for looks.

Nice but hard to keep clean
By
Deanna S.

(Seaford, NY) - October 6, 2010 (
See all reviews by this customer
)
I made the mistake in putting this in my highly traveled kitchen. It got pretty dirty and doesn't clean too well. I'd buy it again if I weren't putting it anywhere where shoes would walk on it.

Beautiful Item
By
Chelsy N.

(Jeffersonville, IN) - August 26, 2010 (
See all reviews by this customer
)
The mat is very pretty but also thinner than I thought it would be. It cannot be an outside mat, it is too then. It is good for inside the house.

I 'll purchase it again if they change the fabric
By
Natalija Rona B.

(Greece, NY) - April 2, 2010 (
See all reviews by this customer
)
It looks great, the bottom is good, I don't like the top material, it's cheap.

A bit disappointed
By
Maria B.

(MIAMI, FL) - January 24, 2010 (
See all reviews by this customer
)
The actual product looked quite like that of the preview photo but I am a bit disappointed nevertheless. I can't quite pinpoint WHY I'm disappointed .... maybe I expected it to be rich and plush ... which it definitely is NOT.

pretty but feels like cardboard
By
Jennifer S.

(Point Pleasant, NJ) - December 29, 2009 (
See all reviews by this customer
)
I bought this mat as a gift and thought is was very pretty, but the quality was not what i expected. It was very thin and felt like a piece of cardboard- I was a little embarassed giving it as a gift.

Strictly decorative...
By
Kathleen M.

(Shrewsbury, NJ) - December 27, 2009 (
See all reviews by this customer
)
Beautiful sentiment. but not very practical. Certainly nothing you would wipe your shoes on.

Beautiful INDOOR MAT--Almost too pretty to get dirty!!
By
JENNIFER V.

(POTTSTOWN, PA) - December 25, 2009 (
See all reviews by this customer
)
This mat has a great rubber backing that works well on our wood foyer floor, so it doesn't slide around. The material of the actual mat is not of much texture...it's not made to 'clean your shoes by wiping them on the mat'...it's more of a pretty looking item to add to your floor...rather than to get dirty. This is not for the outdoors. Definitely an indoor mat...made for shoes with very little dirt or water on them! If you are going for a look...it's beautiful and adds that extra personalized touch to your home...but not so practical. Not so sure I would buy it again.

Personalized doormat
By
Kathleen G.

(Saugus, MA) - December 23, 2009 (
See all reviews by this customer
)
I felt the lettering was lovely...but the doormat to be a little flimsy....I thought it looked and would be a bit thicker...it is a very thin mat.
As long as you know that...then everything else about it was ok.

Looks good but
By
Christine M K.

(Bayport, NY) - December 13, 2009 (
See all reviews by this customer
)
I purchased this as a gift to be used outdoors, but it seems a bit unsubstantial for outdoor use. It is very light in color--I'm afraid it will really show the dirt. Looks great, but seems impractical.

Not as expected
By
Deborah S.

(Oshkosh, WI) - December 9, 2009 (
See all reviews by this customer
)
This doormat looks very nice, and the personalization was correct, but the mat was not as heavy and "luxurious" as I had been led to believe by other reviews. I would call the thickness of the mat average at best.