Nce but I was expecting more
By
Tatiana L.

(Port St Lucie, FL) - February 9, 2013 (
See all reviews by this customer
)
These boxers are decent tand the embroidery is nice but I expected a silky material than what I received. It was a different feel and texture than I expected. The boxers looked almost cheap. I paid almost $40 for boxers they could afford the real material. Not impressed but it was still worth it.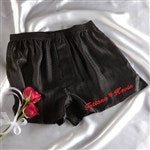 Happy overall
By
Shopper

(Indianapolis, IN) - October 23, 2012
This was a fun gift! The embroidery was well done. I was slightly disappointed in the silky fabric of the boxers. It is definitely not the same quality you find in department stores. The fabric is thin and not very soft. For the price, I expected better quality.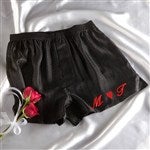 Disappointed
By
Shopper

(Cabot, AR) - February 17, 2012
The silk boxers I ordered were ok, but they had loose strings hanging all over the place. Therefore, they looked a little "scraggly." For a total of a $50.00 purchase, I was a bit disappointed.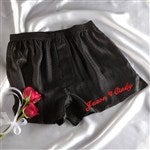 okay
By
Shopper

(Los Angeles, CA) - February 14, 2012
The material isn't all that. The personalization is nice

Silk?
By
Shopper

(Castro Valley, CA) - February 13, 2012
These looked great online and seemed a bit pricey, so I was thinking it was worth the quality.. Got it in the mail and man it did not feel as silky as you'd imagine in the photo... Only disappointment but it did have nice embroidering... And it is better than regular boxers I guess... But not for that price ($35?)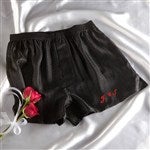 Nice but cheap
By
Shopper

(San Diego, CA) - September 24, 2011
Although the personalization of this item came out beautifully, in good faith, I can only give it 3 stars. The actual silk boxers are cheap. The sewing was frayed in multiple places and in one part, the frayed thread had been pulled, which causes the shorts to bunch up.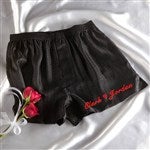 nice, exactly as preview image, a bit too small - get a size larger than normal
By
Shopper

(United Kingdom) - June 22, 2011
Attractive, well made, unique product.

The size was a bit too small. I got a medium, my boyfriend's usual size and they were too tight. Otherwise they looked good. I opted to use mine and my boyfriend's first names in lowercase lettering instead of initials in capitals & when they arrived they looked pretty much exactly as the preview image when I made the order. I got a red pair as well and I did notice the black was of a smooth silk without the herringbone effect that the red pair had - or maybe I just didn't notice it on the black pair, but the black silk was much much nicer. Because of this, the red silk felt to me like a lower quality, more everyday product which should be cheaper.

There was a large rectangle of white backing material (like thick paper) behind the entire embroidery, which gave it a more budget feel. I cut most of this away so that the backing was only around the lettering so that it didn't spoil the great movement and luxury feel to the silk too much. Overall 3/5

Nice but not comfortable
By
Rebecca G.

(Kansas City, MO) - February 28, 2011 (
See all reviews by this customer
)
I bought these for my boyfriend in a Medium since 34s are roomy on him. I thought there were smooth silk but are a squared pattern that took away from the look in my opinion. Also my honey could not move in them since they are NOT stretchy whatsoever. Since these are personalized and non returnable you may want to order larger to be safe.

Valentine Boxers
By
Shopper

(Piscataway, NJ) - February 17, 2011
The actual print of the boxer doesn't show up very well in the photo. It has little checkers on it. And the embroidery is a bit tacky because of the big piece of white cloth they use to do it on the inside. It is not discrete.

Good quality; size a problem
By
Audrey P.

(Bradenton, FL) - May 13, 2010 (
See all reviews by this customer
)
Some of the reviewers had written about shoddy fabric quality; the fabric is fine, and the monogram is really nice. Based on reviews, I ordered these a size larger and they are still too small - the waistband is more like 2 sizes too small. Since there is no XXL size available for my normally size L guy, looks like I'll be wearing them instead.

shoddy worksmanship
By
Julia A.

(Fort Lee, NJ) - February 18, 2010 (
See all reviews by this customer
)
I decided to get this for my boyfriend on Valentines Day and I was really excited for this. However the product was disappointing and not what I expected. The stitching on the side was poorly done and was already getting fuzzy. While the embroidery was very nice and well done, behind it was some rough material that stuck out. Overall, I was not thoroughly pleased with this product.

valentines night!
By
yolanda W.

(louisville, KY) - February 14, 2010 (
See all reviews by this customer
)
he loved the thought of them but for the size they are, they fit pretty snug.........so to say the least he wont be wearing them!

Nice feel but backing was still on embroidery
By
Lauren W.

(Virginia Beach, VA) - February 12, 2010 (
See all reviews by this customer
)
I like the feel of the boxers that I bought my hubby for Valentine's Day, the only thing was the backing was still on the back of the embroidery. I had to trim the backing. Since I have expirience in embroidering, I know that you have to wash the item twice so the remaining backing will dissapear. I don't want to wash them until he wears them, so they'll will just have to do. I'm sure he won't care...lol. But I just wish someone would have taken the extra time to trim and discard the backing.

Silk boxers
By
Andrea H.

(Street, MD) - February 11, 2010 (
See all reviews by this customer
)
Well, I am glad I got these on sale! I got them for my boyfriend for Valentine's day. I think they are really cute, but they aren't worth the money. They are nice and soft but very thin.. I also found a tiny hole on the edge of the bottom. Great gift idea, but the quality should be better if I'm paying $24 for them.

Dissapointed
By
June B.

(Sequin, TX) - February 4, 2010 (
See all reviews by this customer
)
This product is made very cheaply... not what I expected at all. Not true to size. So unfortunate I wasted my money.