nice
By
Shopper

(Safety Harbor, FL) - October 15, 2012
It is a nice key chained and personalized makes even that much more special. It is just how u see it. However, one thing I didn't like is that it doesn't seem to close well or even. Has a very small opening when its locked. For the price I hoped it locked much better and more sercured.

Too heavy
By
Laura P.

(Stafford, VA) - April 9, 2012 (
See all reviews by this customer
)
While this is a very pretty Key Ring and beautifully engraved, it's way to heavy for me to carry around. I had no idea how heavy this was or I wouldn't have purchased it. Other than weight, it's nice.

Really liked it but...
By
Shopper

(Santa Barbara, CA) - March 4, 2012
I really Liked my purchased but the only thing that I didn't realize was that the heart is a little too big. It was suppose to be a cute gift for a guy but its big & heavy. overall it's a great purchase.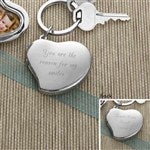 Heart Locket 2-Photo Engraved Key Ring
By
Shopper

(Watertown, SD) - December 27, 2011
It was a little bigger than what I had expected, and I wouldn't say that the material is quality but I guess you get what you pay for. it still served the purpose I just hope it doesn't get scratched and scraped up by keys and such.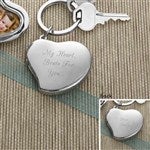 Great Gift for MIL
By
Shopper

(Brooklyn Park, MN) - December 15, 2011
This is a great personalized gift for MIL. Decent size to insert photos and have it engraved with your personal thoughts. The only con would be the weight of the locket. I wish it was lighter.

Gift Box not worth it
By
Shopper

(Las Vegas, NV) - December 4, 2011
The heart shaped locket was okay, but I was very disappointed with the gift box, after paying $6.95 for the flimsy cardboard box.

Good product, nice engraving, but too large.
By
Shopper

(Fairless Hills, PA) - August 15, 2011
The engraving was lovely, but I feel like the keychain is way to large and heavy to actually use. Was disappointed.

Cute but doenst close
By
Melissa M.

(Porter, TX) - August 1, 2011 (
See all reviews by this customer
)
I like the key chain. The engraving is great. The picture size will take the head or two from a wallet size photo but the item doesnt snap closed. It is slightly open. It looks like it should close though..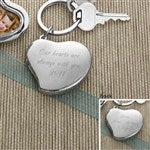 Beautiful but oh so heavy!
By
Shopper

(DALLAS, TX) - May 9, 2011
I was so excited to purchase this for my mother as a Mother's Day gift from her grandchildren. However, when I received it I wished that I had picked another item. The locket is just soooo heavy for a key ring! It pretty much weighs as much as a stuffed wallet!

Enlarged Heart
By
carol S.

(Bergman, AR) - November 28, 2009 (
See all reviews by this customer
)
These key chains are so big, I'm afraid my daughters are going to think they are a joke! The engraving is beautiful though. Too bad they are not returnable

A little disappointed
By
Maura D.

(Clay, NY) - October 7, 2009 (
See all reviews by this customer
)
I really liked this locket but it is very heavy. I don't think it's all that practical for every day use.