because of you
By
Lashay P.

(Baltimore, MD) - February 19, 2013 (
See all reviews by this customer
)
i loved it but it was to small didnt look like the pic on the computer i thought it would be bigger then it was no stands like on the detail pic or nothing i was disappointed and if i know it was this small i would nt have got this but its okk its here now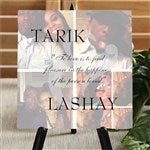 Canvas
By
Shopper

(Bayonne, NJ) - February 4, 2013
My canvas print didnt trun out exactly as pictured and expected. It wasnt centered and my picture was smaller than what I wanted on the canvas. It didnt fill out the whole thing like i originally wanted and sent and you can see the white borders.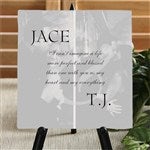 Disappointed but cute
By
Shopper

(Macomb, IL) - September 29, 2012
I was expecting the picture to be much larger than what it was. The picture on the internet is misleading.. When I received a little box I was shocked. My fault for not measuring and the picture itself was good but little:)

disappointed
By
jennifer R.

(sterling, IL) - February 10, 2012 (
See all reviews by this customer
)
guess when ordering i didnt read the small print, which included the small size i was very dissappointed when it arrived on how small it was.. dont think ill be spending what i did on another tiny picture..

Canvas Art
By
Shopper

(Owingsville, KY) - July 31, 2011
The picture looks clear. I love the choices of quotations and the fact that one can choose his/her own. I think the price is steep for the size. It is small. A friend of mine paid $40 for an 8X10 canvas in Myrtle Beach while I paid $30 (including shipping) for a 5X5. I will probably shop here again, but I will keep my eye on sales so that shipping won't cost more than the product is actually worth.

Nice but a lil small
By
Shopper

(Banning, CA) - February 15, 2011
This product is nice, a lil on the small side,
its good for a desk pic but nothing to hang on the wall

Personalization came through for me
By
Genesis M.

(Miami, FL) - February 12, 2011 (
See all reviews by this customer
)
I ordered a "because of you" photo canvas art for Valentine's Day. It was my first time ordering from Perosonlization, and I did not crop the picture correctly plus the words were done in capitals (also my error). Personalization sent me a new photo canvas revised, and only charged for the shipping. I am impressed with their good customer service. I will definitely continue buying from them.

Valentines day
By
Shopper

(Wyandotte, MI) - February 6, 2011
I love the concept, it would have been better if I would've chosen in color. I chose the photo to be in black and white, and it is hard to see in the background. I think it would stand out a little more if I would've chosen in color.

cute but too little
By
Sonya S.

(Lake Dallas, TX) - January 29, 2011 (
See all reviews by this customer
)
Very cute idea. I should have paid closer attention to measurements. Photo is misleading. Item is little.

Cute, but tiny
By
Shopper

(Toronto, SD) - January 9, 2011
It turned out very cute but it is very small, which I dislike. I wish it were much bigger.

Photo canvas art--3 stars because of the size, very small.
By
Bill M.

(Midland, TX) - August 21, 2010 (
See all reviews by this customer
)
This would be awesome if it was bigger. It kind of looks funny because it is so small but that is my only complaint.

not as nice as I thought it would be
By
Nancy M.

(New Milford , CT) - March 19, 2010 (
See all reviews by this customer
)
edges of picture seem scuffed where edges are folded

Cute item
By
Jennifer L.

(Richardson, TX) - October 8, 2009 (
See all reviews by this customer
)
The item is a cute design but there was a spot on the canvas when I received it.