It will do.
By
Shopper

(Dallas, TX) - May 10, 2014
I was very excited about receiving my door mat for my new apartment home. The price was excellent and the sale made it even better. The design was just as it was shown when I made the order and my husband and I love it. However, I was slightly disappointed about the quality of the product because it was too thin for a doormat. I was tempted to return it, but I only paid $25 for it and that includes shipping & handling.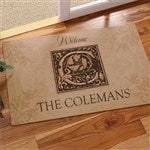 Not as impressive in person
By
Shopper

(Apex, NC) - April 20, 2014
The mat is okay. I probably would not have spent the money had I seen it in person first. The center initial wasn't as deep and rich looking as it appears in the photo, so that was disappointing. It's still kind of pretty, just not as striking as I expected. It arrives rolled up like a poster in the shipping carton. It did ship within two days of the order and arrived very quickly without adding the extra "guaranteed before Easter" postage. I was impressed with the quickness of the order.

ok
By
Angela G.

(Merrick, NY) - March 24, 2014 (
See all reviews by this customer
)
This was one out of four items I ordered. I was extremely happy with the other 3 items, but this one I was a little disappointed with. Although it looked just like it was pictured I felt like the mat itself was a little flimsy. I expected it to be a little more substantial. Unfortunately, I don't think I would order this again.

time will tell
By
Shopper

(Delta, IA) - December 22, 2013
door mat looks great. style and print would be 5 star. I gave it 3 because it looks like maybe it might not wear well. time will tell. if it lasts I will definitely be buying more.

Nice, BUT...
By
Sandra H.

(Hot Springs Village, AR) - August 16, 2013 (
See all reviews by this customer
)
The doormat came VERY quickly!! It is VERY nice but I was somewhat disappointed in the size. Thought it would be larger. Perhaps the dimensions were listed and I just didn't realize the size, but was disappointed in that respect. Bought it as a gift and hope they will love it.

personalized door mat
By
Shopper

(Saint Albans, ME) - June 3, 2013
The monograming & personalization on this mat was great. I was, however, disappointed in the quality of the mat itself. The backing was peeled in several spots and it caused me to wonder how long the rug would take wear before being a useless item. Was this mat not made for foot use? I bought the door mat as a wedding gift for my neice and now I'm not sure the quality warrants the occasion. Nonetheless, the vender did give me the item I ordered and it does look like the picture.

Slightly disappointed
By
Diana M.

(BAKERSFIELD, CA) - January 8, 2013 (
See all reviews by this customer
)
I was surprised how thin this mat is. Only time will tell how durable it is.

Fast!
By
Maureen G.

(Portage, WI) - December 19, 2012 (
See all reviews by this customer
)
This item was made & shipped VERY fast. Great looking and big, just like it said it was.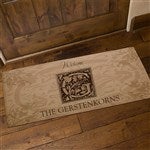 Product Features
By
Shopper

(Gonzales, LA) - December 11, 2012
I thought this rug would be more elegant looking. Was kind of disappointed.

nice
By
Lacey T.

(Bedford , TX) - August 14, 2012 (
See all reviews by this customer
)
its nice but a little dull, its not as bright as I thought BUT I like it a lot

Not very thick
By
Shopper

(Omaha, NE) - September 12, 2011
I really love the design and the personalization but I wish that it was thicker. I think this mat wont last us a very long time because it is super thin. I wish they made some thicker ones for the same great price. We are using it, we'll see how long though.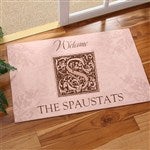 welcome mat
By
Shopper

(Delray Beach, FL) - August 21, 2011
While the design & colors are great, I was disappointed with the thickness (or lack of it), that the mat has.

color is deceiving
By
lisa P.

(knoxville, MD) - April 1, 2010 (
See all reviews by this customer
)
i that the rug was pink thats what it look like on line but when i received it. it was tan. was not very happy should specifie color

Monogram doormat review
By
Bert S.

(Mt. Brook, AL) - October 7, 2009 (
See all reviews by this customer
)
I thought the mat was very nice although it was much thinner than expected.