Cute for golf enthusiast
By
Shopper

(Lincoln, NE) - November 28, 2013
Got this for my kids to give my in-laws for Christmas. Very cute but the picture is super small in comparison to the ball.

Very small photos
By
Lisa V.

(Newcastle, WA) - November 12, 2013 (
See all reviews by this customer
)
It's cute and good quality but the photo area is super small FYI.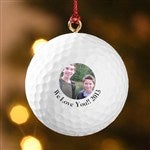 Picture too small
By
Shopper

(Peoria, AZ) - November 8, 2013
Picture was clear but too small. Even just a bit larger would be nice.

Itty bitty picture
By
Shopper

(Melrose, MA) - January 9, 2012
I was so excited to get this for my husband's first Christmas as a dad. I choose a picture of my daughter to put on it and couldn't wait to receive the ornament. I was extremely disappointed in how tiny the picture and writing is on the golf ball. I understand that there is limited space on an object so small but there was still plenty of room for the picture to be larger. It was a neat way to commemorate his first Christmas with my daughter, but we will have to really look closely every year to see her picture on the ornmanent.

Very Small Picture
By
Shopper

(Ste Genevieve, MO) - December 20, 2011
I was a little dissappointed with this item. Everything about it is just small. This ornament is a real golf ball (which whenever I looked at the picture it looked to be bigger than a golf ball size) and in turn the picture is tiny on it. From the picture, I had gathered that the ornament was not a real golf ball but a little bigger. No such luck. Oh well. I will just know for next time to either read the fine print (don't know for sure what it said for size) when ordering the ornaments.

Cute, but picture is very small...
By
Sylvie B.

(Concord, NC) - December 18, 2011 (
See all reviews by this customer
)
Cute ornament, but I did not think that the picture on the golf ball will be that small...Little bigger would be better...

Better if the picture was bigger.
By
Shopper

(Willmar, MN) - December 14, 2011
Overall i am satisfied with the product.

Great Idea But...
By
Amber D.

(Edwards AFB, CA) - December 29, 2010 (
See all reviews by this customer
)
My hubby loves to golf so i thought this would be a great xmas presant!! The pic didnt come out as clear as it shows on this website!! The letter were also not as clear either!! Wish it would have just came out better than it did!!

Golf ball ornament is cute but picture is hard to see
By
Kerry G.

(Glenmoore, PA) - December 22, 2010 (
See all reviews by this customer
)
Like other reviewers, my picture came out light and small. It is still a neat gift, but I would suggest picking a picture that has dark colors in the majority of it. The light colors get washed out.

pic too small
By
Jan E.

(Chicago, IL) - November 29, 2010 (
See all reviews by this customer
)
Picture is really too small to see anything.

Picture too small
By
Sara M.

(Phoenix, AZ) - December 21, 2009 (
See all reviews by this customer
)
The idea of this is ornament is really thoughtful, but like other reviews, the picture is too small. There looks to be enough room on the ball to make the picture bigger.

A cute idea
By
Elizabeth C.

(Worthington, KY) - December 9, 2009 (
See all reviews by this customer
)
This is a very cute idea, but the pictures are way too little. If you do this make sure it is a close up. Don't make the same mistake that I did. The one that was a close up was cute, but the other you can't even tell what it is.

Great, but small
By
Annie C.

(Shorewood, WI) - December 1, 2009 (
See all reviews by this customer
)
The idea is awesome, I just wish the printed picture on it was larger and covered more of the golf ball.