Tad disappointing
By
Shopper

(Belton, MO) - September 21, 2012
Saw it! Adored it! Put a lot of thought to the perfect words that would fit! Saw the package on my doorstep! Excited!.. I opened it and I was a tad disappointed. I thought this would be an actual canvas piece. Everything I have gotten from this site has exceeded my expectations, with this exception. It definitely looks nice hanging on the wall. I did also LOVE the fact you could put your own phrase on it to give true meaning. However, it is printed on some sort of heavy paper, then literally folded and stapled on the back to a ... board possibly? It is a wonderful idea, and let me say again that it LOOKS great hanging up. The only disappointment was the quality of the actual item.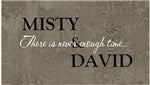 Too Pricey
By
Shopper

(Coos Bay, OR) - July 23, 2012
It was pretty, but it was way to pricey for how small it was.

wall art
By
Stephanie T.

(Jersey shore, PA) - December 9, 2011 (
See all reviews by this customer
)
Very cute gift for my inlaws.They enjoyed it.I thought it was on the small side.Other than that the price was decent and it looked great.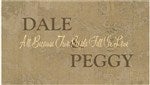 Overall good,but not good attention to details
By
Kathy F.

(Eugene, OR) - November 24, 2010 (
See all reviews by this customer
)
Overall I like the look of the canvas art,however the details are not good.
I didn't pay close attention to the dimensions so I was a bit disappointed in the size. I don't think it is worth it for what you pay. The canvas does not sit tightly on the board. It is just wrapped like an envelope. I expected it to be a higher quality.


Quite small
By
Jacqueline R.

(Livonia, MI) - July 25, 2010 (
See all reviews by this customer
)
Sign was nice but is very small. Not sure it looks like it is worth the money paid for it.

Nice addition to a present
By
Janell D.

(Rockland, MA) - July 15, 2010 (
See all reviews by this customer
)
Canvas is really pretty. The & is a bit hard to see on the gray background however. It was a bit smaller than I expected however I guess I should have drawn it out prior to purchase. Overall, nice addition to a present. I bought as a bridal shower gift however will have to buy other items to accompany as this would not be enough to present alone.

Smaller than I thought
By
Crystal S.

(Oakmont, PA) - June 3, 2010 (
See all reviews by this customer
)
It is a beautiful canvas work of art but I thought it should be bigger. Couples who want to place this sign above their beds probably would want to think otherwise because the size of this canvas sign will look super small above your bed. If you want to put this in your bathroom or kitchen then these signs would probably work.

canvas
By
summer P.

(bakersfield, CA) - February 19, 2010 (
See all reviews by this customer
)
This item is super cute and top quality! It is smaller then I expected but still cute.

Not quiet what I expected
By
ROSALBA C.

(FORT EUSTIS, VA) - February 16, 2010 (
See all reviews by this customer
)
I thought this would make a good gift, however when I received the product, I realized I had too high of a standard for it. The names and other text are printed on canvas paper and then stappled onto a piece of wood. Also you have to hammer in the small metal piece that comes with your product in order to hang it on your wall. I just felt like I spent to much on this gift for what I received. I guess I should have read the description more closely before purchasing this gift!

Not overly impressed
By
Heather G.

(Birdsboro, PA) - January 5, 2010 (
See all reviews by this customer
)
While the product turned out very nicely, I was not overly impressed because of the size. It is very small. I think it would be nicer if it was much bigger.

Very Nice
By
Kelly L.

(Rock Hill, SC) - November 24, 2009 (
See all reviews by this customer
)
I loved this. I bought it as a Christmas gift for my best friend and I'm sure she will love it as well. My only complaint is that I feel the picture is misleading...the plaque is much smaller than what I expected. For someone going off of the pictures and not the dimensions that are listed in the ad, you would think you are getting a much bigger plaque. Nevertheless, eventhough I feel the plaque is small, it will still look great on an end table/coffee table.