Nice but small!
By
Kristy M.

(Rockwall, TX) - June 15, 2013 (
See all reviews by this customer
)
I thought I was ordering a plaque as an appreciation gift but instead I received this paperweight. The personalization is nice as always but this is the size of a medium paper weight.

somewhat disappointed but still a beautiful gift
By
Shopper

(Brooklyn, NY) - May 13, 2013
the keepsake was much smaller than I thought and the inscription seemed a little crooked but I think the recipient will be happy.

Not impressed
By
Shopper

(Danielsville, PA) - May 4, 2013
I have purchased many items from personalizationmall.com in the past and have been really pleased but I was very disappointed when I received this in the mail. It was purchased as a farewell gift for a coworker and the engraving was crooked and it was made out of cheap plastic. Not a very nice gift at all. Very embarrassing having to give this to a coworker.

Very Nice
By
Shopper

(San Antonio, TX) - December 31, 2012
The keepsake is beautiful my only complaint is that it was smaller than I was expecting. I didn't really like that, other than that everything was great.

small
By
MIlissa B.

(Old Saybrook, CT) - May 8, 2012 (
See all reviews by this customer
)
It was nice, but really small, I didn't check the dimensions before I ordered. I should have. I thought it would be bigger. I wouldn't have paid so much for something so little. But it was my bad for not checking.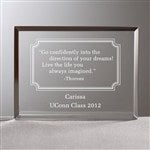 Way too small
By
Shopper

(Victorville, CA) - October 18, 2011
Was really nice but way to small.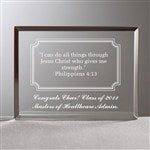 size & display
By
Shopper

(Speonk, NY) - May 13, 2011
I was totally disappointed in the size. You show & display this item as a stand up item. The box came & on the outside was the word PAPERWEIGHT.
No where in your discription is the word paperweight or do you show this item
as being used as a paperweight. I found it very misleading as I thought I was buying an item to display in the upright position as you show it. Be honest
as to what the item really is. It is much to small to display in the upright
position and it is a paperweight. Keep this item but list as a paperweight and get another one in a bigger size 4 x 6 that can be displayed in the upright position. They look very nice when diplayed in the upright position. Again very disappointed in size and the misrepresentation of how item is listed.

A little disappointed
By
Shopper

(Dallas, TX) - April 23, 2011
I probably didn't pay enough attention to the specs when I ordered this product, but it is a little smaller than I expected, and doesn't seem as substantial. The etching is done well, but the only way you can really read what is on it is to lay it down on a dark surface, due to the small size. Will work great as a paperweight. I will pay better attention next time to specs before ordering this type item.

Nice, but smaller than I expected.
By
Marie G.

(West Babylon, NY) - May 31, 2010 (
See all reviews by this customer
)
Nice keepsake, but much smaller than I expected. I know the dimensions must have been stated, but I thought it to be a little larger for the price. With the shipping charges costing half of the item price, it doesn't look like it's worth what I spent. It does make a nice gift though, since it's personalized.

The item was great, but was not centered
By
Diane N.

(Manhattan, KS) - May 22, 2010 (
See all reviews by this customer
)
We ordered this item for a friend who was retiring. The item was great, but the wording was not level or even in the space. We were a little disappointed with the product. Have bought other items and we have been very pleased with your company. This was just not one of them.