Very adorable!!
By
Shopper

(Roseville, CA) - August 25, 2013
I'm only giving this three stars because the robe doesn't fit me very well. I'm 5'10" and at a size 20, and it's too small for me (bride), but they would definitely fit my bridesmaids who will love them!! The squared stitch makes it look fabulous and the kimono style is super cute!!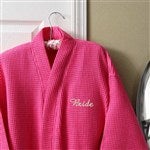 Very short!
By
Mary O.

(Troy, MI) - August 16, 2013 (
See all reviews by this customer
)
I ordered this robe for my college-aged niece for when she studies abroad in Scotland this fall; I assumed it was knee length. The photo shows the whole robe, but you don't realize that's the entire robe. (See the photo I've attached.) She likes it but I don't know if I would have ordered it if I had know it was a "shortie"! (I got the slippers, too, which are cute.)

It's ok
By
Shopper

(Ashburn, VA) - February 22, 2013
While the product is nice, the quality is just okay. It's very thin so the price for the quality is not very good. This product should only be $25 tops. I am giving this to my bridesmaids as a gift, I have not given it yet so I am not sure what their reaction will be. But as of right now, this product is just okay.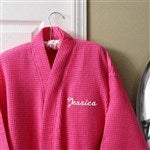 Helpful Info
By
Shopper

(Honolulu, HI) - January 7, 2013
Nice material. Robe a little too short for average height.

A little shorter than I anticipated.
By
Clare S.

(Onalaska, WI) - December 27, 2012 (
See all reviews by this customer
)
I bought this for my 13 year old daughter for Christmas expecting it to be a "one size fits all" when we received it it was extremely small and very short.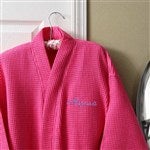 Okay
By
Cyndi H.

(Round Rock, TX) - October 23, 2012 (
See all reviews by this customer
)
Bought 5 of these robes for me and my bridesmaids for my wedding day. Product was a lot thinner then I thought it was going to be. Wish the quality was a little better.

Cute, but material is thin and length is very short
By
Shopper

(Amherst, NY) - August 1, 2012
The robe is cute, but I do think it's a bit pricey for what you get. The material is thin and it's not really very soft. I am only 5 feet tall and the robe is short on me, and since it's only in one size I wouldn't recommend for someone tall. I do think this makes a nice gift, but just be aware it doesn't look like you spent $40 on it.

Great for small women!
By
Shopper

(Port Ludlow, WA) - May 1, 2012
Ordered this one for me. I am five feet tall. Love the color and the personalizaation. Loved the length (below knee)until after washing. It shrunk about four inches, length and width. I was going to order one for each of my friends, but will not do that now as they are taller than I am. Unfortunate the robe is not larger to start with. The large/extra large fits like a medium robe.

awesome gift
By
Shopper

(Forrest City, AR) - October 31, 2011
This was a gift it showed up on time and looking even better in person than it did online. Tottaly pleased

Daughter's Birthday Gift
By
Barbara P. T.

(Bridgewater, NJ) - September 12, 2011 (
See all reviews by this customer
)
Received this item today. Somewhat disappointed, I thought it was much bigger and stronger/thick material. Very nice colour and engraving though.

Great gift...
By
Jessica R. B.

(Armonk, NY) - October 29, 2010 (
See all reviews by this customer
)
I ordered this for a friend of mine. It's a great gift, as long as whoever you're buying it for isn't a "larger" person.

It will probably fit up to a size large in regular clothing but if you are ordering this for a busty or larger woman I would be careful of the "one size"...

prompt
By
Sameer Y.

(McLean, VA) - October 25, 2010 (
See all reviews by this customer
)
the service was prompt. i wish i could have gotten more for that price

Good and bad
By
karen L.

(rio rancho, NM) - March 23, 2010 (
See all reviews by this customer
)
High quality material, shorter than I thought it would be.

CUTE!!
By
Luisa P.

(Elizabeth , NJ) - December 22, 2009 (
See all reviews by this customer
)
Very pretty Robe. i love the Material, i thought it would be longer, but it fits well.

One Size
By
dewayna J.

(fort myers, FL) - December 7, 2009 (
See all reviews by this customer
)
I like the robe its nice but I think that larger sizes should be available to customer.