Engraving Hardly Visible
By
Jessica M.

(Bethlehem, CT) - December 15, 2013 (
See all reviews by this customer
)
I have had nothing but good things to say about personalization mall, but unfortunately that is not this case with this product. I bought it for my best friend and her fiancé as a wedding gift and you can hardly even see what it says! At first I thought I was just in bad light, but no matter where I try to read it, it's hardly visible! The product is a good quality wine stopper that looks just like the picture, but the engraving was a complete let down.

Nice gift
By
Barbara B.

(Trenton, NJ) - September 24, 2013 (
See all reviews by this customer
)
Nice simple gift. Nice classy touch to for a wedding gift.

Nice but broken
By
Cathy W.

(Stevensville, MD) - August 27, 2013 (
See all reviews by this customer
)
I was a bit disapointed in the wine stopper. It was broken, but I was able to fix it with super glue. I needed it immediately. You could see where the glue or whatever was used had dried but must not have sealed. This will not stop me from future purchases. I have never had a problem before. Things happen.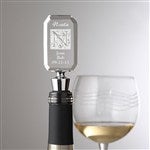 Floral Monogram Engraved Wine Stopper
By
Shopper

(Omaha, NE) - April 8, 2013
Was not as impressed as my previous order. The monogram was off center & very faint.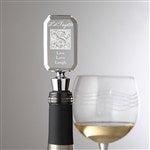 cautious
By
Shopper

(Elmwood Park, IL) - December 28, 2012
The website photo displays a charming stopper. Receiving the personalized stoppers I was disappointed in the clarity of the crystal; there was spider cracks/lines. I did contact customer service and was told that the crystal clarity is one of the risks in this item.

Nice but quality is somewhat lacking
By
Shopper

(Blairsville , GA) - December 2, 2012
These wine stoppers are really pretty and make nice gifts, but they are not made very well. I bought three and one was broken. The wonderful staff of Personalization Mall are sending me a new one. I think a different adhesive to attach the engraved portion to the corking apparatus may make the difference.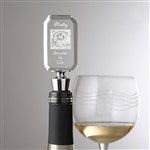 great gift
By
Shopper

(Choctaw, OK) - October 23, 2012
Great gift for so many different people because of the initial and the three words you can add to make it even more special. The first one sent was cracked and scratched. I contacted PM and they immediately sent out a new one. New one is better - but still some slight scratching - nothing I can't live with. Would have given it 5 stars if not for quality issues.

Beautiful...
By
Laci B.

(Paulina, LA) - December 30, 2011 (
See all reviews by this customer
)
The wine stopper is stunning, I only gave it 3 stars though because it arrived broken. The quality and artwork is simply beautiful. Will send back and anxiously await a replacement.

Nice, but not great
By
Melissa D.

(Pleasant Hill, CA) - December 11, 2011 (
See all reviews by this customer
)
I am a little disappointed with the final product, mostly because the engraving is slightly crooked. Also, the acrylic (clear part) has a kind of wavy appearance. The engraving is on the back so you look through the acrylic to see the design, so since the acrylic is slightly wavy, the engraving takes on that appearance as well. Overall, it's a great idea, but needs improvement. I tried taking a picture of it, but it was difficult to see what I am referring to, so I decided not to bother uploading it.

Frequent shopper
By
Shopper

(Swanton, MD) - June 5, 2011
Stopper is nice; however, unless you hold the stopper up to the light, it is hard to see the writing on the item.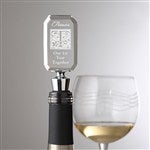 Wasn't what expected.....
By
Arlene H.

(Plainview, NY) - January 1, 2011 (
See all reviews by this customer
)
When the wine stoppper arrived I was expecting more. The monogram was not as clear and large enough to see clearly.

Has some scratches
By
Tiffany F.

(Tehachapi, CA) - December 21, 2010 (
See all reviews by this customer
)
It's nice, but had some fine line scratches around the engraved area. Nice, but could be better.

Misleading
By
Scott Y.

(Saline, MI) - July 23, 2010 (
See all reviews by this customer
)
We were upset because the picture was misleading. When looking at it from the front, the insignia and lettering are inscribed on the back side of the stopper, which means you have to look through the thick glass to see the inscription. Although it looks okay, it wasn't what we were expecting.

Great for the price
By
Johanna E.

(discovery bay, CA) - March 3, 2010 (
See all reviews by this customer
)
I bought the wine stopper for myself and really like it. I used it the very first night after I got it! The turn around time for receiving it was very quick! The only thing I didn't like was that it was a little scuffed up around the engraving for my last name.

Wine Stopper Review
By
Lori C.

(Apalachin, NY) - December 8, 2009 (
See all reviews by this customer
)
Very pretty, however, when I opened the package and was showing my husband the thing fell apart. I hot glued it and sure hope it stays since this is an Xmas gift.