Nice idea, a little pricey
By
Shopper

(Richmond, VA) - June 16, 2014
I bought this as a father's day gift for my husband. He doesn't like using a wallet because they are too bulky, but I thought this would help class-up the pile of cards and cash he carries. It's a great idea for what he needed, and it doesn't seem to bend the cards or anything. But essentially, it's a thick rubber band with a metal slide. The engraving is very faint, so it's a nice touch, but could have been executed better. All in all, it fit for what he needed, but for the price, I think a few small changes would have made it feel more worth it.

Band money holder
By
Shopper

(Hamlin, WV) - May 12, 2013
This money holder is an overpriced rubber band. I thought it would have a thin material or covering, but just a rubber band. The engravable plate slides around, but prob so it can be replaced with the extra bands given. I bought this for my husband who owns a money clip and uses a rubber band.... He loves it.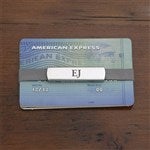 Engraving Off-Center
By
Shopper

(Wormleysburg, PA) - January 21, 2013
I bought these for my boyfriend for his birthday which was Jan. 20. I ordered and received these in time but the engraving came out about 1/8" off center. Personalization Mall put in a redo order at no charge, and though I specified that I needed them by the Friday before his birthday (it fell on Sunday), they were late (shipped Thursday, ground transit for Monday delivery). Since I didn't have the new set, I gave him the original set but wasn't happy that it was off center. I think these are way overpriced for what they are (three rubber bands with a metal plate) but I didn't find any comparable ones elsewhere. My boyfriend liked them, but I know if I told him how much they were he would have been VERY surprised.

Acceptable gift item
By
Shopper

(BASKING RIDGE, NJ) - June 11, 2012
Cute gift. Pretty much as you'd expect. Basically a rubber band with a silver (not sterling) plate. Bought two. One as a gift and one for myself to save on free shipping opposed to putting an additional $10 towards shipping. Definitely over priced but if you're ok knowing that, it's a satisfactory product.

Cool but pricey
By
Shopper

(Laurel, MD) - March 12, 2011
hubby really liked it.. however, it was pricey and kinda misleading cause really you only get one piece with the initials and then 2 extra bands.. I though all 3 had initials.. hubby said it would be cool to put a phone number on it just in case it got lost ... wouldn't buy it again at the same price

Not exactly what I thought
By
ANITA F.

(Boynton Beach, FL) - December 1, 2010 (
See all reviews by this customer
)
From the description, I thought each band would have an engraved plate with initials, not one plate with 2 extra bands. This was disappointing considering the cost of the item.

Nice but not as nice as I thought it would be!
By
Tarri M.

(Rochester, NY) - June 18, 2010 (
See all reviews by this customer
)
The personalization bar is OK but not great and the bands are just super heavy black rubber bands. All in all I do not think the item is worth the money!

It's OK but...
By
Joe C.

(New Britain, CT) - June 12, 2010 (
See all reviews by this customer
)
Even though the friend who received this item loved it, I thought it was extremely expensive. Good presentation and packaging were the plus factors of it. A piece of wide, high quality rubber band with a metal engraving of two or three letters should not add to $39.15+(S&H). I just needed it soon and was promptly delivered; next time I'll expect "platinum"...

Good but overpriced
By
Jeff A.

(Park Ridge, NJ) - May 3, 2010 (
See all reviews by this customer
)
does the job and looks great but is $10-20 overpriced. You get one band with the inscription and two other bands.

Great product but too expensive
By
Margo S.

(Apopka, FL) - February 11, 2010 (
See all reviews by this customer
)
The money band is a really good idea and my husband was thrilled with it. He wouldn't be as thrilled if he knew how much it cost. Thick rubber bands and one initial plate that attaches to the rubber band are what is included. The packaging was unique and probably cost more than the item itself.

Money band
By
Debra M C.

(Caro, MI) - December 26, 2009 (
See all reviews by this customer
)
Item arrived quickly but was a little disappointed in the quality. I expected this to be more than a large rubber band. If it lasts longer than a rubber band it will be great.