Christmas gift for newlyweds
By
Fatima M.

(Antioch, CA) - February 8, 2013 (
See all reviews by this customer
)
I always like to give an ornament as a Christmas gift for my newlywed friends and family. I was extremely excited to receive this in the mail, but I was somewhat disappointed with the finished product. Not only did I experience issues with personalizing this ornament during the photo selection process, but the photo printed on the ornament was stretched out horizontally. It wasn't entirely bad, but for someone like me "a perfectionist" I definitely noticed and disliked that detail. Like I mentioned, I also experienced issues cropping the photo to fit in the designated opening during the personalization process. Other than that, the ornament was a pleasant surprise to the recipients; therefore, I was pleased. But I will say that I have been ordering from Personalization Mall for many years now, and I do feel that the quality of the products are lesser than in the past. If they can get back to providing the great quality of products I used to receive, I will be an extremely happy customer :)

Blurry photo
By
Cindy C.

(Chicago, IL) - December 30, 2012 (
See all reviews by this customer
)
I love the idea of this product - a personalized ceramic ornament. I ordered two - one for my sister and one for my sister-in-law - both newlyweds this year. However, despite high resolution photos, the finished products have blurry photos. I'm not sure I will order this again. However, the shipping was extremely fast and the packaging was secure. I'm a fan on this company but would need reassurance of the photo quality as it does not match what I designed on the website.

xmas
By Shopper (Canoga Park, CA) - December 9, 2012
awesome

Cute
By
Michaela G.

(High Ridge, MO) - January 1, 2012 (
See all reviews by this customer
)
Exactly as expected! I just wish it would have been a little bigger.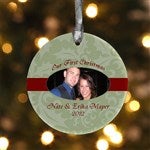 ornament
By
Shopper

(Rogers City, MI) - December 16, 2011
This ornament was much smaller in size than I imagined. The lettering was very nice though. I would order from this site again.

nice, but wouldn't buy it again
By
Shannon C.

(Birmingham, AL) - July 11, 2011 (
See all reviews by this customer
)
Nice present, but all one texture, looks a little cheap.

not exactly what I expected
By
Shopper

(Cadillac, MI) - January 5, 2011
The picture quality wasn't as good as it showed when I ordered it. The picture was cropped slightly differently from what I did online myself. The ornament itself was very nice just not exactly what I thought I was getting from the online order.

Good Buy
By
Karen K.

(Arnold, MD) - December 29, 2010 (
See all reviews by this customer
)
This was a good purchase. I was able to upload a favorite picture of my son's as a reminder of the blizzard we had earlier in the year. Only downfall was picture needed more cropping than the other picture ornament I purchased.

the picture is blurry :(
By
Ali C.

(Ligonier, PA) - February 13, 2010 (
See all reviews by this customer
)
The quality of the ornament was fine. But, our picture was kind of blurry in the middle. That was my only problem with it.

First Christmas Ornament
By
Shannan J.

(Lakewood, WA) - December 26, 2009 (
See all reviews by this customer
)
My husband and I got married this year and I had this ornament personalized for our first Christmas together as a married couple. It was very beautiful, but the picture was not centered on the ornament. I would have rated the ornament a 5 out of 5 had the picture been better centered on the ornament. Thank you.

Decent
By
Sonya J.

(Laguna Hills, CA) - December 19, 2009 (
See all reviews by this customer
)
I had two of these made as gifts. They turned out pretty decent. The pic comes out a lot smaller than you think it will when you get it though but its still cute enough.

Not quite what I thought...
By
Kristin B.

(Fairfax, VA) - December 14, 2009 (
See all reviews by this customer
)
I ordered two of these ornaments. The ornament is sturdy and looks as pictured. However, the picture did not come out very clear on either ornament, which was disappointing. I used a high resolution photo, so it should have been fine. The recipients were still happy and it is a neat personalized gift, but the clarity of the picture should be better.

Beautiful Ornament
By
Kathy K.

(Black River Falls, WI) - December 8, 2009 (
See all reviews by this customer
)
This is a beautiful ornament, but I was disappointed in the way the picture was put on. My son-in-law has no hair because the top of his head was cut off, and the picture has a "squashed" look to it. I read in the instructions that there would be adjustments made to adapt the picture to the size of the space on the ornament and would have liked to see all of his head. Other than that, it's beautiful. The other photo ornament I ordered was perfect!

Personalized Ornament
By
Ashley S.

(Cedar Falls, IA) - November 12, 2009 (
See all reviews by this customer
)
I really do like my ornament, but when I created it online, it looked better then it did when I got it. While it is of good quality, the whole thing looks blurry. Not only the picture, but the words too.

Disappointed
By
Kathy P.

(Sheboygan, WI) - November 3, 2009 (
See all reviews by this customer
)
I ordered several personalized ornaments, and this is the only one I was disappointed in. The quality of the photo on the ornament is just average. It is not a crisp likeness of the original photo.

Our Love
By
Chelsea S.

(Midland, TX) - October 5, 2009 (
See all reviews by this customer
)
The picture came out a little blurry, more so than the preview, but its still super cute!!