Not impressed
By
Carolyn B.

(MERRICK, NY) - November 4, 2013 (
See all reviews by this customer
)
I purchased this as a gift, but after receiving it I don't think I will be doing that. It does not look as nice as it did online.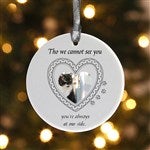 Nice, but different than I thought
By
Shopper

(broadlands, VA) - January 1, 2013
I like the ornament; it stands out on the tree, but I was expecting it to look different. It's a white ornament, but I thought it was silver in the picture. The photo is also smaller than expected, but I like it overall. The price was good and it looks pretty good.

Excellence for prompt delivery, however
By
Shopper

(Hendersonville, TN) - January 1, 2013
Although the delivery and presentation was excellent, I was a little saddened that the actual print was off center. The one side of the heart was 3 cm and the other side was 2.5. I know that is not a lot, but it is very noticeable.
And the little paw prints are not on the larger side, but the smaller side, which makes it look even more off center.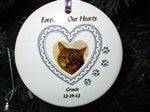 Picture too small
By
Shopper

(Lilburn, GA) - November 26, 2012
Picture needs to be expanded to fill entire heart area.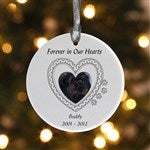 Loving ornament
By
Shopper

(Oxford, PA) - December 22, 2011
This ornament was very nice. The picture should be bigger. The paw prints that are suppost to go around the outside of the hearts was not lined up straight either. Other then that it was a good gift.

Great gift
By
Patricia K.

(West Seneca, NY) - November 27, 2011 (
See all reviews by this customer
)
I thought this would be great to give to my 2 grieving grandkids when they lost their dog. BUT its a great idea the picture area is TOO small. you can barely see their dog. Needs some tweeking to be a 5 star item.

some what disappointed
By
Shopper

(Middletown, OH) - November 25, 2011
I recently purchased this product and received it today. I am a little disappointed in the color of the ornament. I thought this was a silver
ornament only to receive a white ornament. The picture looks as though
its silver so that is what I was expecting. The picture was some what
smaller than I expected as well. Not sure if I am going to keep because
this was suppose to be a special ornament.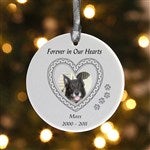 Cute
By
Katie M.

(Gerrardstown, WV) - January 23, 2011 (
See all reviews by this customer
)
I was disappointed with the size of the photo. I got this ornament for my Mom, she loves it, and the photo is a close up of her cat. The picture though a close up, seemed like it was too small. It's a cute idea but the picture space is too small and the ornament is too white. Something didn't fit right for that reason.

Wonderful tribute to a loved pet
By
Cindy M.

(Lindenhurst, NY) - January 8, 2011 (
See all reviews by this customer
)
Bought this ornament for my parents who just lost their beloved dog. It actually brought tears to my mom's eyes. It is well made; includes the pets' name & anything else you'd like to include on the top. My only negative is I wish the picture was a bit larger...maybe if they took away the paw prints or the heart around the picture??

Very small writing and dark picture
By
Meghan B.

(Ellicott City, MD) - December 29, 2010 (
See all reviews by this customer
)
The ornament looks a lot cuter on the website then in person. I think b/c you expect the picture and writing to be a lot larger....

Not as good as expected
By
Nicole B.

(Lakewood Ranch, FL) - December 18, 2010 (
See all reviews by this customer
)
This ornament didn't turn out as well as I expected. The photo is very small and the footprints seem a little out of alignment. We had a rough year at our house, losing two pets in one year. I wanted different ornaments for each of them. For the other pet, I ordered the memorial ornament that is meant for people. That ornament was much nicer. The photo is larger making it easier to see the pet without being right next to the tree. I wish I'd ordered that ornament for both pets. I give it 3 stars because the photo was placed on the ornament correctly and the quality is good. It is a nice, sturdy ornament with a lovely silver ribbon.

nice memorial as a gift
By
SUSAN J.

(NEWPORT NEWS, VA) - December 14, 2010 (
See all reviews by this customer
)
I was a little disappointed that the picture didn't come out a little larger on the ornament. I tried several times to enlarge it and it wouldn't take. When you look at the ornament, the picture looks too small. Otherwise, it's a nice idea.

watch your photo
By
Ginger P.

(Arlington, TX) - March 2, 2010 (
See all reviews by this customer
)
I ordered this after my 14 year old cat passed away. The photo I had of her included a light colored/white portion in the top left section of the picture. The preview of the item indicated the photo would be fine, but when it arrived, the light portion blended with the ornament so that it looks like 3/4 of a heart. It just looks weird and not fit for display, but I keep it close to me. I take the full blame, and urge others to make sure they have color in the background of the pictures. I still love this website and will order again, but this was the first product I was disappointed in as it didn't look the same as it did online. I may try to order this again using another picture some day.