So So..
By
Jennifer C.

(Spring Valley, CA) - June 3, 2013 (
See all reviews by this customer
)
Love the potential this mug has, but given all the blank WHITE space on the mug, I thought the characters might be a tad bit larger in appearance :/ Cute thought, but wouldn't REALLY recommend it (at least not as a gift).

Features I don't like
By
Shopper

(Huber Heights, OH) - January 6, 2013
I was disappointed with it not having the pictures on both sides of the mug. I also was disappointed on how small the pictures were.

disappointing
By
Shopper

(Philadelphia, PA) - December 21, 2012
I was a little disappointed when I received the product. The characters are a little bit small for the mug.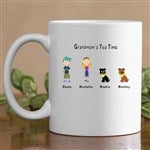 A bit disappointed
By
Deborah L.

(Houston, TX) - April 16, 2012 (
See all reviews by this customer
)
I bought several other items from personalization mall.com before and had been extremely happy. However, I was quite disappointed at this item because the print is ONLY ON ONE SIDE!!! I am right handed, and when I use the cup, I am looking at a very boring white mug!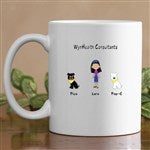 Cute
By
Shopper

(Sand Lake, MI) - November 11, 2011
Easy personalization and lots to choose from. Just wish the characters were larger.

CUTE - but not enough choice
By
Sarah J.

(Canada) - October 26, 2011 (
See all reviews by this customer
)
I made this mug for friends that we have coffee and games night with regularly. I was a bit disappointed that all the adult men and women look the same just with different hair - but it looks great regardless.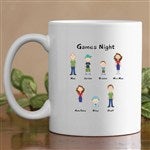 Characters too small
By
Shopper

(Columbia, MD) - May 14, 2011
I ordered a mug with two characters and they were really small! Very cute, but too small.

Size
By
Eliana P.

(Camden, NJ) - June 1, 2010 (
See all reviews by this customer
)
I thought the names and the characters were going to be bigger.

so-so
By
Erin W.

(Wood River Junction, RI) - April 16, 2010 (
See all reviews by this customer
)
The people are adorable, and I like the options you gave in that respect... but you should offer the mug itself in different colors, it seems a bit bland now that I have it here in person... offer it in light yellow and blue and pink and purple... it would make it more appealing and less drab....

Quick delivery- Quality falls short
By
Jamie C.

(Milwaukee, WI) - December 23, 2009 (
See all reviews by this customer
)
The mug came very quickly, but the graphics are extremely small and disappointing.

Something to give
By
Tori C.

(Baltimore, MD) - November 11, 2009 (
See all reviews by this customer
)
This is a nice gift if you just want something to give someone. The personalization is definitely a nice touch however, its much too small of a print for the mug. Unless the print side is facing you and you're close to the mug, it looks like a plain white mug. I wasn't very impressed when I received the mugs and I ordered several of them. However, its something to give as a gift that's not expensive.