Good product, needs improvement
By
Shopper

(Lottsburg, Va 22511, VA) - January 28, 2014
Love the item, looks good, interchanable magnet faces, relocates in yard easly, but does not wear well in area near water with lots of wind. It does chip and peel. First monogramed face plate only lasted two years.

Frame was bent/peeling
By
Kristin T.

(Acworth, GA) - December 28, 2013 (
See all reviews by this customer
)
The magnet looks great, but the metal frame was bent and peeling on the top part, while still in the package. Not sure why that got past an inspection before it was shipped out. It was supposed to be reshipped to me prior to Christmas and was not!

2nd time to purchase
By
Teresa E.

(Carthage, TX) - June 21, 2013 (
See all reviews by this customer
)
I ordered the stand and magnetic sign over a year ago and I love it. However, the print on the magnetic sign does not hold up well to the elements. I will definitely be sealing this new one with a clear coat before placing it outside.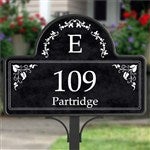 Review of Elegant Monogram Address, magnet only
By
Gary F.

(Newport News, , VA) - October 12, 2012 (
See all reviews by this customer
)
This is a nice product, but they do fade more quickly than I had anticipated. I have just purchased one replacement and one back-up replacement, knowing that the first one will fade relatively quickly. Thank you.

FAIR BUY
By
Randy A C.

(Flint, MI) - June 23, 2011 (
See all reviews by this customer
)
THIS ITEM IS NOT A BAD BUY, IT SHOULD HAVE BEEN TALLER,PLUS ONE OF THE WELDS WAS BROKEN BUT IT WAS USEABLE. THE PRICE SHOULD BE MORE AROUND $20.00 PLUS SHIPPING. NOT A GREAT BUY AT 30.00.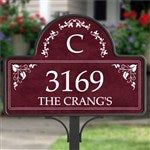 Okay for the Price
By
Shopper

(Shelbyville, KY) - May 30, 2011
This was a nice sign for the price, however, I was wanting something that looked a little more elegant.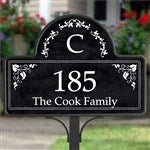 Very small
By
Shopper

(Katy, TX) - April 28, 2011
I love the look of this yard stake, I just wish it was twice as big. I was planning on putting it right in front of my houes, but it would need to be at the mailbox in order for anyone to actually be able to read anything but the numbers.

CUTE
By
ANTHONY P.

(GARFIELD, NJ) - April 4, 2011 (
See all reviews by this customer
)
I purchased two of these address magnets. They are very nice. Time will tell if the printed magnet will hold up to the weather conditions here in NJ. However, i was hoping the metal shaft that you stick into the ground would have been lot longer. But all in all not a Bad Product

Too Short
By
Shopper

(BEAVERTON, OR) - April 3, 2011
I like the sign and it functions as expected. I would like the stake to be longer. It gets a bit lost in my shrubs.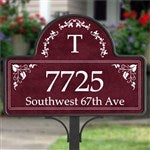 Looks Nice But...
By
Shopper

(Bethlehem, PA) - April 3, 2011
1 week after recieving it, the stripes on the left side of the magnet plaque became discolored (yellowish). Haven't heard back from customer service on this yet after a few days sending an email to service. The metal frame is sturdy and easy to put into the ground. The embossed magnet is attaching nice and flush to the back metal plate.

Not good in Humid climates
By
Nancy B.

(Houston, TX) - May 22, 2010 (
See all reviews by this customer
)
I loved the sign and put it up immediately. Unfortunately, Gulf Coast humidity and this sign do not make a good mix. The magnet was not strong enough to bet the humidity. It curled up and fell of the sign within a two day period. Still using the sign but it is now glued on.

Great Looking!!!
By
ZULFIQAR C.

(avenel, NJ) - March 19, 2010 (
See all reviews by this customer
)
Ok quailty wise. Paint got chipped off so easy that it came off in deleivery but It was send to me new one right away. I am not sure how good it be in winter weather. Oh well! it is good looking overall. Thanks for superfast shipping.

address yard stake
By
DENISE W.

(LUCEDALE, MS) - January 9, 2010 (
See all reviews by this customer
)
Had to get a replacement 3 weeks after purchase because with being outside the vinyl started to pull away from the magnet and would not stick!