Charming wedding gift
By
Kimberly J.

(Springboro, OH) - June 19, 2013 (
See all reviews by this customer
)
This personalized wedding platter was fun to create and I was pleasantly surprised at how nice it turned out. It is going to make a perfect wedding shower gift. I highly recommend going over everything before submitting the final order. I had to reorganize the wedding party just a bit after seeing the picture of the the final product. I wish you could choose more colors than just one for the bridesmaids dresses to better reflect the actual wedding colors.

Nice but a little blurry
By
Naomi K.

(Bridgewater, MA) - May 12, 2013 (
See all reviews by this customer
)
I was pleasantly surprised that they had the groomsmen with coordinating colored ties to match the bridesmaid dresses. I was a little disappointed that the plate arrived a little blurry.

Wedding shower gift
By
Shopper

(Wayland, MA) - March 31, 2013
A bit smaller then I thought it was going to be for a "platter". I am very happy with it. Perfect for the older bride not as whimsical as others I have ordered from other companies. I am looking forward to presenting it to her at her shower. I would definitely order it again for future showers. It shipped so quickly (less the 1 week). Thanks for a great job!!

wonderful gift
By
Nicole C.

(Mountain Top, PA) - January 7, 2013 (
See all reviews by this customer
)
Ordered these for both my daugthers as a christmas present. They both loved them and they came out great. I do wish they had a couple more options to personalize the characters but I made do with what they offered. Also the red hair option actually comes out looking more orange in the final product. Other than that it looked very nice.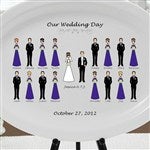 very pleased
By
Shopper

(Canada) - July 25, 2012
I was very pleased with the product! I love how you can personalize the hair and skin color, it really brings it to life! only 2 downfalls: first was that my friends had an uneven number of bridesmaids/groomsmen and we couldn't really adjust positions of the characters so it did look off balance. other was that shipping to Canada was more than the product itself, a little ridiculous. other than that it was amazing, and the low price balanced it out anyway!

wedding plate
By
Shopper

(Canada) - July 21, 2012
the plate looks fabulous and i would order again---just suggest that there was an option for bald and maybe bow tie vs regular tie----but still great!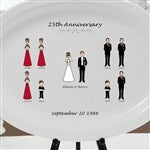 Great item!
By
Shopper

(Jackson, NJ) - June 17, 2012
Love this item except e dresses were supposed to be bronze and they look purple, I wanted orange but it wasn't an option, overall it came great though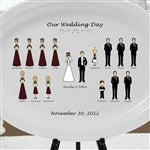 Need more options
By
Shopper

(Belmont, CA) - January 4, 2012
The overall look is nice and clean. It's good that you can add a lot of people to your wedding party. However, the options to personalize the characters are very limited. The shipment arrived earlier than I expected which was great!

Beautiful plate!
By
Michelle F.

(Island Park, NY) - August 23, 2011 (
See all reviews by this customer
)
It is a lovely plate and I can't wait to display it in my home. My only issue is that there are only two choices for skin tone, light and dark. I am Latino, my fiance is Irish and his best man is black. I ended up making both of us dark but I wish they had a Medium skin tone for the Hispanic/Latino/Indian culture. Other than that, I am very pleased :)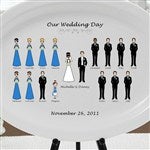 Great Gift!
By
Ashlee K.

(Fleming Island, FL) - June 22, 2011 (
See all reviews by this customer
)
I haven't given the plate yet but I'm sure they'll love it. I do wish that you can pick the length of the dresses and what color the flowers are. But all in all - a great gift. =)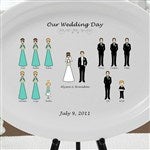 Great Wedding Gift
By
Shopper

(Oakdale, MN) - June 21, 2011
My best friend and her husband were so excited to receive this! My only input on how to make it better would be to allow for more dress options on the women! it was a sweet gift and will be cherished by them for years to come!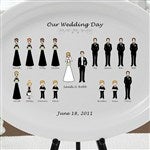 Cute idea
By
Shopper

(Novi, MI) - June 1, 2011
Great gift idea. Probably a hit at a shower to display. Wish I could have put the couples last name under their first names. Otherwise cute idea!

Wrong Colors
By
Lisa J.

(Spencer, WI) - September 21, 2010 (
See all reviews by this customer
)
The platter itself is very cute, but the color of the dresses wasnt what i expected. I ordered bronze, and when the platter came, the dresses were so dark brown they looked black. I was disappointed with that, but was very impressed with how quickly it shipped. I just ordered standard shipping, and i had it within 3 days. Overall, It was a great gift and the bride loved it.

very neat gift!
By
Jill L.

(Lexington, SC) - September 16, 2010 (
See all reviews by this customer
)
I love this platter! It is an adorable, fun wedding gift! The only thing that I wish could be changed is for the color selection of the dresses to increase and there are no options for grey hair or bald in the men's hair categories.

Wedding Platter
By
Tanya P.

(Australia) - September 13, 2010 (
See all reviews by this customer
)
I think this is a great idea for a wedding present. i gave it to my sister in law and she loved it. Once i received it it was great! Really happy with my purchase.

Such a great idea!
By
Sarah L.

(Forest Lake, MN) - June 29, 2010 (
See all reviews by this customer
)
I honestly was shocked when I saw my order had shipped the very next day and it arrived so fast! It is absolutely adorable and I think it's a unique wedding gift if you're looking for something just a little bit more personal. The platter was a little bit smaller than I was anticipating but I would still highly recommend this gift. Plus, it's totally practical as well. They can use it and display it! I might order one for myself to commemorate my wedding:-) I'm impressed and will definitely use this website again!


Our Wedding Day Personalized Platter
By
Cindy M.

(Canada) - April 30, 2010 (
See all reviews by this customer
)
The Platter looked good except it was slightly off centre; you have to tilt your head a little.

Nice plate....wrong color!!
By
Ajla D.

(Saint Louis, MO) - April 5, 2010 (
See all reviews by this customer
)
The lavender color came out more blue than the lilac color shown online. Delivery was really fast which was great. Other than the color issue, it turned out really nice!!

Wonderful Wedding gift
By
Ashley W.

(Gulfport, MS) - March 27, 2010 (
See all reviews by this customer
)
I was maid of honor in my sister's wedding recently. Wanted to get her something special and memorable. This plate is very personal, you can customize it for specific wedding colors, skin colors, hair colors, etc. Making it a very unique and special gift. I ordered it and got it in no time. My sister and her new husband love it. Makes a great display for their china cabinet. And the cost is well worth it, I priced several others on the internet and this website has the best prices. Others were $80 and up.