Men's travel case
By
Shopper

(Tamarac, FL) - April 28, 2014
Looks really nice!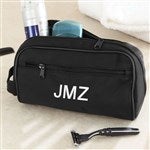 Nice item
By
Shopper

(Henderson, NV) - December 16, 2013
The travel kit is very nice for the cost and the fact that it is monogramed. I was a little disappointed in the shape. It is tall rather than wide like the usual travel kit or shave kit. The photo is deceiving. But, overall, I am pleased withy my purchase.

Good gift for Das
By
Shopper

(Lewisville, TX) - December 8, 2013
I bought this bag for my father who is 66. It is very difficult to shop for him as he gets older. Since he also does a little traveling from time to time, I thought this would be a great addition. He loved it and actually uses it everyday. Good choice!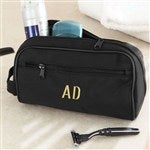 Great Gift
By
Kim C.

(Massapequa, NY) - October 11, 2013 (
See all reviews by this customer
)
Bought this as a gift for my bf to keep in his gym bag, it's perfect and he loves it!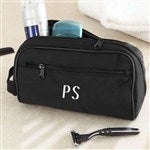 Awesome for College Students
By
Terri W.

(Rutherfordton, NC) - August 16, 2013 (
See all reviews by this customer
)
My son received this travel case as a high school graduation gift. He had other travel cases but immediately starting using this one even before he left for college. He says it is just the right size. The zipper compartment on the front and one inside are great for smaller items. The handle on the side makes easy carrying and also does not get in the way when trying to put items into larger compartment. He liked that it was personalized for using in the college dorm. We loved it so much that we bought several to give as graduation gifts ourselves.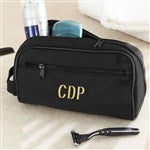 Travel Case
By
Shopper

(Friendswood, TX) - July 7, 2013
Overall, I was pleased with the travel case for my significant other. It was smaller than it appeared on the picture.. Other than that, the case was nice...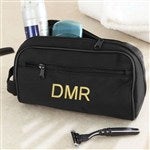 Smaller than Expected
By
Shopper

(Lima, OH) - June 11, 2013
When ordering this product I ordered it for travel only but still was expecting the size to be a bit larger. However, I think it will do the job just fine for small travels and the fabric and embroidery was excellent.

Nice but not elegant
By
Shopper

(Goodyear, AZ) - June 2, 2013
Not as elegant as I had hoped but will serve the purpose as a high school graduation gift. Embroider seems high quality. Bag is not as long as the typical but is much deeper.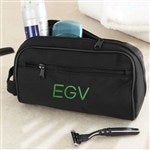 Good for high school graduation
By
Shopper

(Edmond, OK) - April 30, 2013
I bought 10 of these for high school graduation gifts and had the initials monogrammed in the college color of where each guy was going. I am pleased with the quality and love having them personalized. When they are on sale, they are an awesome buy!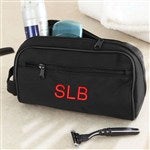 Pretty good
By
Shopper

(Wagoner, OK) - February 16, 2013
It was nice and fairly well made. I bought it for my husband and he really liked. It seems a little small though.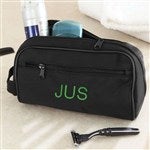 Great value
By
Shopper

(Clarksburg, MD) - February 10, 2013
I purchased this item for my brother in law's birthday and it arrived very fast and looked great! The embroidery was done well and the case itself was a good size. It's a great present for any man who travels often!

Nice bag, great stitching
By
Amethyst C.

(Massapequa, NY) - September 29, 2012 (
See all reviews by this customer
)
I got this bag for my boyfriend for this birthday because he travels a lot and is always carrying his toiletries in plastic bags. It is a great size, holds a lot, including his full size deodorant and body spray. The stitching is nice and the bag is of good quality. I choose the green thread and it is really nice. I recommend it as a good gift for any guy.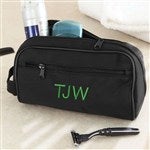 NICE
By
Ashley D.

(Atlanta, GA) - June 19, 2012 (
See all reviews by this customer
)
CUTE!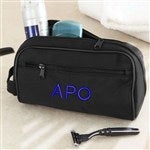 Travel Case
By
Shopper

(Murdo, SD) - February 24, 2012
I got this for my boyfriend and he loves it. He just wishes it was a little longer. It looks longer in the photo then when we got it. Otherwise it's perfect!

Great Choice
By
Shopper

(Lansing, MI) - February 15, 2012
I ordered this item for my boyfriend as a Valentines gift. I was hesitant because of the size. I ended up loving the size of it when I received it. He also loves it and loves that it can fit all his bathroom hygiene products in it which makes traveling a little easier. I would recommend this item.

Nice!
By
Shopper

(Blacksburg, VA) - January 27, 2012
The case is very roomy and the embroidery came out cleanly. Of course it's no leather case but it's great for a vinyl one and perfect for the price. I haven't given to my husband yet but I know he is going to love it.

Travel Case
By
Shopper

(Rayville, LA) - December 6, 2011
Item arrived just as it is shown in the photograph. Pretty goood quality for the price. Monogramming looks great!

Nice quality!
By
Shopper

(Machesney Park, IL) - December 5, 2011
The embroidery was very professional. The gold stitching added to the product. Very useful.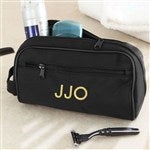 Good quality,.. could have better packaging
By
Monique L.

(Hampton, VA) - December 4, 2011 (
See all reviews by this customer
)
This bag turned out great, the only problems I have is that 1. It stinks like that strong new plastic smell because 2. it was folded up and this caused some creases. I think if it were shipped stuffed with a few balls of paper in a cardboard box it would help air it out a bit AND these are recyclable whereas the plastic shipping bag is not.

Nice
By
Shopper

(Daphne, AL) - November 29, 2011
I ordered this bag for my husband for a stocking stuffer as we recently moved away from our families and he uses grocery bags to put his toiletry items in when traveling home. At the same time I ordered the leather one for a friend as a graduation gift and I like the leather one better. Otherwise a great bag for the money.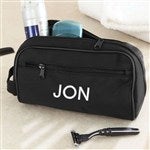 Nice!
By
Dawn W.

(Canada) - November 28, 2011 (
See all reviews by this customer
)
This toiletry bag is quite nice, I just wish there was room for full names rather than just a Monogram or if it had to stay with the Monogram then I think not in same size block letters. In my opinion that makes the bag look a bit boring. The quality of the bag is awesome! I'm sure my stepson will love it when he's on the beach in Mexico :)


Very Handsome Product
By
Robin T.

(Saint Louis, MO) - November 16, 2011 (
See all reviews by this customer
)
I ordered this product for a Christmas present. I am very happy with the quality and appearance of the item. Also, the product arrived quickly and with no issues.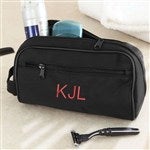 Nicely personalized product
By
Amy M.

(South Euclid, OH) - October 31, 2011 (
See all reviews by this customer
)
The travel case looks and feels solid with easy clean-up fabric. The sky blue (what I chose!) letters are great on the bag and everything looks professionally done. Great gift idea for the man or woman in your life - it's quite big and can hold plenty of travel items with that personal touch of initials. Plus, the service and speed of service at personalization mall cannot be beat.

Great
By
Shopper

(Bonaire, GA) - May 29, 2011
This bag is bigger than it looks & holds everything. It's a great gift!

Great!
By
Shopper

(Deltona, FL) - May 4, 2011
I love the fact that the engraving came out so nice on this travel case! It's a gift and I am pleased that it looks so nice.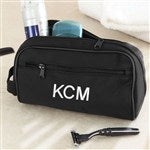 Nice Gift
By
Martin J.

(Upper Darby, PA) - January 21, 2011 (
See all reviews by this customer
)
I bought this for a friend of mine who travels a great deal during the year and he liked it very much. I would definitely recommend this item.

Dopp kit review
By
Jan L.

(Flower Mound, TX) - December 24, 2010 (
See all reviews by this customer
)
Turned out nicely and the monogram was well done. Quality of kit not quite a nice as I had expected but nevertheless nice.

Nice Item
By
Caren G.

(Jacksonville, FL) - December 6, 2010 (
See all reviews by this customer
)
Good size, nice monogramming. My only complaint is with the shipping charges. This item was shipped flat and is very light. $8.00 seems high for shipping especially with so many other companies shipping free.

Very nice for the price
By
Jennifer D.

(Gilbertsville, PA) - September 21, 2010 (
See all reviews by this customer
)
Could have been a bit bigger but a great gift for the price!

Good gift
By
Courtney L.

(Parlin, NJ) - August 18, 2010 (
See all reviews by this customer
)
I bought this as part of a grad school graduation gift for my husband. Unfortunately, I probably should have splurged on the leather one. The embroidery was beautiful and the color really stood out. I thought the quality of the bag was similar to one included with most a luggage sets. It is okay, but nothing exciting. He travels on business and only time will tell how it holds up to constant use.

Small than anticipated, but nice
By
Erica L.

(North Port, FL) - June 15, 2010 (
See all reviews by this customer
)
I know they give the dimensions, but the item was just a bit smaller than I expected. Still good for short trips or for a man who doesn't carry too much. I haven't given it to my husband yet, but I'm hopeful that his shaver will fit in with all his other toiletries.

Appearance wise, it is quite nice. I did ivory embroidery on black... the thread looks whiter than I thought it would, but it still looks great. Like my husband is going to notice or care that it might be white?!

Nice item... we'll see about durability, but it seems well made.

Good product
By
Todd K.

(Oak Park, IL) - April 28, 2010 (
See all reviews by this customer
)
The travel bag is bigger than I expected and the embroidery looks good.

Item was good, embroidery was not
By
Julia F.

(Iowa City, IA) - December 15, 2009 (
See all reviews by this customer
)
I was really happy with the item itself, however the embroidered letters came out two slightly different sizes which I was obviously not happy with.