Christmas gifts ideas
By
Shopper

(Douglasville, GA) - September 17, 2014
This would be perfect for a Christmas gift for any child in school. I got this for my daughters fiancés daughter.

pencils
By
Shopper

(PITTSBURGH, PR) - April 25, 2014
The kids love seeing their name imprinted on the pencils. I just wish the imprint were a bit larger.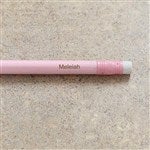 Loved This
By
Tulasi J.

(overland park, KS) - September 16, 2013 (
See all reviews by this customer
)
I loved this but was very skeptical about the size when i ordered it but when the pencil case arrived i was happy to find that the size was very good. I ordered a couple of these and still have to give them to my friends daughters but i'm sure they'll love it.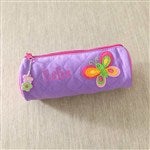 Awesome
By
Debbie W.

(Dade City, FL) - August 23, 2013 (
See all reviews by this customer
)
my 7 year old niece loved it !!!

Butterfly Pencil Case
By
Shopper

(South Dartmouth, MA) - August 20, 2013
I was pleased with the pencil case. Good quality and stitching. It arrived in good time. I am happy with the product and will use Personalization again.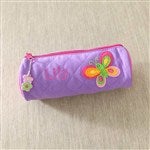 Adorable!!!
By
Allison F.

(Crystal Lake, IL) - November 18, 2012 (
See all reviews by this customer
)
I gave this case to my three in a half year old niece as a gift for standing up in my wedding. I filled it with kid friendly make-up and nail polishes and she loved it! My sister told me she sleeps with it! I feel the pencil case is priced high for the size or I would have given this item 5 stars!

Looks pretty but gets dirty really quickly
By
Stephanie C.

(Switzerland) - August 3, 2012 (
See all reviews by this customer
)
Looks pretty when we first bought it. My daughter used it when she was in grade 1 and it came back really black and dirty after a couple of weeks. Not suitable for really young children as they would be using pencils and the lead would dirty it all over.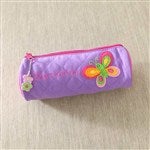 Beautiful
By
Shopper

(Miami, FL) - August 2, 2012
The Embroidered was perfect and the Pencil Case it's so cute. I am completely satisfied.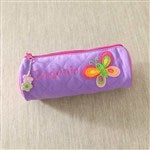 pretty in pink pencils
By
Shopper

(Nashville, TN) - July 28, 2012
These pencils are an adorable gift for a little girl starting school. The color and quality of the pencil is very good. The engraving is very inconsistent. In the pack of twelve, the name color varies from pale, but readable to rich and dark. It is not as pictured.

Beautiful pencil case!
By
An P.

(Downey, CA) - December 14, 2011 (
See all reviews by this customer
)
It is so nice but I still wish the name on it shows brighter or can be the red color. Like it so much...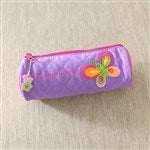 Pencils
By
Shopper

(Plantation, FL) - December 5, 2011
very cute. Name could be bigger.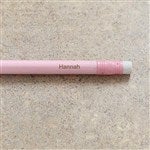 very pleased but confused
By
Laurane P.

(warwick, RI) - September 26, 2010 (
See all reviews by this customer
)
I loved the quality of the personalized pencil case but looked endlessly for the 12 pink personalized pencils that were included...........with the picture you show I was totally confused and thought you had forgotten to ship them.
Big dissapointment for me as for the price understood they were included...now have to search for them???

Not Quite as Good as Last Time
By
DEIDRE M.

(SAN DIEGO, CA) - June 25, 2010 (
See all reviews by this customer
)
This is my second order of these personalized pencils - the first set was 5 star; this set 4 stars. The name is burned into the wood and some of the names are darker (burned longer?) It's not an issue if you're going to hand them out 1 by 1 like I'm going to, but if you are going to give them as a set, it looks a little funny.

As in the picture.
By
Alan D.

(Chino Hills, CA) - December 18, 2009 (
See all reviews by this customer
)
Good quality,cute for girls.