cute gift
By
Shopper

(Mount Carmel, IL) - February 12, 2014
I'm always looking for cute gifts. I got this for my boyfriend as a Valentine's Day gift. Though I really care about him, the personalization gave me a cute gift that didn't have LOVE written on it. It's smaller than I anticipated and the sand doesn't really look like sand. Still happy with the product and I'm sure he'll like it.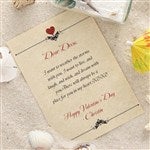 Granddaughter
By
Charlotte P.

(Lees Summit, MO) - February 2, 2014 (
See all reviews by this customer
)
This is not the first item which I have purchased from Personalized. There prompt service and fine quality, keeps me coming back. I am a sensitive and caring buyer. I love the fact that, nicknames, daughter, granddaughter etc.,can be placed on or in a product to make it look beautiful. Thank you for the opportunity to purchase good quality at a equally good quality price.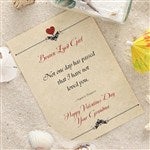 Love letter
By
Shopper

(Miami, FL) - September 5, 2013
its so cute, and perfect for a gift or just a message

romantic
By
Shopper

(boca raton, FL) - July 19, 2013
cute idea. could have included a few more small shells and some small pieces of glass, as well as a keepsake for after releasing the bottle. for the price you could really do it yourself but it remains a cute and romantic idea.

So adorable
By
Shopper

(San Antonio, TX) - April 26, 2013
I really liked this message in a bottle. Gave it to my husband the day of our wedding.

Very Thoughtful
By
Shopper

(Suitland, MD) - April 1, 2013
I bought this for my 3rd anniversary and I must say my husband was very pleased. The only thing I didn't like was the short customizable message. You can choose one of the personal messages but anything has more meaning when put in your own words.

Used it as a B'day Card
By
Avinash S.

(Glendale, AZ) - February 23, 2013 (
See all reviews by this customer
)
Bought this as a b'day message for my partner instead of just using a common greeting card. She loved the idea and the personalization !!

Exactly as advertised
By
Shopper

(Tampa, FL) - February 5, 2013
This item came exactly as ordered and looks really nice. The only reason I gave four stars is because the items in the bottle look fairly generic and would be nicer if they were of higher quality or you could pick what items to put in. Overall happy with the purchase. Can't wait to give to my fiancee on our wedding day!

Great
By
Shopper

(SAINT AUGUSTINE, FL) - December 5, 2012
Great Product and shipped early! I'm very pleased with my purchase!

Personalized Love Letter© In A Bottle
By
Shopper

(Redmond, WA) - October 26, 2012
This was a cute, different, and fun gift to give.
I thought it would be a little larger but it was something different that you don't give to someone everyday.

Great gift and very unique idea!
By
Daniel H.

(Rochester, NY) - September 11, 2012 (
See all reviews by this customer
)
I loved the bottle and the message was perfect. The umbrella was cute, but the palm tree looked too cheap. Besides taht I had no complaints :)
I loved it :)

She loved it!!
By
Shery B.

(Cape Coral, FL) - September 10, 2012 (
See all reviews by this customer
)
Sent this to my girlfriend after a week-end trip..she loved it..

Its nice and I can spruce it up!!
By
Reinelle P.

(Miami, FL) - August 24, 2012 (
See all reviews by this customer
)
Looks about the same in the picture!! I did not like the ribbon that was tied around the letter! So I swapped with a satin ribbon!! All in all I am happy with this gift!! Hope my baby loves it even more!!

Sweet Idea
By
Shopper

(Kennewick, WA) - May 17, 2012
I sent this as a gift, the one who recieved it seemed to really like it. Very thoughtful for just a "thinking of you" gift. :)

Dont buy the girft box
By
Shopper

(Walnut Creek, CA) - May 16, 2012
I paid extra for a gift box thinking I could use it to give in, its a box advertising the Personalization Mall, I wasted $3. Shipping is very high and they shipped in a huge box for a tiny product. The product was good, I got what I expected for the price. The paper was bent and I didnt like that. Overall OK gift for 1 year anniversary "paper" gift.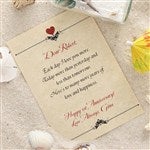 romantic message in bottle
By
Shopper

(Saint Louis, MO) - May 11, 2012
Message in a bottle is a sweet way to say something sentimental. It reminded me of a special trip my husband and I took together. The bottle itself is pretty small, which I believe the description states, but I wasn't picturing it to be THAT small...(no way one of those sand dollars that is in the sample picture could fit into that bottle)...message on paper--very nice...and best of all the delivery is exceptionally fast!

Great item, heave and well done.
By
Abdullah A.

(Katy, TX) - March 23, 2012 (
See all reviews by this customer
)
Was very satisfied with the purchase and she loved it; more over, almost half of my friends bought her from the same website, but we kept it a secret since she didn't know. Would def. come back

Great Idea but...... Small gift
By
Rocio & Eric C.

(San Diego, CA) - March 19, 2012 (
See all reviews by this customer
)

I bought this gift for my husband on Valentines, specially because he was traveling, when he got it, he laughs because the bottle was to little on his hand, The quality of the paper really was poor to thin, he loooooves the message the print and font was nice easy to read. The umbrella and palm tree was so cheap. The idea for the gift is excellent but needs little more.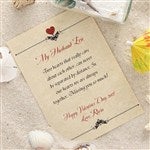 Unique Gift
By
Shopper

(Raleigh, NC) - February 28, 2012
I received the tracking number in an email and received the package, when it was supposed to arrive. I was afraid the bottle would be very small, but it arrived and looked great. It's a unique gift, and my boyfriend loved it. Personal, and loving, the gift was perfect!

good item
By
Jessica H.

(Canada) - February 22, 2012 (
See all reviews by this customer
)
item was just as shown as pictured and is quite unique

Nicely done.
By
Shopper

(Bedford, MA) - February 19, 2012
My wife liked this as a Valentine's Day gift. It was smaller than I thought- maybe six inches tall. Otherwise, it had in it what it said it would.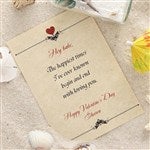 nice gift
By
Shopper

(Orland Hills, IL) - February 16, 2012
It was a nice gift for my boyfriend, the only flaw was that we had to take the letter out, to see what the letter said. It would have been nicer, if the letter was shown inside of the bottle as well as outside of the bottle. Then he would have had a choice to leave it out or inside.

humerous Valentine's
By
Shopper

(Jonesboro, AR) - February 15, 2012
There are more products similar to this on other sites they are bigger and way more expensive. I know this because my husband bought one and spent 70 on it for me for valentines day.of course neither of us knew that we had gotten each other basically the same thing so it was very funny when we opened our gifts. Turned out he liked the one I got for him from here better than the one he spent 70 on for me. So this is a very affordable very cute gift for your loved one.

Gift for the man who has everything!
By
Shopper

(Collinsville, IL) - February 15, 2012
Cute gift!

Overall Good
By
Shopper

(Charleston, WV) - February 13, 2012
The product was over all good. The writing was nice and the actual product was nice. The only thing I think I would have changed would be the overall "blandness" of the bottle. I wish it would have been a little more personalized. It would have been nice to be able to engrave the bottle or something. However, the product was nice and original. Very good choice.

Cute little gift
By
Amanda W.

(Moore, OK) - February 13, 2012 (
See all reviews by this customer
)
Not exactly what I was expecting, I think that this is geared more toward the teen/young adult crowd. But for what it was it is charming and adorable.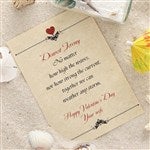 romantic and cute
By
craig S.

(anaheim, CA) - February 12, 2012 (
See all reviews by this customer
)
perfect for something sweet as an add on to a romantic evening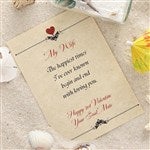 cute idea.
By
Laurie P.

(Cutler Bay, FL) - February 8, 2012 (
See all reviews by this customer
)
i loved this item. I said i had to get this for my boyfriend for Valentins day. it was a cute idea. i hope he will like this. i might get more things in the future for my boyfriend.

Great gift for Him
By
Shopper

(Piedmont, OK) - February 5, 2012
Men are so hard to surprise, especially at Valentine's Day. This was delivered to my boyfriend at his hotel when he was out of town. He loved the surprise and the fact we both love the beach it was perfect! He had never seen anything like it. Totally make girlfriend points for this one. Thanks!!! P.S. I use the standard delivery. I received an email when it was shipped and delivered. It was easy to track even though I didn't need to and it was received in a very timely manner. I will order from you again.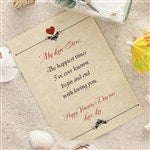 Cute
By
Lily R.

(Sunny Isles Beach, FL) - February 1, 2012 (
See all reviews by this customer
)
I loved it!

Great Nautical Gift
By
Shopper

(Miami, FL) - January 31, 2012
My fiance loves anything nautical and I ordered this gift for him and he loved it. It was a really cool gift and the sand, little umbrella, shells, and little tree gave it a great touch.

Original
By
Ana G.

(Hialeah, FL) - January 30, 2012 (
See all reviews by this customer
)
It is an original way of expressing your feelings...

Great gift idea
By
Jennifer S.

(Charlotte, NC) - January 16, 2012 (
See all reviews by this customer
)
Great delivery, product is so cute. My only critique is that I would have like more characters in the message-- I had to cut what I wanted to say short. Thanks for a great gift idea.

birthday surprise
By
Shopper

(Norristown, PA) - December 30, 2011
I purchased this as a birthday gift for my husband and he really likes it.. I like the fact that its so unique and clever. I have never seen anything quite like this before. I like this site because I find alot of different things for different occasions

Delayed delivery
By
Shopper

(United Kingdom) - November 5, 2011
The gift was fine but it did not reach on requested date.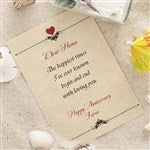 A hit due to the uniqueness
By
Shopper

(Long Beach, CA) - November 1, 2011
Only issue with this is that the sand should have been washed first. Lots of white dust stuck to the inside of the bottle. Else 5 stars.

Loved It!
By
Crystal M.

(West Edmeston , NY) - August 2, 2011 (
See all reviews by this customer
)
My husband loved this when I gave it to him for our 2nd anniversary. It is so cute and well put together.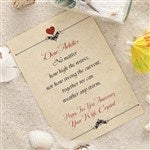 A very unique gift!
By
Valerie R.

(McDonough, GA) - July 23, 2011 (
See all reviews by this customer
)
I thought this was very unique. Smaller than what I thought it was going to be, but I'm still pleased. Wish the palm tree wasn't plastic (reason for the 4 stars instead of 5 stars) Think it would've been better with silk leaves instead, but I like the whole idea of the love letter in a bottle. I know it'll be appreciated. The price was reasonable, shipping was FAST!

A neat little item.
By
Tom B.

(Austin, TX) - March 4, 2011 (
See all reviews by this customer
)
My wife enjoyed receiving this gift.


Unique
By
Shopper

(Newton, NJ) - February 25, 2011
Arrived when on time per delivery date; unique gift; good quality