Nice gift for little girls.
By
Shopper

(Olympia, WA) - August 12, 2014
I bought this purse for my niece. She seem to love it because it had her name on it of course. I liked it because of the wonderful bright colors. Seems like it was made well, with a kinda of quilted feel to it. I felt that you should not show the coin purse with it because it is not part of the offer or even available to order. I felt with the price of purse, coin purse should of been available too.

Cute But Smaller Than I Thought
By
Shopper

(Cookeville, TN) - March 21, 2014
Received the purse in record time and pleased about that, but a little surprised about how small it was. I wasn't expecting much bigger but obviously I did not read dimensions. Not that big a deal, mostly had hoped strap would be a little longer. But this still makes a nice gift for my 4 year old grandaughter.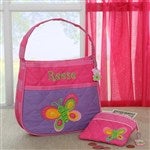 mongrammed purses
By
Chatagnier A.

(Kerrville, TX) - June 3, 2013 (
See all reviews by this customer
)
adorable purses I know my granddaughters will love them! Very well made too!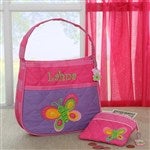 Very pleased
By
Debbie B.

(Edna, TX) - March 19, 2013 (
See all reviews by this customer
)
I ordered this purse for my 3 1/2 year old niece for Easter.
Her mother loves it and told me it is really cute and that
Pleases me.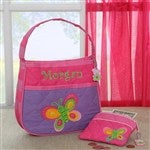 Cute
By
Shopper

(LEVITTOWN, PA) - March 9, 2013
This is very cute. But smaller then expected.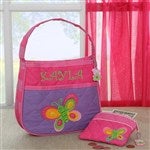 Good gift, but ship to yourself first!
By
Shopper

(Long Island City, NY) - May 7, 2012
This bag is really cute and my 4year goddaughter loved it!! Great job on the personalization too!! Only issue is that it had some random threads sticking out the stitching in one place was questionable. Luckily I shipped to myself so I was able to snip the threads off before wrapping it up and giving it as a gift. She's 4...she wouldn't have noticed...but I still don't want to give something that appears low quality

Very cute
By
Shopper

(Milton, DE) - February 5, 2011
Adorable for children - purse is small and ideally suited to a 5-6 year old.

Smaller than I thought
By
Deborah M.

(Boothwyn, PA) - November 17, 2010 (
See all reviews by this customer
)
Bought this for a gift for my niece and my daughter. The purse is adorable,I know the girls will love it, and hte personalization adds a special touch. However, it was smaller than I expected. I kept waiting for a box to come but it actually shipped in an envelope and fit in my mailbox. It will still be a hit but I don't know if I would spend the money again on it given the size.

Really cute
By
Pamela M.

(Amherst, NH) - March 19, 2010 (
See all reviews by this customer
)
I ordered this for a friend's daughter who just turned 4 years old. She thought it was adorable. Its a bit smaller than I expected but its perfect for a young girl. It shipped very quickly.

Embroidered Butterfly Purse
By
Elaine P.

(Chester, VA) - March 17, 2010 (
See all reviews by this customer
)
Nice, but I thought it would have been larger.

Very Cute Girl Gift
By
RACHEL B.

(HATBORO, PA) - January 20, 2010 (
See all reviews by this customer
)
I ordered this for three year old birthday. She loved it. It was very cute and the personalized name on it made the purse adorable. The only reason this got a four and not a five the purse itself had some threading come out.