Nice looking, music could be better
By
Shopper

(MADISON, AL) - September 12, 2014
This box was bought as a gift for a 1 year old. It is a very nice looking piece that seems to be put together fairly well, hopefully well enough to last for years. One slight disappointment was the music. It is not terrible, but not quite as smooth as desired.

love it
By
Lindsay G.

(oshkosh, WI) - March 31, 2014 (
See all reviews by this customer
)
I just ordered this on Thursday night, it is Monday and i just got it, i was so shocked how fast it came, it looks great , i thought it be more of a silver, but it still is good and i thought the top would be more furm its kinda feels loose when u open it, that is the only reason i put 4 stars, My niece is turning 1 on April 22 and i cant wait to give it to her , im not telling anyone what i got her, Its something she can keep forever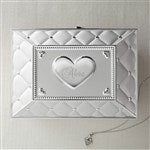 Pleased
By
Shopper

(Hamsphire, TN) - January 28, 2014
I am very pleased with the Ballerina Jewelry Box. Only thing I would like to see improved is the ballerina. The box is beautiful, then when you open it the ballerina is a little cheap looking.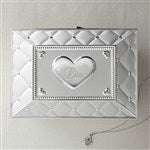 Adorable for a young girl
By
Shopper

(Toledo, OH) - December 25, 2012
This is a lovely music box that any young girl would enjoy and hopefully treasure for years.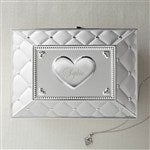 Musical Jewelry Box
By
Linda F.

(Harlesville, PA) - December 7, 2012 (
See all reviews by this customer
)
Am very, very pleased! The quality is great and it looks so nice, something you would keep for a long time, perfect for my granddaughters.

Beautiful
By
Shopper

(Mandeville, LA) - August 3, 2012
I bought this jewelry box for my daughter's 1st birthday. It is very beautiful and I hope she enjoys it for many years to come. There is a shiny heart on the front side of the box. I only wish they could engrave this area with initials or something along with the name on top. That would make it perfect and I would've given it 5 stars.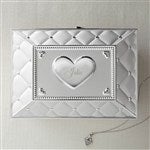 Very Nice
By
Shopper

(Whitestone, NY) - June 16, 2012
this product was purchased for the two flower girls at our wedding. though it is a little small it is a very nice gift for young girls.

Pleasantly surprised!
By
Shopper

(Brooklyn, NY) - April 13, 2012
This jewelry box is beautiful!! Much bigger than I expected. Great quality and shine to it! The engraving is nice as well, however, it could be a little bit better. But I still love this product! I am giving it to my flower girls and putting a pair of earrings inside. I think they are going to love it!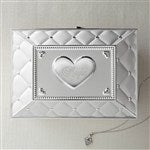 clj
By
Shopper

(Winfield, KS) - March 6, 2012
The jewelry box itself if very nice. I bought it for my daughters first birthday. I am however disappointed with the music! I don't know if it was just mine or if this is just how they're made, but I'm not pleased with it. But overall I think it's a good product. I think my daughter will enjoy it for years to come.

Beautiful
By
Shopper

(Auburn, WA) - December 29, 2011
This was gorgeous, the only thing that I would have changed is the option of ethniticity on the ballerina. But love it.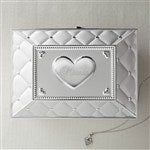 Wonderful product, quick shipping!
By
Shopper

(Beecher, IL) - August 20, 2011
I ordered this for my daughters 1st birthday. I expected it to take at least a week before I received it, but it arrived at my home within days! The quality is great and I just love it. Only thing I would have liked is for it to have more space for personalized engraving, perhaps on the heart on the front. I highly recommend this product.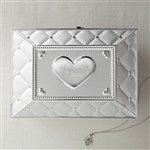 GOOD GIFT
By
Shopper

(Victorville, CA) - July 27, 2011
Loved everything about the jewelry box, but the ballerina could be a little more sturdy (my daughter breaks everything)....and I wish she came in another ethnicity.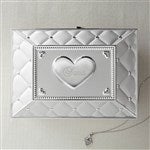 Decent for the Money
By
Shopper

(Spencerport, NY) - July 26, 2011
The music plays very fast and the engraving is a little off, but other than that it's what i expected and my neice will love it.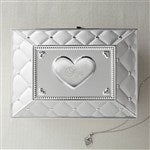 Very Cute and Beautiful
By
Mrudu M.

(Plano, TX) - May 8, 2011 (
See all reviews by this customer
)
This is a very good jewelry box... loved by all girls.. I have ordered it for 3 of my friends and all were satisfied... I have my own also... I absolutely love it.

Lovely Jewelry Box
By
Jennie B.

(Davenport, IA) - May 3, 2011 (
See all reviews by this customer
)
Excellent quality as you would expect from Lenox. The personalization was slightly off center (which is why I gave it four stars instead of five), but not noticeable enough to return.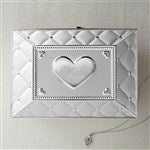 Quality Music Box
By
Elizabeth P.

(Lake Forest, IL) - October 19, 2010 (
See all reviews by this customer
)
I was pleasantly surprised at the quality and look of this musical jewelry box. I was afraid I'd get it and it'd look "cheap" but I'm really happy with it!! It'll be the perfet gift for my niece's Christening, and I'd definitely order it again as a gift!!

Lemox Personalized Ballerina Musical Jewwlry Box-return to item
By
Erica E.

(BEAVERTON, OR) - August 6, 2010 (
See all reviews by this customer
)
the box looks perfect engraving on the box perfect very pretty enside is pink velevet my daughter loves it would buy again

Music Box
By
Karen P.

(Braintree, MA) - May 21, 2010 (
See all reviews by this customer
)
I just purchased this for my niece and I was skeptical doing so on line but it is a very nice music box and worth the money. The engraving is perfect.

Quite pretty
By
Franca I.

(Canada) - May 21, 2010 (
See all reviews by this customer
)
I received the jewelry box quite promptly. It is very pretty. The only issue I have is that it had a small tear in the lining in the inside. It is not worth returning, however, I think perhaps closer inspection should be done prior to shipping. Also the personalization is quite faint, perhaps it should be a bit deeper. Overall, however, it is a nice product and I am pleased with it.



Great gift
By
Jessica M.

(Camp Lejeune, NC) - April 26, 2010 (
See all reviews by this customer
)
My daughter loves this jewelry box!

engraving
By
Darlene M.

(Lewisburg, WV) - March 9, 2010 (
See all reviews by this customer
)
I was pleased with the jewelry box. The only thing that I was not pleased with was the engraving. I felt the engraving should should have been a little deeper. It was hard to see.

Overall a very nice gift for a little girl
By
Ginger P.

(Arlington, TX) - February 9, 2010 (
See all reviews by this customer
)
I purchased this jewelry box for my daughter as a 1st birthday gift in hopes of it being a keepsake for her. I love the way her name turned out on the engraving. The outside of the box is very pretty and is sure to grow with her. I think it will be something she can keep and use through her adult life. The only reason I did not give the item 5 stars is because the top insert and inside of the box seem a little "flimsy". It seems to be too light weight and not like the solid wooden box I had as a child. Other than wishing for a little sturdier inside, I love the jewerly box and intend to purchase again for my nieces.