What could be added
By
Tammy M.

(Indianapolis, IN) - April 2, 2013 (
See all reviews by this customer
)
I loved how the water bottle turned out. I would of loved to have put like a message on the opposite side. This was a birthday gift, so I would of loved to wrote Happy Birthday and the year.

Christmas Gifts 2012
By
Thomas W.

(Cincinnati, OH) - December 23, 2012 (
See all reviews by this customer
)
Ordered these for grandmothers and a secret pal at work. Everyone loved them. The pictures come up very clear on the bottles also.

exactly what was advertised
By
Shopper

(Fairport, NY) - December 27, 2011
The bottle arrived exactly as advertised. The pictures were easy to download. They did lose a little bit of quality, but not too bad. Just wish there was a BPA Free symbol on it as the question arose. Good stuff!

Great look
By
Shopper

(Odenton, MD) - December 11, 2011
My photos really showed up well on the water bottle. The bottle itself wasn't quite as I expected but it is fine.

Love the pics!
By
Sharon R.

(Greenville, NC) - November 14, 2011 (
See all reviews by this customer
)
The pictures came out really well, even though they were not all the advised kind. This is the second time I have bought a drinking container with pictures on it from personalization.com. Thank you! I love these products. I did not rate 5 stars bc it is a gift that I have not given yet and I do not know about the functionality of the water bottle. Thanks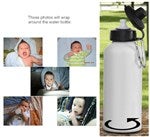 Lovely for mothers - Quality concern.
By
Shopper

(Annandale, VA) - October 18, 2011
I would rate it 3.5 if I could. Quality is what concerns me. It says aluminum, which I did not notice so I was surprised by the golden interior. It says lead-free and BPA-free so I feel better after reading that. The spout is not the typical push up and down. It is always open. You will need the cap for it to not spill (or use other cap). The bottle seems painted on and at parts where it is scratched, you can see the gray aluminum underneath. The images came out quite nice. I like the alternative screw-off cap. The gift is for my mother. I haven't given it to her yet but I know she will love the photos on her water bottle. She uses water bottle all the time. Overall, I love the personalization of it but quality is my main concern because my mother's health is the utmost important to me.

Cute!
By
Shopper

(Las Vegas, NV) - September 6, 2011
I ordered this for my 3yr old daughter's preschool water bottle. I am very satisfied with the picture quality and it's a great personalized item for her to see pics of her family & easily identified as her bottle. I do wish the photos were larger or you could add more photos to spread out over the entire bottle vs. just the one side. The other suggestion would be to have the option to add print on the other side & include a name/text. Aside from that, it's an adorable bottle & my daughter loves it!

Nice
By
Deborah A.

(Tolono, IL) - December 23, 2010 (
See all reviews by this customer
)
Nice item, just would be nice if the back side wasn't so plain. If a person could have a last name or initials etc. put on the opposite of the pics maybe in a vertical position. Just a thought. Overall very happy with the item.
A person will definitely know it's their bottle with the pics. But a team name or persons name would help make it more identifiable, we wrote it on in permanent ink, but just isn't the same

Nice gift
By
Christie K.

(Yonkers, NY) - December 19, 2010 (
See all reviews by this customer
)
Overall the bottle came out really nice. The pictures are a little grainy even though the originals were not. I wish the pictures wrapped around the entire bottle instead of just being on one side. Good gift overall.

Father's Day Water bottle
By
debbie C.

(east hanover, NJ) - June 21, 2010 (
See all reviews by this customer
)
Great quality and pictures look wonderful. Even though the pictures are small they are very sharp.

Exactly what I wanted
By
Lesley B.

(Albemarle, NC) - June 4, 2010 (
See all reviews by this customer
)
I purchased this as one of the 1st Father's Day presents for my husband. He travels for work and loves that he can have pictures of our daughter with him on something he uses all the time. The only reason I didn't give it 5 stars is that it doesn't have an option for a message. Otherwise the quality of the pictures and the bottle itself were excellent.

Great Water Bottle!
By
Carli S.

(Naples, FL) - May 29, 2010 (
See all reviews by this customer
)
Bought this water bottle for my mom "from" my daughter for Mother's day! It came out great and my mom loved it!

Heart Warming Gift
By
Katee B.

(Palmdale, CA) - May 24, 2010 (
See all reviews by this customer
)
I bought this as a late Mother's Day present for my sister. First of all, delivery was superbly quick. I received my item five days after I ordered without paying for upgraded shipping. I was happy with the results for the most part; the arrangement of the photos leaves an awkward blank spot that isnt so appealing. It would be nice if you could write something in that space. All in all a great personal gift :)

good
By
Sara H.

(Mechanicsville, MD) - February 4, 2010 (
See all reviews by this customer
)
I was hoping for the pictures to be larger or more spread out to take up more space on the bottle.

Small
By
Beth M.

(Swampscott, MA) - December 10, 2009 (
See all reviews by this customer
)
Disapointed that the pictures did not go all the way around the bottle. It could use something else. Maybe a personal message. Also, bottle a little smaller than I expected. Quality is good.