Really softtt :)
By
Shopper

(Texas City, TX) - August 16, 2014
The quality of the blanket is awesome and the stitching is beautifully done, my only complaint is the blanket could have been a little bigger.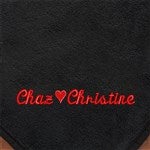 Great Gift at a cheap price
By
Shopper

(Canada) - February 25, 2014
I got this blanket for my love as a gift on Valentines Day. Great Service, coz it was delivered right on time. He said he loves it though it's a little bit small for him. I'll definitely order again here. ;-) Keep it up!

Cozy
By
Shopper

(Fayetteville, NC) - February 3, 2014
I love this gift for my boyfriend. It's not too much personalization, but it's just enough to remind him that it was from me and that I love him.

Very pretty
By
Shopper

(HUMMELSTOWN, PA) - January 26, 2014
The monogramming was very pretty! The thickness of the blanket was less than expected.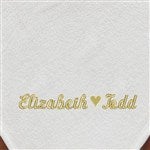 Blanket needs to be softer!
By
Amber F.

(Morgan Hill, CA) - June 22, 2013 (
See all reviews by this customer
)
The embroidery looks beautiful, I just wish the blanket felt softer and a little less like a beach towel

Perfect!
By
Shopper

(altmar, NY) - June 9, 2013
Love it!!! Soft...fluffy... Perfect gift for special someone...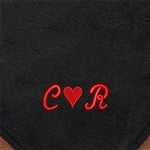 Great blanket
By
Shopper

(Rosedale, MD) - February 13, 2013
The blanket arrived on time and was engraved perfectly. It's very soft and warm. The only reason I didn't give it 5 stars is because I wish it was just a little larger. Outside of that, great gift.

Beautiful and Soft Blanket
By
karen H.

(Westerville, OH) - January 19, 2013 (
See all reviews by this customer
)
I really like this blanket because it is personalized. I'm giving it as a Valentine gift to my husband and we will use it in our living room as a cuddle blanket. It's a smaller and thinner blanket than I would normally buy, but the personalization is a wonderful touch that I love. I'm very pleased.

Great purchase
By
Shopper

(East Greenwich, RI) - May 21, 2012
I really love the way the blanket I ordered came out, it truly looks just like the picture! I bought the black with light blue writing and it looks amazing! I do wish they had bigger sizes but I am so happy with this purchase and I can't wait to use it!

Nice but small
By
Brad H.

(Jeffersonville, IN) - February 21, 2012 (
See all reviews by this customer
)
I like this item. The stitching is very nice. I am a bit disappointed that the blanket is smaller than I expected. I haven't washed it yet so I can't speak to if it will hold up to washes.

So worth it!!
By
Shopper

(Newark, NJ) - July 28, 2011
I got this as a birthday present for my boyfriend (his first birthday that I've known him for)and both of us absolutely loved it! What I was most pleased of all with was the lettering on the blanket, it was even better than what the personalized picture portrays. The material is fuzzy, warm, soft and the edges are also nicely sewn together. It's also light; not meant to be worn as a comforter in bed, but perfect for some snuggling on the couch. I'm so glad I chose to buy it for him because I couldn't have loved anything more! The only reason I rated it 4 stars was because it wasn't very long or wide, and therefore hardly big enough for the both of us (my boyfriend's 6 feet tall while I'm nearly a foot shorter). But the proportions are already stated in the description so this isn't something I can complain to him about. All in all, there is no reason I wouldn't recommend this gift to anyone. It certainly made the two of us happy!

Very Soft!
By
Shopper

(Minneapolis, MN) - April 19, 2011
A nice little blanket and made a great unique gift. It's not the heaviest/thickest blanket but great for a little something extra when watching TV on the couch.

gift
By
Shopper

(Lincoln Park, NJ) - April 17, 2011
I ordered this throw and a personalized ornament as an engagement gift. I had it sent directly to the receiver, so I did not see it
They said it was great, that's all I can go by.
Have dealt many times with Personalization Mall.com and never had a problem !

They are happy.....
By
BOWIE W.

(NEW YORK, NY) - February 21, 2011 (
See all reviews by this customer
)
I purchased it as a Valentine Day's gift for a couple. I did not personally see it. But they are very happy. They say the quality is good and name very well embroideried. I think I will buy one for myself to see the actual quality.

Blanket - Red
By
Kevin A.

(Evanston, WY) - February 16, 2011 (
See all reviews by this customer
)
Good and soft blanket. One problem is that with the color you need to wash the blanket before using it. For it tends to bleed on everything including my wife and the pets that snuggle underneath it. This is why I only gave it 4 stars and recommend anyone else getting this blanket to wash it before using it or giving it as a gift.

Blanket is great.
By
Jessica S.

(Midlothian, VA) - February 11, 2010 (
See all reviews by this customer
)
I loved this blanket. It was a fairly good size and VERY soft. Name stitching was slightly off but not very noticeable.

CUTE!
By
Susan H.

(Berkeley, CA) - January 26, 2010 (
See all reviews by this customer
)
I excepted the material to be much thicker, but it was still very nice and cute! I love it.