Attractive and Unique
By
Shopper

(Buckley, WA) - July 5, 2014
I ordered 3 different Personalized Pen Sets for graduation gifts. I am very pleased with how the pens looked, they were all exactly what I requested, and the recipients are impressed. I would have preferred more "Quotes" to choose from and knowing their sources. When creating your own quote the space is quite limited, but with a little thought it is fun to find the perfect quote.

Good product, but room for improvement
By
Frank S.

(Columbus, GA) - July 1, 2014 (
See all reviews by this customer
)
Overall, I was pleased with the product I purchased, though I would make one suggestion. The print on the box was a little weak, especially compared to the print on the actual pen. It was very strong, but that was not the case on the box.
Still, I was pleased, the recipient was too and I would consider ordering this product or a similar one again.

Customer service and website were also very good.

Cheap box but nice engraving
By
Anoopoma B.

(Haddon Heights, NJ) - July 1, 2014 (
See all reviews by this customer
)
The box rattles because it does not close quite properly and for some reason the pen itself rattles too. However the engraving is beautiful and the person who received this gift did like it very much. I would be willing to pay an extra ten for a pen case with a spring hinge in the future.

Great gift
By
Leilani F.

(Tamarac, FL) - June 1, 2014 (
See all reviews by this customer
)
Great gift. My employee loves it. Only thing was that tje engraving on the box wasn't bright. Could hardly see it. If not 5 stars for sure.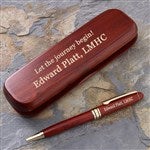 2ND TIME A CHARM
By
Candice S.

(Orion, IL) - April 27, 2014 (
See all reviews by this customer
)
I ordered this for my sons MBA graduation gift. The first one I received you could not read the quote. I emailed and sent a requested picture and they quickly sent a new one that I am very pleased with. I was very happy with both the replacement and the quick turn around time. I loved the new one. I would give it 5* rating but the first item was sub par.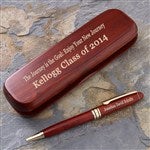 Always Satisfied
By
Shopper

(brooklyn, NY) - March 4, 2014
I'm always buying something from Personalization Mall. I love everything I've gotten on this site. I've never been disappointed with anything. I will always use & recommend Personalization Mall.

gift
By
Renee F.

(Shelton, CT) - February 25, 2014 (
See all reviews by this customer
)
Bought these as gifts for 2 employees of mine that are getting promoted. Perfect gift at a great price.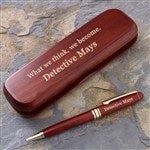 Great gift for son who is a salesman.
By
Jackie E.

(Wellington, KS) - December 22, 2013 (
See all reviews by this customer
)
I bought this for my son for his office desk. The engraving looks wonderful. I rated it a 4 because I do not know how the pen will write but it looks so nice in the case.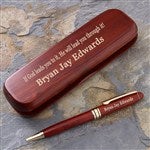 Looks great
By
Shopper

(Kew Gardens, NY) - December 8, 2013
Good product... feels heavy and good quality. Love the personalization option and the price was good. Very satisfied with the purchase.

Pen Set
By
Shopper

(Charlotte, NC) - November 20, 2013
It was beautifully done and worth the price.

comment
By
Jeanette L.

(Kilgore, TX) - October 18, 2013 (
See all reviews by this customer
)
This pen is a very nice pen and I really liked the engravement, I would say if you put some felt in the box where the pen lays I think it would be even better. But for the price it is very nice.
Thank you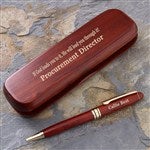 AWESOME
By
Dawn E.

(Poughkeepsie, NY) - May 13, 2013 (
See all reviews by this customer
)
I had never heard of this site before. Was browsing the internet looking foe a personal gift for someone's birthday. And what do you know!! Just awesome gift, and she loved it. I was unaware that the person said they love pens. So came back on here to see if i could get pens in different colors. But that is not on here. Lovely gift!!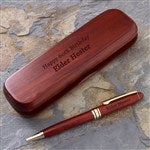 Nice
By
Shopper

(houston, TX) - May 10, 2013
Product arrived in good time, it was nice just like the picture. Would purchase again.

Easy to order - Picture is very representative of product
By
Shopper

(Rockford, MI) - April 2, 2013
I have had awesome luck with this website and this particular product is good. The pen is very good quality for this price range. I have ordered from Personalization Mall a few time and have always been pleased with my purchases.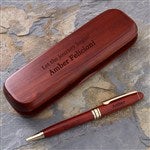 Very nice gift
By
Shopper

(Chardon, OH) - March 18, 2013
I love this pen set. I got this for my husband. I didn't like that the pen rattled in the box. Other then that a beautiful pen and box.

Rosewood pen set personalized
By
Shopper

(Stafford, VA) - February 8, 2013
The quality was as expected, the engraving was beautiful have t opened it fully because this is a gift I plan on giving someone special. So far so good!

nice case, i was impress
By
Shopper

(Union City, NJ) - January 26, 2013
exactly like the picture, i was happy with purchase.

Personalized Rosewood Pen Set
By
Shopper

(Windsor, CO) - December 4, 2012
The engraving was good, but I think the quality of the pen and box holder could of been better.

A perfect gift
By
pooja A.

(Union City, CA) - December 4, 2012 (
See all reviews by this customer
)
I bought this as a gift for a coworker for her farewell. It turned out really good. I'm sure it will be a good remembrance and useful too. I may actually get one for myself too !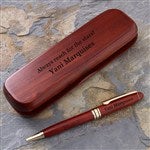 Great - at initial inspection
By
Shopper

(Sioux Falls, SD) - November 13, 2012
Looks great, but until the person it's a gift for uses it, I cannot really review this item.

Only Dropped One Star
By
Scott S.

(Boring, OR) - November 3, 2012 (
See all reviews by this customer
)
Purchases have always been outstanding, this one included. The pen and box are stunning, my wife teared up opening this special gift. The engraving on the box was beautiful and easy to read. I did knock off one star, well should be a half star to be fair because the engraving of my wife's name was also beautiful but it was very hard to read unlike the box. It needed to be darkened (painted black perhaps, which I am going yo do). I mentioned sending it back but my wife refused to let this original gift go back. Highly Recommended!

Birthday Gift
By
Shopper

(Lehi, UT) - August 29, 2012
My dad loved this and my brothers were totally jealous. It's beautiful, good quality wood with a great personal touch and practical use. A perfect gift.

nice for a personal gift to someone
By
STEVEN G.

(GREELEY, CO) - June 29, 2012 (
See all reviews by this customer
)
Shipping time was excellent and product was as described, it made a nice gift.
Was a little disappointed with the engraving on the pen, it was not as dark as it appeared in the picture. Overall I was satisfied and would order again.

Very nice
By
Shopper

(Mount Prospect, IL) - May 7, 2012
This was ordered for a gift. The person who got it was very happy and liked it very much. I did not see the product in person but I was told that it looks very classy.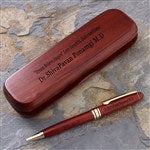 nice gift
By
Shopper

(Clearwater, MN) - April 9, 2012
engraving is nice and the pen even works!

Very Nice
By
Shopper

(Morrisville, PA) - February 17, 2012
I ordered this for a friend. I expected a little better quality; I thought it would have been a little more heavier. However, it looks just like the picture. It's makes a very good gift. The engraving was very well done. All and all it wasn't too bad for the price.



Pen and Case
By
Murray F.

(Canada) - February 13, 2012 (
See all reviews by this customer
)
Pen writing quality is OK but the case and engraving is great.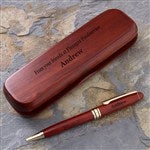 personalized pen
By
jef B.

(portage , MI) - December 16, 2011 (
See all reviews by this customer
)
Very pleased except for the highlighting of the engraving. The lettering is a bit hard to read and I am having a local engraver highlight with gold leaf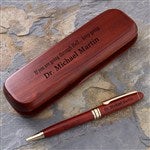 Wedding gift
By
Shopper

(Renton, WA) - November 19, 2011
This was a personalized gift for the bride and groom and used for signing the marriage license. They loved it!

Great Gift
By
Shopper

(Burkesville, KY) - October 31, 2011
The pen and case are perfect, a wonderful personal gift. Only problem I have with it is I can't find the refill that is listed, tried the Parker Pen website and they don't have it either.

amazing
By
Clare N.

(panorama city, CA) - July 5, 2011 (
See all reviews by this customer
)
my boyfriend loves this pen and only uses it to sign checks... amazing gift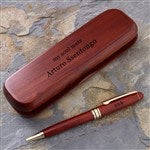 Very nice quality
By
Shopper

(New York, NY) - June 6, 2011
I purchased this as a graduation gift. My friend loved it. I was surprised at the high quality of the item and its weight. My only complaint is that the inspiration wording was a little slanted. It was hardly noticeable though. I was still pleased and would recommend this product and this website.

Pen set
By
Shopper

(Powder Springs , GA) - May 22, 2011
Loved this pen set. Great gift !

Nice gift, fast service
By
Timothy L.

(Vestal, NY) - May 21, 2011 (
See all reviews by this customer
)
Overall a good product for a good price with fast service. The pen was not the best quality in the world but was suitable for my purposes and was appropriate given the price. I think in the end it was a very nice gift and well received. I liked adding my own quote and putting a name on the box and pen. The order was processed very quickly. I have no complaints. I will probably order from these folks again.

Nice gifts
By
Shopper

(Los Angeles, CA) - May 11, 2011
I bought these as gifts for co-workers. One of the pen sets came out very nicely. The lettering was a little smudged on the second one, but not badly. These pen sets make nice presentations. The box and the quotes make the gifts quite memorable. The pen is a little light for me. Overall, I would order again.

Personalized pen & box set
By
Charles M.

(Kingstree, SC) - March 11, 2011 (
See all reviews by this customer
)
The ability to have the box, as well as the pen, personalized for display was an ideal gift. The professional in your life can have a utilitarian gift, as well as, a nice display piece to share with others. It also allows you to mark special moments and achievements. Great gift opportunity.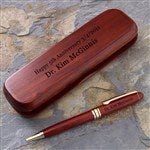 Nice gift
By
Angela C.

(Billings, MT) - March 7, 2011 (
See all reviews by this customer
)
I recently bought this gift for someone as a birthday present and to ensure of its quality, I then purchased one for myself as well a couple of weeks later. I love the set and would recommend it to anyone who is looking for a special gift (especially for those who are avid readers or letter writers!).

Love It!
By
Gerda C.

(Davie, FL) - January 1, 2011 (
See all reviews by this customer
)
I brought this for my husband for Christmas! He loves it, stating that it was the best gift he has ever received.

Quality and Product Expectation
By
Julie J.

(Owensboro, KY) - September 24, 2010 (
See all reviews by this customer
)
The craftsmanship of the product is very good. However, I was disappointed in the dark filling used to make the carved wording stand out; this was very faint. On my product, the wording does not stand out like what you see on the website. Had my wording on my product stood out more, I would have rated this product a five.

Very sharp indeed!
By
Andrea F.

(middletown, NY) - April 5, 2010 (
See all reviews by this customer
)
I was quite pleased with the personalized rosewood pen and the case that it came in too. My only suggestions is for the lettering to be just a bit larger.