For nana
By
Amanda W.

(Stockton, CA) - May 9, 2014 (
See all reviews by this customer
)
Cute rock gift. The engraving came out great and this will be a great addition to Nana's garden. The only reason I didn't give it 5 stars is, I thought it would look or feel rock like. It's plaster in the shake of a rock. It's hollowed out in the back side. Lighter than I would have liked but still very nice.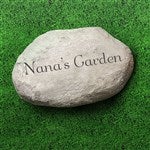 Nice
By
Shopper

(Florissant, MO) - September 3, 2013
I think my stone is nice and looks lovely in my landscaping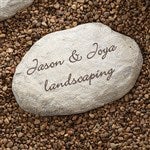 Personalization right on!
By
Shopper

(Winter, WI) - August 3, 2013
It does state that it is a "small" stone. I would like it to be a bit larger, but this is certainly adequate. The quality is very good & the choices for the type of printing is great! The actual personalization is right on!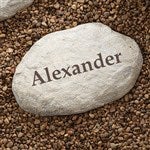 nice housewarming gift
By
LISA M.

(SCHILLER PARK, IL) - June 4, 2013 (
See all reviews by this customer
)
this is a very nice gift for someones garden....just watch the font you pick that the letters look the way they should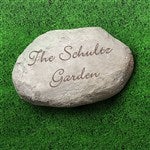 Fonts
By
Shopper

(Delran, NJ) - March 5, 2013
Really cute items but Fancy Block font "r" looks more like a "c". My fault for not looking at entire alphabet in that style. I fixed it with a dab of gray paint & it looks ok.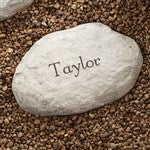 So Cute!
By
Nicole A.

(Hilton, NY) - October 22, 2012 (
See all reviews by this customer
)
I love this little rock. It is so cute and the engraving was perfect. It also arrived quickly! I didn't take into consideration the dimensions so it was just a little smaller than I expected but it is still perfect. I love it!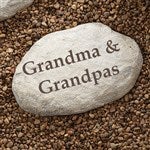 Smaller than expected but happy
By
Shopper

(Canada) - September 27, 2012
I still am very happy with my order, I just wasn't expecting them to be quite so small. I also didn't know that the stones would be hollow and it would have been nice to know that before hand as my mother-in-law (who I bought them for) is the kind of person who will actually use them as stepping stones and likely won't take the necessary precautions to prevent them from breaking. Other than that, I am very happy

Rosary Garden
By
Maria P R.

(Stratford, CT) - August 25, 2012 (
See all reviews by this customer
)
I'm creating a Rosary Garden at my church as a place for prayer and meditation. Each stone represents a mystery. I find them stones to be of good quality and longstanding. I'm sure the garden will be well received.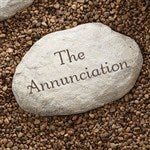 Pretty good headstone for my dead cat :/
By
Richard G.

(Hartford, AR) - August 6, 2012 (
See all reviews by this customer
)
I bought this as a headstone for my cat which suddenly died. I was a little disappointed at how hollow it is, but it'll work and the top of it looks pretty nice.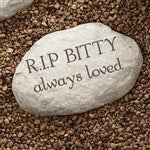 Memorial stones
By
Shopper

(Nazareth, PA) - March 9, 2012
I purchased these for each of our dogs that passed away as a memorial stone in our garden. They are beautiful and look great but some of them have faded over the years.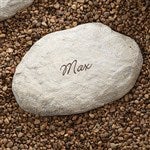 Grandma is sure to love!
By
Shopper

(DELTONA, FL) - December 17, 2011
My aunt, mom, and I all bought these stones with the grandkids and great-grand baby on the way's name. I am very happy with the size and weight of the stones, especially because people had talked about them being too light. I don't see them going anywhere unless we have a hurricane!
Each family of kids got a different font, just to mix it up a little bit. My favorite is the one pictured (I can't remember the name). It is big and bold and exactly what I wanted. My mom picked the cursive looking font...it's pretty and you can see it, but if we did it all over again, we wouldn't pick that font.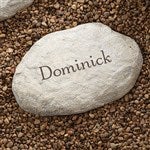 Good quality but a bit too small
By
Shopper

(Doylestown, PA) - December 15, 2011
This garden stone was great. It was shipped and arrived at my door only days after I ordered it. The engraving is beautiful and the stone will be the perfect Christmas gift. My only regret is that it is slightly smaller than I had presumed.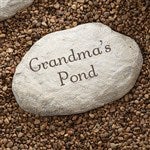 Special Garden
By
Amber J.

(Australia) - May 22, 2011 (
See all reviews by this customer
)
Adds something different to the garden, people always do a double take, when they realise it is our names.

Too light weight
By
Shopper

(Statesville, NC) - May 16, 2011
These really are nice but are very light weight & we are concerned that during a wind storm they could blow away.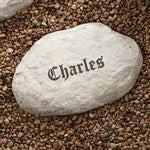 Weight
By
Shopper

(Statesville, NC) - May 16, 2011
We are disappointed that these are so light especially for outdoor use. When we have a large wind they could blow away.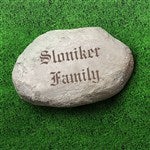 Great gift idea
By
Bonnie P.

(Alexandria, VA) - May 10, 2011 (
See all reviews by this customer
)
My sister and I got this for my grandmother. The large stone said "Maw-Maw's Garden" and was surrounded by ten small stones each with a grandchild or great-grandchild's name. She was thrilled. I would highly recommend this company and this gift.

Review...
By
Shopper

(Westminster, CA) - April 18, 2011
Product was met my expectations and the shipping was fast. Not much to complain in that area.

However, in case you didn't know, the back of this stone is hallow. It's not a real stone. This can be perceived as a good thing or a bad thing. In my case, it's a good thing because I can hide my backup keys under them :)

In terms of the quality, it didn't look like the preview picture so I was a bit disappointed. Barely though, the only thing that was inaccurate was the fact that the entire thing shifted to the left by about .5" compared to the preview pic.

Great product nonetheless, feels exactly like stone, print is readable, and it did its job.

Would buy again.

Small stone
By
Michele A.

(Medina, OH) - June 3, 2010 (
See all reviews by this customer
)
Wanted to order large stone but not not in stock. Stone writing ok but did not look exactley like pictures due to shape of stone. Still consider product a nice gift.