Valentine gift for boyfriend
By
Deborah G.

(Mount Prospect , IL) - February 9, 2014 (
See all reviews by this customer
)
I thought it would be bigger but it's the best gift I've seen

great keepsake
By
Shopper

(Houston, TX) - August 19, 2013
As usual these keepsakes are beautiful, but wording is small probably because the actual piece is about the size of a small box. It's really pretty though, I just wish it was larger. I didn't look at the dimensions before I ordered it. I will use it as the card for my larger gift to my boyfriend for his birthday.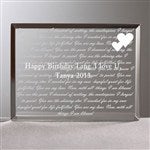 Valentine gift
By
Shopper

(Fishers, IN) - February 9, 2013
I received my order on time. I am happy with my purchase. I didn't realize it will be a very small but sturdy glass. Writing part is amazing. It is very clear and easy to read. I am only disappointed with the size of order itself. I am just waiting to see my hubby's reaction when I will give him on Valentines Day.

Almost Perfect
By
Holly W.

(Mineral Wells, TX) - February 6, 2013 (
See all reviews by this customer
)
Received the product amazingly fast!! It's beautiful but I can't read the poem that I wrote in the background. I really wish the print was larger. It will still be the sentimental gift that I was hoping for, just a tad disappointed.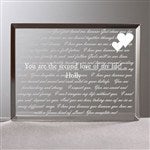 Very Nice
By
Shopper

(Covington, LA) - February 4, 2013
Item was very nice, however the writing in the background can be a bit hard to read. Otherwise, I love it!!

Great gift!
By
Shopper

(Brentwood, NY) - February 4, 2013
I gave this as a gift to my fiance for our 2 year anniversary and he loved it! I would have liked it to be a little bit bigger and it was kind of hard to read the writing but it was still beautiful. my words to him are now forever engraved on this little keepsake.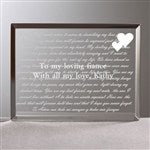 Nice keepsake
By
Shopper

(Traer, IA) - December 16, 2012
This is a nice keepsake. The personalization was accurate and of good quality. I was surprised at the small size, but that was my fault for not paying close attention to the measurements in the description. Quick delivery. Overall, very satisfied with the product. It will make a nice gift.

its a cute gift
By
Shopper

(los angeles, CA) - February 19, 2012
This gift is nice because u can write something long ... But don't let the pic fool u this isa a very small piece is probably as big as deck of cards not very big at all fits in your pocket .. but is is high quality and very beautiful just wish they could of made it bigger ..

Anniversary present
By
Shopper

(Port Orange, FL) - December 18, 2011
This product was very nice and came exactly how I expected, besides that I didn't realize how small it was when going to be when ordering it. I wish it was a little bigger but I would have still bought it if I knew the dementions. I loved how you could personalize it how you want to make it even more special. It was my present to my boyfriend for our anniversary.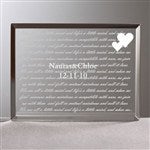 Anniversary block reminder
By
Karissa C.

(Waterville, ME) - August 12, 2011 (
See all reviews by this customer
)
A really cute item that my mom was pleased with. However, it's hard to read the words of the poem, so we had to print it out for her. Might be better to include original poems in the box on a sheet.

A unique gift for a good price.

beautiful but hard to read
By
Stephen P.

(Kingsley, PA) - June 17, 2011 (
See all reviews by this customer
)
This item is lovely, a nice size and lots of room for a message, but the message is printed on the front, behind the names and dates, which makes it tough to read. The message is also printed in a lighter color, which adds to the difficulty.

Fantastic Keepsake / Very Thoughtful
By
Amber W.

(Stoneville, NC) - June 13, 2011 (
See all reviews by this customer
)
I purchased this for my husband for our Anniversary. I chose to add my own sentiment. I knew the size prior to ordering since it is listed in the description. It is almost impossible to read the script etched in the back but it's still really nice.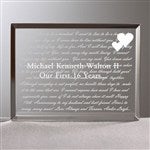 Unique item for a special occasion.
By
Rita W.

(Huntersville, NC) - December 13, 2010 (
See all reviews by this customer
)
I was happy with this item and loved something personal for a special anniversary. Great keepsake! Only complaint is font of background type is a little hard to read.

A nice gift
By
Staci S.

(Newport Beach, CA) - February 12, 2010 (
See all reviews by this customer
)
I purchased this as a gift for my parents 45th anniversary. It is beautiful, however the only reason I did not give this 5 stars is that the back font is so small it is very difficult to read. Overall it is a nice gift and I will tell my parents what it says (lol).

Take heed of the measurements listed
By
Carrie P.

(San Diego, CA) - February 11, 2010 (
See all reviews by this customer
)
Satisfying and unique product overall. For my sister's 40th birthday I created a list of 40 things that I love about her, and this is the only product that I found on-line to express that! Pretty cool, and it turned out well. My only "gripe" is that it was smaller than I expected, and the text started to repeat at the very bottom, which didn't show up at all on the preview. I spaced everything perfectly, so I thought, so that it used the entire space and didn't need to repeat. However, like I said, I am pleased with the outcome.

Not Very Big
By
Antoine L.

(Bridgeport, NE) - February 2, 2010 (
See all reviews by this customer
)
When I sw this online, I thought, "Beautiful, and great conversation starter." But when it arrived I was surprised to see how small it really was. Basically you can clench it with one hand and have to squint a bit to read the poem or verse etched on it. Aside from that, it's a GREAT value and most definitely a conversation starter.