Unique gift
By
Shopper

(Oakland, NJ) - June 4, 2013
Nice quality and quite diffent. Make sure you know which side of the bed each person sleeps on -- I got it right! I would highly recommend if you want to get something different for the couple. I purchased this with the black & white canvas and matching picture frame. It made a very nice gift and the couple loved it.

Nice for wedding gift
By
Shopper

(Lincoln, NE) - April 3, 2013
I really liked how the names turned out. Daughter will love this!! I hope it will last through washes.

Happily Ever After Pillowcases
By
Myra R.

(Avon, NC) - February 19, 2013 (
See all reviews by this customer
)
It looks perfect and my husband loved the gift. The printed side is not that comfortable to sleep on so I turn the pillow over to go to sleep. Perhaps it will be better after a few washings.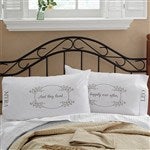 Unique Idea Anniversary Gift/Difficult to Buy For
By
Shopper

(Carroll, OH) - October 15, 2012
Looking for something unique? You found it! Romantic, pretty and memorable wrapped into one; great price point, as well. Classic Personalization Mall quality and would have given 5 stars as I normally do, however, the material of the pillowcases is "stiff" and would have gladly paid more for soft/high thread count ones to go w/high thread count existing bedding. Overall, fantastic purchase :)

cute gift
By
Nicole J.

(Hoboken, NJ) - August 29, 2012 (
See all reviews by this customer
)
I've been wanting these for a while but thought them a bit pricey so when I got a coupon I went for them. They arrived quickly and the personalization was done accurately. Definitely would be good as a unique gift for newlyweds or for a bridal shower. The only cons are that the fabric is a little stiff and the character limit was too restrictive for me so I had to get creative in my personalization.

Forever Pillow Cases
By
Shopper

(Wilson, NC) - July 5, 2012
They were nice. Wish it had a little more design or variety of colors to choose from. But the pillow cases overall were nice.

Great gift
By
Shopper

(Franklin, IN) - June 9, 2012
These pillowcases were a hit with the newly married couple. I just wish they were a little softer.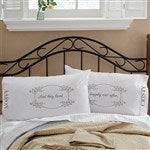 Nothing to special
By
Shopper

(Sheridan, WY) - February 24, 2012
Loved the saying on the pillow, they are not ment to be slept on unless you like a scratchy surface to lay your head on. I had to put 2 pillows, one thin and one thick just to fill the pillowcase. They are WAY to oversized! I wish whey were more like a decorative case rather then the open end because they are more for looks because of the scratchy hard surface from the writing. They are nice thick pillow cases however.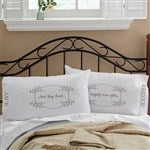 Xmas covers
By
Shopper

(Plainfield, IN) - November 15, 2011
Nice quality!!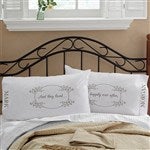 Show Stopper Wedding Gift
By
Shavon R.

(Philadelphia, PA) - September 21, 2010 (
See all reviews by this customer
)
I gave this gift to the Bride at the Bridal Shower and when she opened it and held it up the entire room gasped. She absolutely loved the gift and so did the groom. This is a great gift. The only reason I did not give this item 5 stars is because I'm a bit concerned with how well the personalization will stay on after washing.

Great gift idea
By
Sannyu H.

(Nolensville, TN) - May 24, 2010 (
See all reviews by this customer
)
We purchased this for a 13th wedding anniversary gift. I was a little let down that the embroidery had a green tint to instead of solid black as it looks in the picture. Otherwise it was a great and the couple loved it.


Sentimental not comfortable
By
Leeann B.

(Enumclaw, WA) - May 5, 2010 (
See all reviews by this customer
)
These are really cute - the couple will love them, though the thread count could not be very high - kind of stiff. Not washed yet though.

Shipped quickly!