Great service and product
By
Emmanuel R.

(Winter Park, FL) - July 27, 2014 (
See all reviews by this customer
)
Like always Personalization offer a great product and customer service. This is my second purchased and I don't have any complaint. The only thing I will say about the particular item I purchase is that is always very difficult to read what is written on the crystal. I know it depends on the background since is crystal but no matter what color I use behind it, wall, wood, paper, black, etc is bit difficult to read. But I will still recommend Personalization and their product.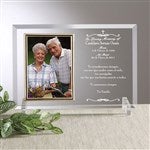 Great
By
Shopper

(Baton Rouge, LA) - July 21, 2014
I really love my picture frame it is absolutely beautiful. My only complaint is it is very hard to read. Should maybe consider doing the writing in another color.

Beatiful
By
William H.

(Charlotte, NC) - July 8, 2014 (
See all reviews by this customer
)
The item is very beautiful! The only reason I am giving it 4 instead of 5 stars is due to the fact that the white text is really hard to read if you don't have something dark behind it! Otherwise, its really pretty!

Great memorial item
By
Ashley S.

(big wells, TX) - September 15, 2013 (
See all reviews by this customer
)
This was a gift for the death of my managers mother to my manager. It was so beautiful. It is a really great gift, in glad I purchased it.

a truly heart warming gift
By
Shopper

(fredericksburg, VA) - August 30, 2013
I ordered this piece of work after a loss in my in law's family. The gift was very well priced and arrived promptly. My only complaint is that the lettering is quite tiny, however the poem I chose was very long. Overall I am pleased with the quality, time, and cost! Thank you!

Memorial Service
By
Shopper

(Richlands, VA 24641, VA) - January 20, 2013
This was a perfect gift for a friend of mine that lost her grandfather. I ended up getting to go to the service, but if I had not I would have paid quite of bit extra for the company to have put the picture in the frame for me. This is a great gift but would be even more perfect if the company would add the picture for you.

Overall Nice Product
By
Shopper

(Westland, MI) - January 18, 2013
I have enjoyed your site for several years now...you have some very unique items with the personalization that I like to put into my gift giving...I purchased this picture frame to give to my best friend who just lost her mother to brain cancer...after receiving the item, I inspected it for accuracy and noticed the verse was a little difficult to read even in good lighting...I am not even sure I would know what to suggest to make the verse stand out a little bit more and make it easier to read...maybe a little white paint in the etching? That is the only reason I gave this a 4 instead of a 5...otherwise it was awesome...but my friend absolutely LOVED IT!!!...especially the personalized verse written by her friend instead of the company verse...although the verse the company gave as a possibility was nice it wasn't personal enough...good job Personalization Mall

Recovery memories.....
By
Calixta P.

(Bentonville, AR) - January 18, 2013 (
See all reviews by this customer
)
Exactly the same as the first one and really fast delivery.

nice memorial frame
By
Lynn O.

(North, SC) - December 27, 2012 (
See all reviews by this customer
)
Nice memorial frame. Needs to be larger so that the words are more easily read.

Beautiful Frame.....But Engraving Was Not Straight!
By
Tafoya S.

(Winter Haven, FL) - November 2, 2012 (
See all reviews by this customer
)
The engraving on the frame was not straight. I contacted customer service, and sent them pictures of the frame. They emailed me right back and stated they would send another one out to me. I'm waiting for the replacement frame to arrive. Other than the wording not being in a straight line, I think the frame is beautiful, and would definitely order from Personalizationmall.com again.

Wording Hard To Read
By
James G.

(Marion, WI) - August 20, 2012 (
See all reviews by this customer
)
The frame itself was beautiful. However the wording in the verse was small and hard to read.

My new frame
By
JILL D.

(INDIANAPOLIS, IN) - August 13, 2012 (
See all reviews by this customer
)
I bought this as a gift. Needless to say it was the perfect gift. It was so beautiful it brought tears to their eyes. I just loved giving this as a gift, it was very touching.

made so it could be hung on the wall or set on a table top
By
Marie K.

(Canada) - January 24, 2012 (
See all reviews by this customer
)
I have ordered several memorial picture frames and the service was very good and was delivered quickly. The people they were given to thought they were beautiful.

meorial gift
very pleased to give this item

Nice but engraving is hard to read
By
Christie R.

(Alabaster, AL) - January 9, 2012 (
See all reviews by this customer
)
The quality of the frame itself was great, but I had a problem with the engraved part. The letters were very small and difficult to read -- the engraving was not very clearly printed. It seems like the letters would be easier to read if they were black instead of white. Other than that issue, it would have been perfect.

Nice gift
By
Tracy D.

(Fairmont, WV) - December 22, 2011 (
See all reviews by this customer
)
The gift is very nice. The etching is a little blurry and can be hard to read for older people, but all in all, a very nice item.

Nice Frame "But Tiny lettering & hard to read"
By
Christina C.

(Manteca, CA) - December 15, 2011 (
See all reviews by this customer
)
I thought this frame was beautiful on the website, the weight is nice, frame seems to be good quality but the engraving is so tiny and with nothing behind it you can barely read it I was disappointed. Never the less it is still very nice. It's a Christmas gift so I'm going to try to put something behind the writing, perhaps a felt piece or something to try and bring out the lettering and hopefully everyone will be able to read it. P.S. I ordered the Give Father All Our Love verse. I liked the way you could change the wording to make it more personal to the individual you are giving it to.

Difficult to read
By
Shopper

(Raleigh, NC) - November 20, 2011
I found the words too small and difficult to read. It did not appear that way on the sample.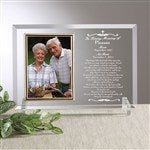 dear grandpa frame
By
robert H.

(Canada) - September 17, 2011 (
See all reviews by this customer
)
i loved it very much but the writing was hard to see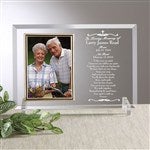 Could be better
By
Shopper

(West Carrollton, OH) - April 25, 2011
It is a beautiful frame. However the inscripture I wrote is not as clear as I had hoped for.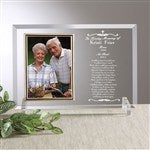 Great idea
By
Shopper

(Asheboro, NC) - April 23, 2011
I bought this to put up at my wedding in memory of my grandmother who recently passed. It is a beautiful frame, durable and I am very pleased with my gift. The only complaint is the white lettering is hard to see on the clear frame so I am going to have to get it put on a dark background to be able to see it. Besides that, its a wonderful buy!

Well pleased
By
Mary B.

(Coralville, IA) - January 24, 2011 (
See all reviews by this customer
)
This exceeded my expectations. It was exactly what I wanted, it only took 2 days from ordering to having it set up in my home--which was amazing, and it is a quality product. The little pieces to make it stand up could have been a bit more sturdy but that would be my only complaint.

Lovely Memorial Item
By
Darlene S.

(Kearny, NJ) - January 16, 2011 (
See all reviews by this customer
)
I purchased this item for a close friend when her mother passed away....I was very pleased with the item and my friend absolutely loved the gift. I would not change anything.....however, it would be great if you could choose from a variety of sizes (picture sizes)....Makes a great heart-felt gift for anyone.

In memory of my mother
By
Gayle G.

(Scappoose, OR) - December 30, 2010 (
See all reviews by this customer
)
Like a previous review stated, the words can at times be hard to read. I was prepared with card stock in my mother's favorite color, purple. Which I taped behind the right side, it helps a lot. The sentimate is so nice, it touches the hearts of all who read it.

Memorial Engraved Frame
By
Elaine R.

(Houston, TX) - October 13, 2010 (
See all reviews by this customer
)
The frame is beautiful and quality. The wording that appears under the date information could have been a little bit "sharper". Otherwise, a very nice gift.

Satisfied.
By
Marce J.

(Zimmerman, MN) - September 29, 2010 (
See all reviews by this customer
)
I purchased this for a gift for someone who just lost her Mother and the funeral was in a few days to my surprise it came in time and I am fully satisfied with everything from the purchase and the quality of the frame.

Thanks
By
Shana B.

(Pendleton, OR) - September 25, 2010 (
See all reviews by this customer
)
My grandfather just died recently and I have been having a hard time dealing with it. I wanted something very nice a special to remember him by. I found this glass engraved frame and I really loved it. It was as described and a wonderful poem that fit my grandfathers life. The only thing I wish is that there was a piece of something across the back that would bring out the etching a little cause it is hard to read unless you put something behind it. But thank you for offering memorial stuff you are one of very few.

A lovely memorium
By
Erica O.

(Statham, GA) - September 23, 2010 (
See all reviews by this customer
)
I recently purchased this etched glass frame for the passing of a dear friend's mother. It arrived quickly, well packaged and was exactly as described. I would highly recommend personalizationmall.com to friends and family. Might I just add, kudos to you for offering gifts and tributes. You are one of very few and your review option made all the difference.