awesome!
By
Rachael B.

(Saint Charles, IL) - July 27, 2014 (
See all reviews by this customer
)
LOVE THEM! Only 4 instead of 5 stars because while editing pictures it sometimes makes me start over... :-/ great quality tho and will continue to purchase these for a good friend! Every gift I give her has one in it so eventually she'll have a whole set!

Personalized mug
By
Shopper

(Manahawkin, NJ) - April 18, 2014
Just for you gift. My son-in-law really liked the personal touch.

Very pleased
By
Shopper

(WASHINGTON, DC) - April 12, 2014
The mugs have a very crisp and clean finish to them and were delivered within a week of placing the order.

Collage photoi mug
By
Shopper

(Endicott, NY) - March 3, 2014
Very good quality and service. Ordered and delivered within a week and a half. I ordered eight mugs and each came in its own individual box as opposed to being shipped "liquor box" style. I'm very happy and will order again.

Happy Birthday Mommy!
amazing!

Pleased
By
Shopper

(Stockton, CA) - August 30, 2013
The cup turned out good...just make sure the pictures you use are very clear; a couple of mine weren't and it shows. But out of all eight they turned out good. I think the process of adding each picture should include being able to go back to edit all of the pictures not just the previous one. I had to start over four times, to change pictures around.

nice mug
By
Shopper

(Pittsburgh, PA) - December 9, 2012
photos came out great - only wish they offered a larger mug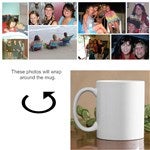 Good
By
Shopper

(New York, NY) - December 6, 2012
I have always loved these personalized mugs & it is a great addition to my collection. It's a nice piece & the pictures doesn't fade away with washing

Great quality
By
Katie P.

(Manassas, VA) - May 22, 2012 (
See all reviews by this customer
)
This is a great gift for anyone, I used scanned pictures and the quality is great! Just wish we could put words on it.

super cute...
By
Shopper

(las vegas, NV) - May 21, 2012
Purchased three mugs for grandparents day, the mugs came in perfect. Pictures were clear! Each grandparent was thrilled and thought they were adorable...

Made Grammy very happy
By
Shopper

(Dedham, MA) - May 19, 2012
This was a great idea and I was very excited to have it made for my mother. unfortunately the pictures came out a lot darker than the originals, so make sure the exposure on your pics are light. My mom (grammy to my kids)still loved it.

Great Job!
By
Shopper

(Alsip, IL) - May 15, 2012
ordered a mug of this website and was better then i expected. great work. would definately order from here again. however i would make sure your photos are not photos that are taken far away since they might come out somewhat blurry. not super bad but close ups are better.

Awesome gift item
By
Shopper

(Passaic, NJ) - March 19, 2012
I loved the mug idea. I think the picture sizes could have been different to fit different photos, however it was fun to make. Loved the finished product when it arrived.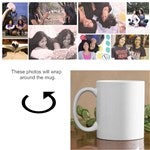 not 100% happy with result
By
Shopper

(yorktown, VA) - February 26, 2012
I thought I had cropped a particular picture(lower left pic), but it did not apply, so it wasn't as I wanted.
It was time consuming, I had to play around with cropping the pictures a long while.
I do love the cup with all the different pictures of my family members, still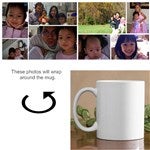 Office Gifts
By
Ramona L.

(Lewisburg, TN) - January 9, 2012 (
See all reviews by this customer
)
When trying to find gifts for co-workers it is always a challenge. So many things to consider.

I located this website just before Christmas, literally days before.

So this year it was a specially designed mug for the Accounting Team on a TV Series. This cup came in as an absolute favorite with the staff.

The cups came out so much better than I could have imagined. Thanks to my daughter designing the .jpgs so they worked. As the staff said it was "not just another cup" but something "to be used".

Thanks for helping with a difficult gift choice. It worked beautifully!

I also placed several other orders, going to several states and wanting arrivals before Christmas, I was skeptical. But they all arrived in perfect condition and on time and the quality of all orders was better than I could have hoped for. Telephone calls from the recipients were not expected as quickly as I received them, but they came in and everyone was absolutely pleased with the gift selections and more so because it was personalized and they felt it took more time to come up with these ideas. (It didn't quick and easy). My family will definitely use this website for a lot of future gift purchases. A specialized cup, mug is so much better than a quick trip to the mall and so much more personal and convenient. The turn around time from this company was AMAZING. Thanks a Million!!!!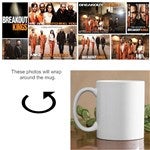 Great personal touch for a gift
By
Shopper

(BROOKLYN, NY) - December 28, 2011
This is a great gift idea for anyone that loves to show their children off at work or with their friends.

Another successful purchace
By
Shopper

(Phoenixville, PA) - December 20, 2011
I have yet to have a bad experience with this website. This product turned out wonderfully as have all the other products I have purchased. I highly recommend this.

great stuff
By
Shopper

(meridian, ID) - December 9, 2011
I bought many cups as gifts for this Christmas and with just looking at them, not yet washing or using , Id say they are totally wonderful. I love the great colors! In fact I bought this cup in my 1st order and was so pleased that this place did nice work and wasn't a rip off that I ordered from them again. I was just as pleased with the second order (that I just got today yippee:) as I was with the 1st. Thanks!

8-photo Mug review
By
John H.

(Fort Wayne, IN) - December 8, 2011 (
See all reviews by this customer
)
This is the 3rd time I've ordered mugs from Personalization Mall.com. I really like the mugs. However, it seemed this time the photos did not come out as crisp as they did in the past. Perhaps I'm being too picky for a mug photo.

All in All, I'm very happy with the mugs. For the money, they are awesome.

A quality mug with clear pictures
By
Shopper

(San Francisco, CA) - November 21, 2011
My mother really liked this, as she had not been able to attend the event pictured. The process of uploading the particular pictures, and getting to grips with the software which modified the pictures to fit the blanks was a little tricky, and there were no hints on how to proceed. Therefore more time-consuming than I had expected. However the result was worth it.

Great gift!
By
Lenore W.

(Canada) - June 22, 2011 (
See all reviews by this customer
)
I ordered these for Father's Day gifts with pictures of our kids on them. They turned out great and are perfect for the coffee/tea drinker! Super fast shipping...7 business days only to Western Canada! The only thing I would have wanted is a slightly bigger cup as they are pretty small.

Product features I didn't like
By
Shopper

(Leavenworth, KS) - June 1, 2011
Overall for the price the picture mug came out very well. The only thing I didn't like was that some of the pictures came out pretty dark.

perfect gift for Grandma!
By
Shopper

(Pearl City, HI) - May 16, 2011
Haven't seen it yet, but the morning after Grandma got it in the mail, she called to tell us how much she loves it! The shipping was super fast, too, it only took 3 days to make and ship! Thank you!!!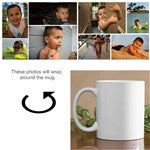 good
good. I love this product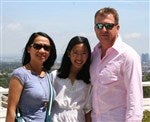 Grandma's heart
By
Shopper

(Upper Marlboro, MD) - April 23, 2011
The pictures on this cup came out exactly how I pictured it. It was very clear. My grandmother loved this cup. She said she refuses to let people drink out of it because it was just to beautiful. Instead, she's going to place on the table to show off to her guest. I'm glad I purchased this cup.

Easy to design and fast shipping
By
Shopper

(Easton, PA) - April 17, 2011
This is the second time I have ordered a photo mug as the site is so easy to navigate when designing the mug and uploading photos. Did not give it 5 stars only because the photos really appear smaller than I anticipated and little hard to see on the mug. A larger style mug would better showcase the photos.
Shipping is also incredibly fast and for that reason I will continue to shop here though there are so many other sources.


its amazing
By
Shopper

(Hatboro, PA) - February 18, 2011
Its really really good.. my hubby loved it..Everybody liked it..

Quality of Photos
By
Mary P.

(Ellicott City, MD) - January 28, 2011 (
See all reviews by this customer
)
All the photos came out very clearly on the mugs. Make sure to sharpen the image during the image editing because it will turn out better on the mug. Some pale faces seemed to wash out, but that was the fault of the photo used.

Nice printing--mug a bit too thin
By
Natalie R.

(Elizabethtown, PA) - January 24, 2011 (
See all reviews by this customer
)
As the title says, I love the mug. The pictures are bright and glossy. The mug is a little too thin and I had to buy this one to replace one with the exact same pictures due to hairline cracks. I hope this lasts longer!

Great item!
By
Sara K.

(Platteville, WI) - December 30, 2010 (
See all reviews by this customer
)
I thought that the clarity of the pictures turned out great! I would like to have some more options in the layout of the pictures - it was hard to fit some pictures into the required cropped area, but it was a nice looking mug when we got and the present recipient loved it!

Great item but a little small.
By
Kimberly A.

(Tinton Falls, NJ) - December 29, 2010 (
See all reviews by this customer
)
I would have given these mugs a 5 star rating if they were a bit larger. The quality was great and the photos are very clear. These make great gifts!

Very Nice
By
Elicia M.

(Rutland , VT) - December 22, 2010 (
See all reviews by this customer
)
This is a great gift Idea. I was worried about formatting and the finished product in terms of clarity, but the web site let me choose the order of my pictures and when I recieved the finished product I was thuroughly impressed. It was focused, clear, and exactly what I wanted. I would highly recommend this!

review for personalization mug
By
Prerna K.

(San Diego, CA) - August 30, 2010 (
See all reviews by this customer
)
First of all, thanks to personalization mall for sending me the product as i wanted it to be. I like this product as a gift for someone on any occasion. The pictures outcome is really very amazing. I really love this personalization mug.

Satisified with item
By
kevin O.

(sayreville, NJ) - August 29, 2010 (
See all reviews by this customer
)
We loved the mug and quality of photo design however an enhancement I would request is to actually see placement of pictures on mug as a preview to then determine what pics should be horizontal or vertical. I wasn't able to crop backgrpund images on some pics that took valuable space on the mug vs a better, larger picture for that specific location on the mug.

Quality of photos-great!
By
Carrie S.

(Denver, CO) - July 21, 2010 (
See all reviews by this customer
)
The mug was smaller than I expected, but the quality of the photos was just great! Delivery was longer than expected (8 days after I placed order.)

very nice!
By
Trever B.

(Bloomington, IN) - June 21, 2010 (
See all reviews by this customer
)
I was very pleased with the mug and the way the pictures came out considering not all my photos were close ups or super bright. They came out nice and clear. One thing I noticed was that it looks as though the stip of pictures around the mug didn't go on quite perfect, it was a tad crooked but not super noticable unless you looked at the amount of space b/t the pictures and the bottom of the mug. Not so bad that I would send it back. Other than that I was very pleased and would still order again.

Neat Gift for the Photo Lover
By
Gail S.

(Huntington, NY) - June 18, 2010 (
See all reviews by this customer
)
This would be a 5 star item but, of course, the mug would need to be larger. The pictures came out crisp and clear even though one of the original photos was not great. The picture set up was also very good and flows nicely with all different sizes looking like they belong. This is something that I will order again. It's also great for a gift in the workplace as a rememberance.

Some preplanning required
By
Tamela R.

(Westerville, OH) - June 10, 2010 (
See all reviews by this customer
)
This mug made an awesome Father's Day present for my dad. It accommodates eight pictures with some cropping required. I used pictures of his grand kids to make it extra special. He absolutely adored it and has bragging material for quite some time. The only improvements I can think of would be an easier edit feature. As it stands the order in which you upload the photos is the order they appear in a "down then over, down than over" style. Once you've completed it you can only go back one picture, so if you want to edit a shot, you'd better do it while in frame and have them in the sequence you want ahead of time. If not, you'll be starting from scratch. The editing features for the photos are great and easy to use, who doesn't need a red-eye reducer sometimes? The cropping is a bit frustrating if your photo is too up close. All in all, I'd definitely purchase again though. Lastly, and maybe I didn't see the option, since it was a Father's Day present, it would have been nice to select a delivery date in the future.

Fantastic!
By
Teri C.

(Granite Bay, CA) - June 10, 2010 (
See all reviews by this customer
)
My sister in law told me about this, and I saw one she did for a birthday. I decided to try it out for myself, and was very pleased! I was a little nervous about how it might look, but turned out beautiful...........and the delivery was shocking!! I think I ordered and received it all in the same week! WOW! Thanks! I'll definately be ordering again! Fun stuff!

Happy Step Dad
By
Edee M.

(Ashland, OR) - May 25, 2010 (
See all reviews by this customer
)
My step dad just loved his birthday present with all the family photos. He'll be turning 90!!!

The best part for me was the ordering. I appreciate the photo editing process, since some of the original photos were not very clear.