Great gift but smelled funky
By
Tiffany F.

(Wolcott, CT) - July 29, 2014 (
See all reviews by this customer
)
The bag was good strong canvas but it had an intense chemical smell to it

Good bargain shirt and nicely made
By
Shopper

(Perth Amboy, NJ) - May 26, 2014
I love the colorful hearts with all the names of all my mom's grand kids and her name in the center of it all. She is going to love it.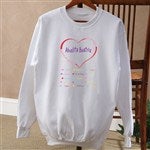 imprinting
By
Shopper

(West Chazy, NY) - December 21, 2013
The item itself is really nice but some of the light imprinted name colors are too light to actually read on the tote. They use a greenish-yellow that blends in with the tan color of the item. Other than that, this item is very nice.

Quality appearance
By
Shopper

(La Porte, IN) - September 25, 2013
Ordered as gift for mother in law, satisfied with quality and appearance. Found a design online now I can't wait to order of my own with kids names. Haven't heard anything bad about the shirt since. Looking forward to other purchased gifts and decor from site, especially more family type items. All reasonably priced!

Suggestion
By
Shopper

(Cheyenne, WY) - May 24, 2013
Just wanted to make a suggestion. We had 2 names print on our mug in what I guess would be called lime green. That color is very light and hard to see. The names were very small as well. The other colors used for the names were okay. I would have to say the shipping and customer service and website experience were very good. Thank you!

Was a Hit with Granny
By
Jennifer N.

(Maywood, IL) - May 21, 2013 (
See all reviews by this customer
)
My mother totally loved her shirt with all of her grandkids names on it.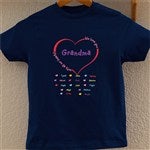 All our hearts Adult T-Shirt
By
Martha D.

(Reston, VA) - May 12, 2013 (
See all reviews by this customer
)
Great T shirt - the only thing I felt was limiting was only 15 names. This was a present for my mother-in-law who has 14 great grandchildren, 10 grandchildren and 4 children - would have liked to include more names.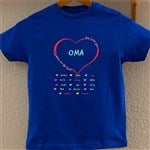 Helpful Tip
By
Shopper

(Maryville, TN) - April 30, 2013
The mug stated that you could use up to 10 names. On my mug on the 10th name the last letter to the name was cut off. Otherwise it was a very cute mug.

tote bag for Nana
By
Janeen E.

(Bayside, NY) - December 27, 2012 (
See all reviews by this customer
)
This bag was fantastic! the print on the children's names could be a bit larger though. Otherwise a wonderful bag!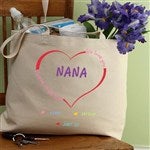 bigger font
By
Melissa W.

(Fairburn, GA) - December 18, 2012 (
See all reviews by this customer
)
I like the bag, the heart looked just as the picture on your website, but i did expect the kids names to be larger. I think if the font was larger or if you were able to put the names in different spots all over the bag it would have been perfect and worth the money. Also a few of your canvas bags are priced different even though it looks like you are using the same bag and just putting different designs on it. I think all of the same types of bags should be the same price. But again, i like the bag and my mom is going to love it. Thanks.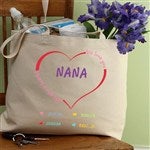 GOOD QUALITY
By
Lauri L.

(Topeka, KS) - December 17, 2012 (
See all reviews by this customer
)
Ordered this a size bigger, just in case and was huge, but great customer support helped me out! Washed up nice!!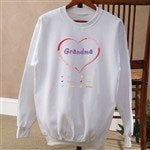 Great deal
By
Stacey M.

(Sulphur, LA) - August 2, 2012 (
See all reviews by this customer
)
My Mom loved this. It has all the grandkids names. My only complaint is all the shirts come in white. I can't buy one for myself it will get a stain in no time! It wa pretty much true to fit.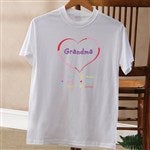 Mother's Day Gift
By
Anjelica B.

(MEMPHIS, TN) - May 15, 2012 (
See all reviews by this customer
)
I pruchased this for my grandmother and she loves it. The only problem was that I didn't know the shirts were "BEEFY" so it was a tad but large for her so be aware of that when you choose the sizes. Other than that I love it.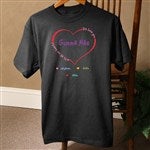 Great gift!
By
Shopper

(Davie, FL) - April 29, 2012
Love the mug! Excited to give it to my mom for mother's day! Only thing is the names are kinda small for just 2 names. Wish it would be sized to scale according to amount of names. Haven't given it to my mom but waiting to see how it will hold up in the dish washer.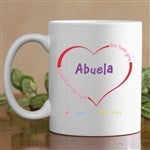 Carry on
By
Shopper

(galloway, OH) - March 13, 2012
Great!! Brought item for my mother she loved it said Quality was very good.

Grandma Sweatshirt
By
Mary M.

(Chicago, IL) - December 13, 2011 (
See all reviews by this customer
)
Love the sweatshirt and the fact that you could add 14 names. This was the ONLY site that I could find with this option. Very quick with the turn around time and delivery was extremly timely. The only reason I gave it 4 stars is that I wish the names could have been of a darker print which would make the names stand out more. I am sure grandma will love it.

Heart tote bag
By
Deborah B.

(Westminster, CO) - December 13, 2011 (
See all reviews by this customer
)
My mom is a craft person. I thought that she would like a bag to put her supplies or small crafts into. Looks good. :o)

Super cute
By
Shopper

(Limerick, PA) - December 7, 2011
This mug came out so adorable. I ordered it for my kid's "Auntie" and then had the boy's names at the bottom. I love it so much I want one for myself. Auntie lives in Florida, so every time she uses it, she thinks of her nephews.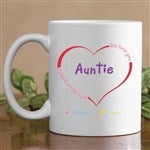 So cute!!
By
kristin B.

(Mechanicsville, VA) - November 18, 2011 (
See all reviews by this customer
)
I bought this mug for my granddaughter to give her mom, my daughter, as a Christmas gift from her and her baby brother. It is very sweet, and I know it will be received with tears of joy! I only wish that the children's names would be a little darker, but it is adorable just the same. I would recommend using Personalization Mall for a satisfying shopping experience.

Perfect Gift
By
Shopper

(Shreveport, LA) - May 12, 2011
This turned out perfect, size and all, i have absolutely no complaints!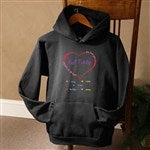 Good stuff
By
Thomas F.

(Summerville, SC) - May 9, 2011 (
See all reviews by this customer
)
Great product. Looks great!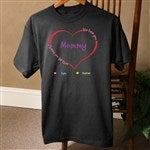 Perfect
By
Shopper

(Stratford, CT) - April 30, 2011
My mother absolutely loved her new mug. She lives in FL and as soon as she recieved it I got a call with her crying on the other end. It was the perfect but most simplest gift. She said she may never use it, she may just leave it on her computer desk and just admire it!! Its the closest thing to her grandkids she can get considering they both live in CT.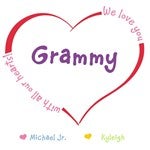 Nice
By
Shopper

(Canada) - April 23, 2011
This is a very nice mug and the writing is great. It is only on one side though and doesn't go all the way around.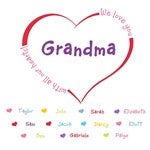 Very cute
By
Kim B.

(Portland, OR) - December 21, 2010 (
See all reviews by this customer
)
There's no grandma anywhere who wouldn't love this shirt!

Grandma Shirt
By
Tina J.

(Houston, TX) - November 15, 2010 (
See all reviews by this customer
)
It was very bright and pretty. Would buy another one.

Good Quality
By
Laura M.

(Chippewa Falls, WI) - May 10, 2010 (
See all reviews by this customer
)
The shirt looked great. I would however recommend ordering a size down. The xl was huge! more like a woman's 2x or even 3x!