Beautiful but slightly flawed
By
Shopper

(Orefield, PA) - April 21, 2013
This is really a very nice case and the engraving is perfect. I didn't give it a 5 star because the black felt on the inside of the container was slightly pulled away from the side. I pushed it back and held it in place and the glue seems to be holding so far. Not for that, it would be a perfect container.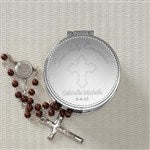 Great keepsake
By
Shopper

(Howell, MI) - April 14, 2013
This box is a great keepsake that my child can pass down to his own child someday. I am very pleased with the quality of the box and the engraving!

Engraving
By
Shopper

(Le Mars, IA) - April 23, 2012
Overall, I am very satisfied with the rosary case. It is of good quality and well made. My only concern was the fact that the engraving "First Holy Communion" was not well centered.

Very Nice Rosary Case
By
Shopper

(Oklahoma City, OK) - April 20, 2012
The case is well-done and looks just like the picture. The engraving is very clear and the box it comes in is also nice.

larger than expected
By
Shopper

(Reading, PA) - April 9, 2012
The engraved rosary case is quite lovely; however, it is much larger than a rosary case of which I'm familiar. I purchased the case and the child's rosary for my Godchild who is receiving her First Holy Communion and I feel the case may be a bit cumbersome to fit into her little purse. It's engraved and therefore can't be returned; however, I'm hoping she can use it to store her more expensive jewelry.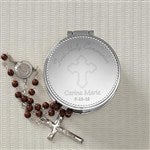 Overall a good experience
By
Shopper

(South Bend , IN) - May 23, 2011
I orderd a rosary holder for my great neice's first communion. I was a little dispointed in the engraving as it seemed not quite as clear or deep as I had imagined. On the plus side I thought there was no way it would arrive before her actual first communion day, but it arrived with time to spare.

Lovely Keepsake
By
Shopper

(Charlotte, NC) - May 17, 2011
I bought this for my niece for her first communion along with the rosaries. Very pretty & delicate. The engraving was great. Shipping was fast.

Engraved Rosary Case
By
Shopper

(Flagstaff, AZ) - February 21, 2011
The case is of good quality and am happy with it, but I was disappointed in the engraving. Very faint. Very hard to see.

First Communion Gift
By
Barbara B C.

(Key West, FL) - May 5, 2010 (
See all reviews by this customer
)
This was a great gift.

very nice
By
Barbara S.

(Huntingtown, MD) - May 3, 2010 (
See all reviews by this customer
)
Purchased for 1st communion gift--very nice to hold a rosary...but I don't recommend the rosary th at was suggested for this item.

Nice keepsake to hold a rosary
By
Donna T.

(Fallston, MD) - April 20, 2010 (
See all reviews by this customer
)
This keepsake is very nice. I was pleasantly surprised...I like this box much better than the previous version. Yes I ended up buying tow - the first one had a lift off lid and was very plain - I went to write the review and the product was gone off the site. So I saw this one and ordered a second one - unfortunatley could not return the first since it was engraved. This box looks much nicer witht he hinged lid and fancy edging. Keep in mind it is small....but very nice.

Worth the Money
By
TONY V.

(SUNNYVALE, CA) - April 20, 2010 (
See all reviews by this customer
)
I ordered this item as a gift to my friend;s son. Was little skeptic when I ordered this as my previous experiences from other places were not that great. Though the picture in the sites looks great, the actual product was no where near to what was shown. But this one met 100% of my expectation and even more. The quality of the product was excellent and even the engraving was good. Worth the money spend...