pet memorial
By
Laurie B.

(Flower Mound, TX) - July 28, 2014 (
See all reviews by this customer
)
I bought one of these last year, when my 23 year old cat died. Then, my 21 year old cat died 2 weeks ago. I came back to you for the stone. The stone is in my backyard and it gets wet and Sun and it has lasted through everything. I loved it so much and just wanted to say thank you for helping us remember our sweet animals.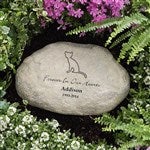 I really love it!
By
Shopper

(Snyder, NY) - July 26, 2014
I was very happy with the memorial stone. Its a nice reminder of the dog I loved so much. It looks really nice in my garden. I was surprised that it layed flat because in the picture it looked like it stood up. At first i was disappointed but then i realized I liked it better that way.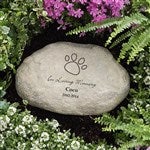 Looks great!
By
Shopper

(Massapequa, NY) - June 9, 2014
I was really happy with the memorial. I thought it would be a bit heavier, like a rock. But it still looked great regardless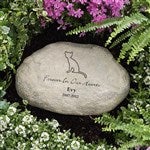 Loving reminders ...
By
Ami W.

(West Jordan, UT) - April 25, 2014 (
See all reviews by this customer
)
I have ordered two of these stones in the past year for our beloved pets and used them as the foundation of a loving memorial for them under a tree in our backyard. The printing is clear and easy to read and looks exactly like the preview provided online. The most recent one is a bit lighter than the first one, but the quality seems quite high. We did treat them with polyurethane to make sure they were water resistant as they will be placed on the ground, outside in a garden and will get wet often.

Not solid
By
Shopper

(bedford, PA) - April 14, 2014
The pet stone we received is not as well built as 1 we have for another pet. Although it's not solid I do believe it won't blow away. The print is a little small, but I gave it 4 stars because the print is nice and like I said it shouldn't blow away.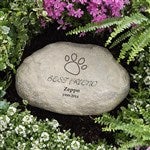 Stone
By
Shopper

(Tucson, AZ) - March 4, 2014
NIce

My mistake
By
TRINA N.

(Cincinnati, OH) - December 18, 2013 (
See all reviews by this customer
)
I thought this stone had a nice weight and a nice look to it. My only problem was that I gave the wrong year our dog was born so not sure I will put it in our garden or not. I should have double checked with one of my kids before I ordered it!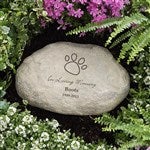 stamping is faint
By
Shopper

(Grants Pass, OR) - December 18, 2013
beautiful stone, hollow inside but sturdy. only issue is stamping is faint. I went over it with black marker and now its perfect

Very nice remembrance for special part of family
By
Julia B.

(Morgantown, WV) - September 24, 2013 (
See all reviews by this customer
)
Although I thought it would be a full round stone, it looks very nice and is a beautiful marker for our beloved Maltese of 13 years. It is rounded on top as shown, but hollow and open on bottom . Hoping it will be beautiful for years.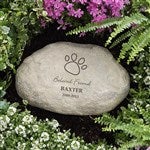 Rabbit Memorial Stone
By
Shopper

(Eden Prairie, MN) - September 6, 2013
I was pleased at how quickly the stone arrived. However, I was a bit disappointed at how 'light weight' it was and how 'light' in color it was. I had hoped that it would look a little more like a real stone. The imprinting was nicely done and the rabbit likeness was charming. All in all, it is a lovely tribute to my wonderful bunny.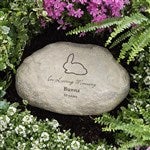 Printing in larger font
By
Mary Anne P.

(Charlotte, NC) - August 11, 2013 (
See all reviews by this customer
)
Our friend loved her gift. I liked it too but would like pets name printed larger but it was nice.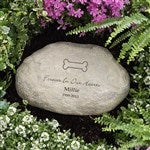 Fast delivery
By
Shopper

(Flower Mound, TX) - August 11, 2013
We had a cat that was 23 1/2 years old that died. We knew it was coming but it still didn't stop the pain of losing him. So, after he died here at home, we buried him in the backyard by a beautiful hydrangea. I wanted something to put down to remember him by and for others to see. So, I ordered the memorial pet stone. I really love it! It came to the house very fast and I could finish up Sebastian's memorial and feel complete. I have only had it for a short time, so I am not sure how long the writing will last. I hope it doesn't fade to quickly. I will write back and let you know.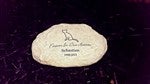 Gift
By
Carole B.

(Spring, TX) - August 6, 2013 (
See all reviews by this customer
)
I have not actually seen the product but received a very sincere Thank You for it. It was sent as a gift to a family member.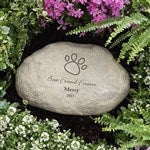 Sweet memorial
By
Nancy A.

(St. Peters, MO) - July 19, 2013 (
See all reviews by this customer
)
Overall it's a nice little item. I didn't realize that it wasn't a solid "stone", but rather hollowed out, and open in back. It was shipped very fast, and looks nice. It brought some comfort to my boys, who lost their first pet.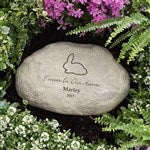 pet stone
By
Frances D.

(hauppauge, NY) - May 3, 2013 (
See all reviews by this customer
)
We were very pleased with the pet memorial stone for our beloved pet. The inscription was done beautifully. Although the stone is lightweight, it was a very good size to display in our flower bed - an area we designated to remember our dear friend.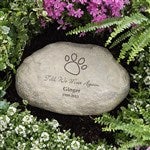 Kiki's memorial stone
By
Judith A K.

(Fruitland Park, FL) - February 23, 2013 (
See all reviews by this customer
)
The stone is much bigger than I expected though hollowed out underneath. I suppose if it were not hollowed out it would be very heavy. Thank you for providing me, at last, with a memorial stone to mark Kiki's grave.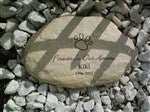 quick service
By
Shopper

(mequon, WI) - October 26, 2012
quick service, I expected a real stone not stone resin, would have liked the writing to be a darker black---satisfied with purchase, need to read detail better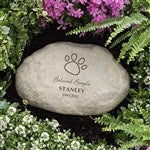 Great Company
By
Amber G.

(Atlanta, GA) - August 3, 2012 (
See all reviews by this customer
)
Personalization mall was extremely fast on delivery, their products are nice and they are super easy to work with.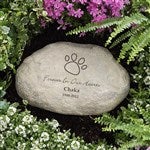 Great value and fast shipping
By
Pamela S.

(Cuyahoga Falls, OH) - June 24, 2012 (
See all reviews by this customer
)
I received my pet marker in record time. It was perfect. Thanks for such a great product and quick shipping.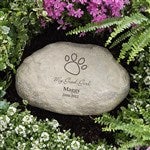 Very nice memorial for my little guy
By
Shopper

(Farmington, MI) - June 10, 2012
After losing my dog Jack I was trying to find a way to honor him and I found this site. It offered a memorial stone for a good price. I was pleased with how fast the turnaround was because I received the stone within a week from ordering it.

The only thing I wish was that I could have entered more text on the stone but was limited to only so much.

The stone is resin and not really a full stone. But you'd never know it once it's in the ground. For the price, it's definitely worth it.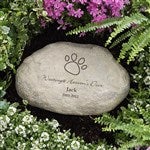 so easy - good price & quality
By
Shopper

(clinton, CT) - February 27, 2012
Found this memory stone easy through amazon.com. Great price - One thing I wish is that i could have changed some of the fonts.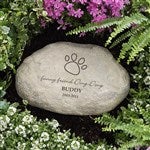 Garden Stone
By
Patricia A H.

(Muscatine, IA) - February 14, 2012 (
See all reviews by this customer
)
The stone was personalized just the way I wanted it. Was expecting it to be a little heavier. Hope it lasts out in the weather. It was shipped almost the next day. That I was very impressed by.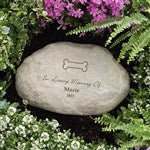 Good quality each stone was slightly different.
By
Shopper

(Cliffside Park, NJ) - December 8, 2011
Surprisingly pleased with each stone. Good quality each stone was slightly different, which personalized each stone for the individual pet. Was exactly what was advertised, only better when I opened the box. Estimated shipping date
was exactly as stated and stones were received within in a few days after estimated shipping date.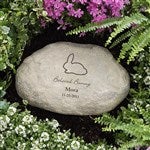 A worthy memorial
By
Shopper

(shawnee, KS) - October 9, 2011
We are very happy with the look of the product and the personalization. The only thing we did not realize is that the stone is flat so it lays on the ground and does not stand up.

Memorial Pet Stone
By
Shopper

(Campbell, CA) - September 26, 2011
This was my first time ordering from Personalizationmall.com We wanted a customized memory stone for our dog. Ordering and customization was very easy and quick. The product was delivered in a reasonable amount of time and accurate to our customizations. I was a little disappointed, however, to find the stone was actually a half stone and hollow. I dont mind it being hollow but was under the impression it was a full sized stone. The first indication should have been in the dimensions showing it was 1" in depth but why would I look at the dimensions for a garden stone...shame on me. At the end of the day it will sit flat in the garden and do its job and I'll get past the disappointment. When dog #2 goes, we'll definitely order from these folks again...and probably get the same rock.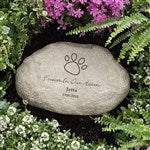 Memorial stone
By
Cathy H.

(Las Vegas, NV) - September 24, 2011 (
See all reviews by this customer
)
I received this memorial stone quickly, within a week of when I ordered it. The engraving was well done, and looked just like the picture. However, I was surprised that it was flat. I thought by the picture that it was more of rock-shaped 3-dimensional piece that stood up by itself. I can lean it against another rock to make it more upright, but it is not what I expected.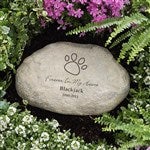 false advertisement
By
Shopper

(kenosha, WI) - September 5, 2011
I have to say i was impressed when i received my rock in the mail. It came so fast!! It only took a day and a half!! But although the picture looks like a rock,it not. It is very flat so it will lay in the garden. I was hoping it would stand up more. I bought it as a gift for my mother-in-law. But all in all i will be very excited to see her face when i give it to her for her birthday !! :)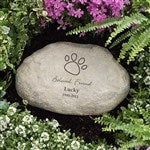 A Loving Reminder
By
Joanne B.

(Plainfield, IL) - August 30, 2011 (
See all reviews by this customer
)
Purchased this as a gift for a dear friend when their little pug passed away. It was truly appreciated by them and is a loving reminder of their dear pet.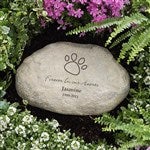 Finally found what we were looking for
By
Shopper

(Columbia, PA) - July 18, 2011
It's been a year since we lost our pet rabbit. It was especially hard for my daughter. She loved her rabbit. We had a nice burial for our rabbit, the only thing missing was a memorial marker at the burial site. We searched, shopped around, looking for something appropriate for a "rabbit". Nothing, everything was for dogs, cats. We even checked here, Personalization Mall. So a year went by and I thought about relooking again. Started here and couldn't believe I found a memorial stone specifically for a rabbit. Plus other animals. I was so thrilled. I ordered it immediately and didn't tell my daughter. When it came I had her open the box and she was speechless.....and satisfied we finally had something to place at the burial site. We are very happy that our rabbit's resting place is complete. Thanks so much for making these memorial stones for many types of "cherished" pets. We appreciate it.

I got what I paid for
By
Shopper

(Ellicott City, MD) - May 21, 2011
Overall, pleased with the final product, though somewhat disappointed that the "stone" was hollow on the back side. The front turned out exactly as I hoped and is a perfect way to honor the life and memory of my cherished dog. However, I find it a bit gauche that on the box it reads, "Personalized Gifts For Life's Celebrations" when inside the box was a memorial stone for my beloved dog who was being put to sleep. Not exactly a celebration.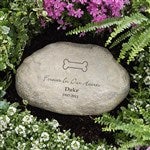 nice remembrance
By
Rachele F.

(Claremore, OK) - April 15, 2011 (
See all reviews by this customer
)
I really like this "stone," it is a nice physical memory of my beloved cat. However, the purchaser should know that it is not a real stone, it appears to be poured concrete that is painted. It is concave on the bottom. I still would purchase it, but was just surprised when it arrived.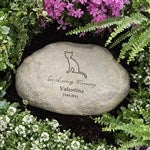 Memorial Pet Stone
By
Gisela H.

(McAllen, TX) - March 26, 2011 (
See all reviews by this customer
)
Product was as I expected when ordered. Just the right size for a garden area in the backyard. Quality is good for resin and heavy enough for outdoor use.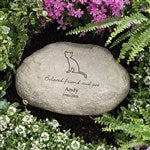 Engraved nicely/Look of real stone
By
Shopper

(williamsville, NY) - March 25, 2011
I bought two of these and was pleased with how they looked, how they were shipped and how fast they came. I liked the image, how they were engraved, and the size was just right. I would have preferred a real stone, but it resembles a real rock, and is probably more durable over time.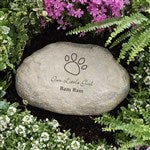 Pet Stone... Great buy!
By
Shopper

(Blythewood, SC) - March 22, 2011
Love the product! It arrived fast. The stone looks real, it is bigger and lighter than expected (wonderful!), and the writing on it is beautiful too. I wish I could give it 5 stars... however, the printing is light gray and not black as it shows. The print will look black when wet though. Overall I was very happy, now my beloved pet has a special memorial.
Thank you Personalizationmall.
Blythewood, SC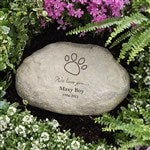 Great Memorial for Loved Pet
By
Richard M.

(Rehoboth Beach, DE) - November 14, 2010 (
See all reviews by this customer
)
The memorial rock was as advertised and wehave already placed it on our beloved pets resting spot.