Professional Portfolio
By
Shopper

(Gainesville, FL) - March 30, 2014
This is a quality portfolio for a reasonable price. Its sturdy, well constructed and looks professional. I am only going to give four stars because the the portfolio is not engraved. Which is what I really desired. Otherwise, good investment.

good quality
By
Shopper

(Harrisburg, PA) - January 19, 2014
Again very pleased with this product. It was a gift and he was pleasantly surprised.outstanding work.

Quality of Personalization
By
Shopper

(Carmichael, CA) - December 27, 2013
The portfolio itself is very good. The leather is high quality and the workmanship is fine. However, I deducted one star from my rating because the silver personalization is average at best. The silver ink appears thin and looks as though it will soon wear off. The edges of the letters are not crisp and clean as I had hoped.

Nice looking but...
By
Shopper

(Stratford, CT) - December 2, 2013
Don't love it, but I like it alot. The engraving is a little cheesy but it's nice. It looks like it will wear off over time. It does not look as high-end as it does in the photo.

Padfolio
By
Shopper

(Plano, TX) - November 18, 2013
The padfolio arrived packaged nicely and seems to be of good quality. Only complaint is that the website needs multiple products to choose from to give options for the inside of the item.

Satisfied
By
Shopper

(Kissimmee, FL) - September 10, 2013
I was a little nervous about getting it not knowing if that is exactly what my husband was looking for. I wanted to surprise him and I did and he loved it.

Awesome portfolio
By
Shopper

(Santa Monica, CA) - July 26, 2013
Bought these in brown and black as gifts. For some reason the silver engravings was slightly peeling when I received the black one. Still a great item, but I would probably go with a carved out engraving style vs. silver lettering (brown one was done the other way and it was beautiful)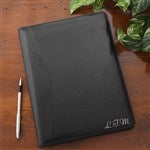 Great Professional Look!!!
By
Ebony E.

(Philadelphia, PA) - April 1, 2013 (
See all reviews by this customer
)
This is excellent portfolio, I enjoy the compartments inside it comes with a pad... Great for meeting and jogging down notes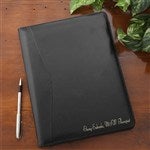 Pretty nice
By
Thomas M.

(McHenry, IL) - March 26, 2013 (
See all reviews by this customer
)
I was really supprised when I received an email notifying me of item shipped, the day after ordering.
This was for my wife's business and arrived in time for a class she was to attend. The portfolio was nicely made but the Personalization is just printed on and not embossed, so I don't know how long it is going to look so nice, the leather finish looks good.

Great portfolio
By
Shopper

(Astoria, NY) - January 7, 2013
I purchased this portfolio for my girlfriend who will be starting a new job, and it's exactly the kind of thing she needed. It looks sharp and is very lightweight. The cursive lettering of her name looks great and blends in with the front cover seamlessly. All around quality.

Nice for the price.
By
Shopper

(Gretna, NE) - December 29, 2012
The black leather portfolio is nice for the price. The portfolio is a nice leather and the interior is functional. The box it comes in is great for gift giving. I wish the name imprint was a little darker. I chose silver on black, perhaps the gold would have been darker. The person I gave it too was thrilled.

Nice look
By
Shopper

(Mint Hill, NC) - December 15, 2012
This portfolio seems to be made with quality in mind. It looks great. I am not 100% happy with how the personalization looks but it's not bad.

Looks Professional
By
Kaylyn G.

(Lubbock, TX) - November 30, 2012 (
See all reviews by this customer
)
The portfolio looked great. Very professional, as it is a graduation gift for an accounting major. I only wish the text was printed slightly larger, and that there was more embossing, or indentation where the ink was. But that is a technicality. It looks (and feels, because it's leather) just how I had expected.

Christmas Gifts
By
Shopper

(Schenectady, NY) - November 24, 2012
Very nice quality! The only thing I am nervous about is if the ink is going to eventually rub off of this..But overall, the product is great.

Pretty nice
By
Shopper

(Yaphank, NY) - November 4, 2012
This was a gift to my brother he seems very happy with it. I thought the grade of leather would have been less shiny and more of a butter soft, but overall pretty nice gift idea for the executive.

A good product
By
Amy G.

(Mobile, AL) - August 27, 2012 (
See all reviews by this customer
)
I am satisfied with this portfolio. It looks just like the picture online. I got the gold script personalization. If I had my choice, the name would be in smaller font. It looks just like the preview picture of the personalization, though. After just a few days of having it, the quality seems good. For the price, this product fulfills my expectations but does not exceed them; I got what I paid for.

Looks very professional, cheap notepad
By
Shopper

(Milpitas, CA) - July 9, 2012
The leather portfolio itself is very nice, and the personalized name was done beautifully, which made the whole thing look very professional. It has a good amount of slots inside as well. The notepad it came with is cheap though, writing on it with a sharp pencil will rip the paper. Otherwise, great buy!

Chic portfolio
By
Nevine E.

(Canada) - June 10, 2012 (
See all reviews by this customer
)
I ordered this for my hubby's bday. Quality and customization is excellent! The only reason I didn't give them a 5 is because the freight was very slow for what they charge. Other than that a good gift!

Excellence
By
Kenneth B.

(Lynbrook, NY) - April 13, 2012 (
See all reviews by this customer
)
This was my first purchase from your website and will continue to purchase from your website.
The quality of product exceeded my expections
Keep up the great work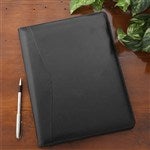 Product features that you like
By
Kathleen A.

(Kooskia, ID) - March 17, 2012 (
See all reviews by this customer
)
I got this as a gift for my pre-law student, and was very pleased with my choice for a portfolio. I did have it personalized with his name on it. The only "con" I have with my perchase is that, I wished they had used a bit more ink because the black leather can almost be seen through the silver. Looks like with a bit of wear it would rub off!

Nice
By
Shopper

(Orlando, FL) - March 5, 2012
The portfolio itself is very nice. The quality is very good and looks beautiful in person.

I only have 4 stars because the engraving on mine was not well done. I chose the gold script but it doesn't look complete,and there is gold glitter all over the front. It's as if it went the box before it was completely dried.

Overall it is still a very nice item.

Very stylish and professional
By
Margaret S.

(Antelope, CA) - February 11, 2012 (
See all reviews by this customer
)
Perfect for professional appointments/business meetings

Good!
By
Shopper

(Forest Hills, NY) - January 1, 2012
This portfolio is rather useful and a good size. If you're expecting to put A LOT of papers in the folders of the portfolio, you might want to look at a different one. However, the quality of it is rather good and the design is classy. I am enjoying it greatly!

Fairly good quality
By
Shopper

(Saint Peters, MO) - December 30, 2011
Received one personalized, and the lettering was already smearing off, so I called & they shipped another personalized one immediately - the 2nd one was perfect.

Satisfied Customer
By
Nicole S.

(Summit, NJ) - December 9, 2011 (
See all reviews by this customer
)
I ordered two of these for Christmas gifts. When I received them I was happy to see how nicely they packaged them. Beautiful and sturdy black cardboard with a nice touch of silver stretch band. The inside was covered nicely in tissue paper and the quality of leather was nice. I wish the lettering could be just a bit more clear but I'm assuming the type of ink or whatever they used spreads the smallest bit once its on the leather. Overall I am very happy and would definitely order again.

Lettering is not good
By
Jim M.

(Bolivia, NC) - September 17, 2011 (
See all reviews by this customer
)
Lettering leaves much to be desired. Will probably go away over time. Otherwise quality is quite good. Considered returning it due to the lettering but is too much trouble, so kept it.

I like the personalization on the leather
By
Nour A.

(Canada) - July 23, 2011 (
See all reviews by this customer
)
My husband liked it a lot to use it for his work papers and meetings.
The engraved name on the front cover makes it unique and just differentiate it from other regular business folders available in other stores. The quality of the leather could be improved though.

Plady's Review
By
Patricia R.

(Homewood, IL) - May 29, 2011 (
See all reviews by this customer
)
great gift to give !!!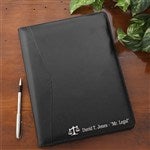 Graduation Gift
By
Shopper

(Arlington, TX) - May 20, 2011
Purchased this for my sister's college graduation present. Delivery was prompt and on time. Item looked very nice. Only disappointment was that it did not come with a pen pictured. So I had to scurry and find a nice pen to put with the portfolio. Otherwise, very satisfied.

Official Bennett Review
By
Thomas B.

(New York, NY) - April 30, 2011 (
See all reviews by this customer
)
Excellent quality. The only thing missing is a a pen holder.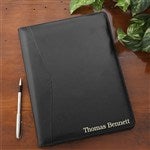 Great Gift
By
Shopper

(San Antonio, TX) - April 29, 2011
This is a really nice leather portfolio. My husband really loved the look and feel of it and was excited to get it!

The only con: Whoever designed the address card insert is out of their mind. They included a space for your social security number. I strongly suggest throwing that insert away before giving this as a gift just to be on the safe side.

Very professional
By
Shopper

(Jacksonville, FL) - April 23, 2011
The portfolio looks very professional. My friend got it for his birthday and he loves it!
The only reason I gave it 4 stars instead of 5 is because when I got it it was with the different font. I sent email to the customer service and within few days I got the right one. Now my friend has two portfolios:) I didn't have to pay for the second one.

Well-done!
By
Shopper

(Brookhaven, NY) - March 4, 2011
This black portfolio is of high quality in construction and material. The silver lettering is sized and printed perfectly to suit the item. A beautiful gift for a great value.

Personalized Professional Look!
By
Carmen S. B.

(Buffalo, NY) - January 9, 2011 (
See all reviews by this customer
)
I received the black leather personalized portfolio as a Christmas present. I have ordered many personalized gifts from personalization mall and have never been disappointed. The portfolio is high-quality and the personalization adds the touch of professionalism without being gaudy. The only disappointment I have is the limited amount of pocket space. I can not use it as a stand alone during meetings and conferences. The portfolio is a great accompaniment with a leather brief case. I would definitely recommend this item to others.

Highly satisfied
By
Laura N.

(San Marcos, TX) - December 26, 2010 (
See all reviews by this customer
)
The portfolio itself is very nice. The leather is fantastic quality. I bought it for my husband for Christmas and he loved it! However, the embossing was not perfect. His name was a little faded on the front and part of one letter was not printed fully.