twin delight
By
Shopper

(east northport, NY) - June 18, 2013
These shirts were the hit of a one year old birthday party for twins. Quality was excellent and shipping was very fast.


Super cute but size wasn't ideal
By
Shopper

(Crofton, MD) - January 29, 2013
My son is 20 months and on the smaller size (24 pounds), Unfortunately, in the infant sizes they only had 18 months (which I worried would not fit for long) normally I would have ordered 24 months or 2T, since that wasn't an option I had to go with the Youth extra small. The size chart just gives width and not length. As we all know the proportions are not the same for all companies, so I had to take a leap. It was bigger than I expected. It is super cute and he will eventually wear it. I put our dog's name on it, because that is what our house is like.

Perfect sibling gift
By
Melissa S.

(Naperville, IL) - January 21, 2013 (
See all reviews by this customer
)
Very cute and functional gift. I bought the bib for the baby and the shirt for my friends kids. She adores them!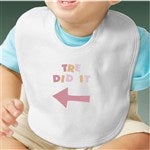 Cute
By
Shopper

(Parker, CO) - January 6, 2013
We got this as a Christmas gift for kids from our friend. They are cute.

Wonderful gift!
By
Shopper

(Vienna, VA) - December 20, 2012
I ordered one for my grandson and one in the infant size for his newborn brother for Christmas gifts. They are just perfect and how funny it will be when they both wear them together. The 4-star review is only because they run very small. Thankfully, I anticipated that possibility and ordered way larger than one would think necessary and they are both perfect. Love this idea!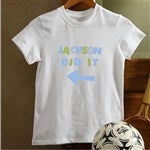 Great product!
By
Shopper

(Vienna, VA) - December 20, 2012
Everything is perfect about this shirt - colors, personalization, quality. I love it and also ordered one in the youth size for the baby's older brother. What a great idea!! They will play off each other! The only reason for a 4-star review rather than a 5-star is that the sizing given on the website is way off. I smartly ordered the 18-month size for a 3 month old and it will be fine for quite a while. Anything smaller would be too small very soon. Otherwise, love, love, love it!

Almost very pleased
By
Beth B.

(Waterville, OH) - November 26, 2012 (
See all reviews by this customer
)
I ordered two of these shirts for my grandsons. One shirt was perfect, the other arrived with the wrong message. A quick call to CS and the matter was handled very quickly and very pleasantly. I am waiting for the corrected shirt to arrive.

Great - as discribed.
By
Shopper

(Stamford, CT) - April 8, 2012
Very fast delivery

print a little small
By
Shopper

(Brownstown, MI) - March 31, 2012
shirt looks good but the arrow and letters are kinda small I have a 5 & 7 year old. I think they must keep the same size print for all sizes and it looks a little small on the bigger shirts but would fine on the smaller sizes I am sure.

Cute idea!
By
linda V.

(andover, MA) - March 25, 2012 (
See all reviews by this customer
)
The idea is adorable...I bought this and the t-shirt to bring to a newborn and her new baby sister as a gift for the hospital. I just wished that the t-shirt came in multiple sizes and wished that they were both a softer fabric. The print work is very nice and in delicate colors.
Looking forward to the reaction.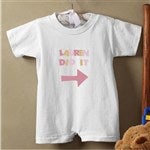 Cute shirt, Disappointed in Size
By
Amanda M.

(Austin, TX) - December 11, 2011 (
See all reviews by this customer
)
I ordered the Christmas version of these shirts last year for my boys and loved them. The sizes were great, etc. This year, I ordered them for friends in 18 month sizes and when I received them, I was disappointed to find that the 18 mo. actually looks more like a 12 month. They will fit but not for very long. I would recommend ordering one size larger than your child actually wears. Otherwise, they are adorable and a good value.

Great baby gift!
By
Nancy C.

(Chicago, IL) - July 16, 2011 (
See all reviews by this customer
)
I would have given this 5 stars, but I wasn't able to see the product since I had to ship it. If I had seen it, then I could truly determine if it deserved 5 stars (I put a lot of weight on the feel of the material, especially for babies). In any event, I only gave 4 stars because otherwise this was a great gift!!! One of the mothers-to-be sent me an email (since I was out of town during her shower) and said it was the most clever gift she had received. So, if the recipient is happy, then it must be a great gift! Plus, I like the bib, because it will take them a bit longer to grow out of it -- knowing how fast kids grow! I would definitely purchase this again --- and actually did a week later for my other friend who had also given birth to twins! Great product!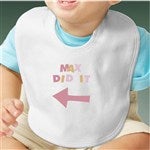 Cute Bibs
By
Shopper

(Powder Springs , GA) - April 10, 2011
The bibs I ordered as a shower gift for a friend that had twins. She loved the bibs and thought they were very original, the only negative is the bibs are thin, but overall very cute.

faded lettering
By
Shopper

(Woodinville, WA) - February 27, 2011
Just as represented but if I were the producer of the item I would make the lettering darker because after the shirt is washed a few times it will be hard to read the already faint lettering. :)

Baby Shower Hit!
By
Heather M.

(Atlanta, GA) - February 9, 2011 (
See all reviews by this customer
)
This item was a big hit at the baby shower I attended and gave it as a gift to a close friend. I was a hostess and we hung small items from a clothesline and this item garnered chuckles and everyone thought it was very adorable. The quality is great and I cannot wait until I know the baby-girl-to-be's name so I can purchase another for her big sister and for other friends with kiddies!

Super happy!
By
Erica N.

(Parma, OH) - December 15, 2010 (
See all reviews by this customer
)
The bib is a little thin and probably won't keep the babies super dry for long, but they are super cute and I would definitely order them again!

".." Did It Tees
By
Cheryl B.

(Westfield, IN) - October 21, 2010 (
See all reviews by this customer
)
The shirts are very cute and will look adorable on my grandchildren. There was a question on my order and Personalization Mall called me to correct it rather than just rejecting my order. I appreciate the great customer support!
The only thing I found was on the boys shirt where they had pressed the image on, there is a brown mark on the side. It was not bad enough that I will return the item but it is noticeable.

Unique gift for twins
By
Julie D.

(Saint Louis, MO) - October 13, 2010 (
See all reviews by this customer
)
Satisfied with all aspects except price: I think the item is overpriced for a young child's sweatshirt.