Great
By
Vanessa B.

(Saugus , MA) - March 25, 2014 (
See all reviews by this customer
)
Fabulous New Home Gift, font a little bit small
but still it is a great gift

Product Features
By
Carol S.

(Eastchester, NY) - September 29, 2013 (
See all reviews by this customer
)
It came out beautiful! My only complaint is the font on the verse could have been larger!!!

Love!
By
Shopper

(Flushing, NY) - April 23, 2013
I have not given it to my mother but my father saw it and loved it. The name was a bit pixelated but it is still lovely. I only wish I could have written the family part in spanish instead of the standard "The _____ Family"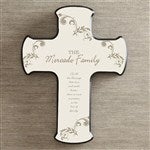 Beautiful Cross but Small Font
By
Shopper

(Bayside, NY) - December 19, 2012
I purchased this cross for my grandparents and while it is beautiful in person, the font for the verse under the name is tiny. I worry that they will have trouble reading it (I had trouble and my sight is fine). It would be great if a larger font was available for this item. Even so, I would definitely recommend this item to others.

Wonderful house warming gift
By
Anita L.

(Hazleton, PA) - August 18, 2012 (
See all reviews by this customer
)
Cross is very nice and well received by the recipient. It makes a great gift to welcome people into a new home.

I do want to caution other buyers, read very carefully. The description for this cross read, that the word "the" automatically appears before the family name. I don't think the automatic insertion of the word,"the" is necessary. I did not realize this, so I received a cross with the word "the" inscribed twice before the surname. When you view the preview, the word, "the" that is automatically inscribed doesn't show. The preview should show exactly how the inscription would read. I gave it only four stars, because I had to reorder and pay for it again!

Proudly displaying over the (inside) front door.
By
Shopper

(SAN JOSE, CA) - April 27, 2012
The quality of the wood is well done. Our personalized name is big enough to see. It would be nice if we have a choice of different fonts (-1 star).

A Welcome gift
By
Shopper

(Newburgh, IN) - April 22, 2012
I purchased this cross for a gift for my son and his family for their new home.
They really appreciated it and it will look nice in their home.
The item looked like it did online, but the the verse itself could have been in
larger letters.

Nice, beautiful, and thoughtful
By
Shopper

(Atlanta , GA) - January 3, 2012
Real nice gift for a family. I would have given it five stars if I could personalize it a little bit more i.e take out the "Family", and give buyers the opportunity to individualize the cross.

Remember "the" is included in the title
By
Shopper

(dallas, TX) - December 23, 2011
Cross is great - I did not read instructions carefully & had double "the's"! Cross is good quality & looks very nice.

Beautiful
By
Andrea M.

(Plano, TX) - December 16, 2010 (
See all reviews by this customer
)
It's special because it's personalized. My only complaint is the sticker on the back peeled the paint. Font is a bit light, but it's beautiful and will make a special gift.

Beautiful and High Quality
By
Silvia Z.

(Plainview, TX) - September 30, 2010 (
See all reviews by this customer
)
This is a great piece. It is beautiful, tasteful, and very well-made. I would have liked to see the font size be a bit larger though. That is the only reason I did not give it all 5 stars. I definitely recommend this purchase.