Great quality
By
Shopper

(Davie, FL) - January 3, 2014
Great quality product - only complaint is that there should be a cover for the straw - otherwise, no regrets buying this product as a gift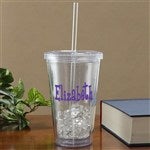 Affordable gifts for Mom and Dad
By
maggie S.

(marshfield, MO) - December 19, 2013 (
See all reviews by this customer
)
They were bought as gifts to mom and dad from kids(13&10) The kids were delighted with them, they fit their budget and are something that is useful.

Tumbler
By
Vickie W.

(DAWSONVILLE, GA) - December 3, 2013 (
See all reviews by this customer
)
Very high quality and shipped in good time. Always enjoy your products.


Just What I Was Looking For!
By
Elizabeth Y.

(Cincinnati, OH) - October 7, 2013 (
See all reviews by this customer
)
These cups turned out great! They were just what I was looking for. I chose these over similar products from other sites because they are dishwasher safe. They also arrived very quickly. We gave them as a gift to our son's teachers, filled them with Hershey's kisses, and tied a bow to the straw. It ended up being a beautiful gift!

Cool Cup
By
Shopper

(LUTZ, FL) - December 17, 2012
This product is a great concept except there were only two choices for font. I was going to order a few but didn't like the way the names turned out. The product itself is nice and good quality.

tumbler
By
Shopper

(Malvern, OH) - December 6, 2012
I ordered five different items from this site, and this is the only one that I wasn't totally in love with! I don't know what I was expecting, but the name on the tumbler is really just stickers. I felt like I could have done that myself...But the tumbler itself is nice and the other reviewers seem happy, so that lifts my spirits a bit!! Regardless, I know that the recipients will LOVE these and get tons of use out of them!!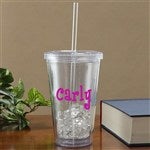 return shopper
By
Shopper

(Anaheim, CA) - November 14, 2012
good quality, could be a little larger. Ordered many as gifts.

personalized cup
By
Shopper

(Foothill ranch, CA) - October 21, 2012
This was a replacement cup for one I previously purchased it was to be a gift for a friend recovering from surgery. I have this cup and my son has one and we both really like them. It keeps drinks cold and it does not sweat. The lettering on this one was worse ( crooked) then the first one. Rather than try again they gave me a 25% credit and refunded the shipping. I was disappointed they did not get the lettering perfect but due the timing I did not want to try a third time. The return process was easy, email a picture of the product and they communicated within hours.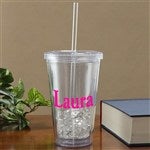 Nice, but needs a little work.
By
Shopper

(Bluefield, WV) - April 9, 2012
We like our tumblers, but we have a hard time taking the lid off. It gets so stuck that it is hard even for my husband to open.

Okay, not great
By
Shopper

(augusta, NJ) - April 8, 2012
I purchased 3 of these for my children for Easter. The cups are a good quality but the personalization seems very cheap. While hand washing the cups I felt if I rubbed too hard the names would come off.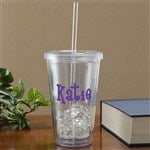 Good Value
By
la jean S.

(fort worth, TX) - December 20, 2011 (
See all reviews by this customer
)
Not as big as I pictured, but the writting is cool and she will love having something with her name on it. Like it because we could personalze with her nickname, you can't find anywhere else.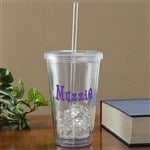 still kinda leaks
By
Shopper

(Crofton, MD) - December 19, 2011
Bought this because my boyfriend falls asleep on the couch while sipping a beverage at night and is constantly pouring drinks on me! It's PERFECT. Only downside is that if you tip it over, somehow liquids still get through the seal when the lid is on. (I know there's a straw, but I mean the actual lid.) Fantastic purchase, though.

Great
By
Shopper

(Plantation, FL) - December 5, 2011
very cute. My only compliant is the price. A little pricey!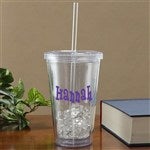 So far so good
By
Danielle H.

(Morganville, NJ) - August 27, 2011 (
See all reviews by this customer
)
I orderes these as a cute way to keep my new carpet protected from my niece's drinks. It is tight, no leaks, and she love that her unique name is on it since nothing in thr stores has her name on it.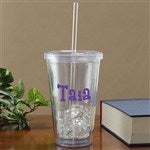 Good quality
By
Brittany D.

(Las Vegas, NV) - August 20, 2011 (
See all reviews by this customer
)
Good quality cup. I wish it was a bit larger.

Great cup
By
Shopper

(Addison, IL) - July 23, 2011
Good quality cup and the purple letters were exactly what the picture showed online.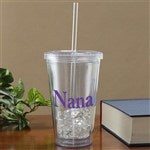 Great product!
By
Nathan M.

(Monroe, NC) - May 16, 2011 (
See all reviews by this customer
)
I purchased this tumble for my wife who is always taking drinks on the go. It is big enough to hold 2 cans of soda without ice. The straw has a small plastic ring around it at the bottom to ensure the straw does not fall out and the lid twists on to prevent children from pulling it off. The only thing that she did not like is the condensation on the cup, but other than that she loved it!

Great travel cup
By
Michael L.

(Norwood, MA) - April 10, 2011 (
See all reviews by this customer
)
The person I bought this for loves it & uses it for everything.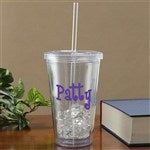 Just what I wanted!
By
Shopper

(Ramona, CA) - April 2, 2011
These tumblers are exactly what I had in mind! I did not realize that the lettering was sticky letters, I thought it was going to be painted on. I guess I missed that in the description. It is still going to be perfect as a bridal shower gift.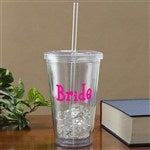 On The Go
By
Shopper

(Goose Creek, SC) - March 5, 2011
What a great travel tumbler. The only thing is that I have trouble unscrewing the lid.

nice
By
Shopper

(Indianapolis, IN) - March 4, 2011
love it

Perfect!
By
Shopper

(Walpole, MA) - February 22, 2011
Love my new Tumbler! Perfect for iced coffee. Bought a second one for my sister and she loves it too.

love this but....
By
Shopper

(Neptune City, NJ) - January 21, 2011
I love this cup! I got it for christmas and it's so adorable! however, it fell out of my bag at work onto the tile floor and broke. So i ordered a new one because i loved it so much, but now i treat it with kid gloves for fear it might break again.
Great cup but be careful with it because it is a breakable plastic.