Great - Just as expected
By
Amanda B.

(Edina, MN) - January 21, 2014 (
See all reviews by this customer
)
We ordered a personalized glass bell ornament for my son's first Christmas, and it came and looked exactly as pictured. The only reason I gave it a 4 instead of a 5 is because I kind of wish that the glass was a little heavier/thicker. But that is small potatoes ... it turned out very well and will be a great keepsake for our family. I plan to do one for future babies as well!

beautiful ornament
By
Shopper

(Grand Rapids, MI) - January 7, 2014
Product was delivered fast and is of good quality. Highly recommend

Well Crafted
By
S P S.

(DeSoto, TX) - January 2, 2014 (
See all reviews by this customer
)
This ornament was just what I wanted. It was beautifully made.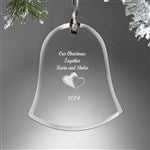 Personalized Bell Ornament
By
Shopper

(Sulphur Springs, TX) - December 27, 2013
The font was nice, clear, and the little Christmas tree art in the middle was nice. I could not, however, give this 5 stars, as the engraving was off center.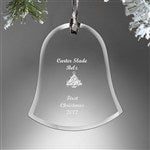 cute ornament, chinzy "gift bag"
By
Shopper

(Chicago, IL) - December 13, 2013
The ornament turned out exactly as displayed and the turnaround was very quick. I look forward to giving them to my girlfriends at our dinner club, but I'll have to buy new gift bags. The little velvety bags they come with are emblazoned with the Personalization Mall logo, so will be trashed. It seems cheap.

Ornament
By
Vicki W.

(Ponca City, OK) - November 11, 2013 (
See all reviews by this customer
)
You will not be dissapointed in these ornaments! Very nice script, great quality and thick glass. These will last for years and years. Thanks!!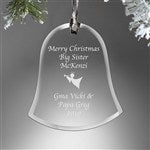 Satisfied
By
Shirley B.

(Clarksville, IN) - January 16, 2013 (
See all reviews by this customer
)
Always pleased with my orders, just wish prices were lower before Christmas like after. I have been a long standing customer and products ordered are always what I ordered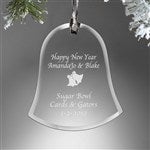 beautiful, easy to read
By
Shopper

(Jupiter, FL) - January 7, 2013
company did a great job, but delivery was slow.

Beautiful keepsake
By
Shopper

(San Jose, CA) - December 31, 2012
Loved this ornament-- only complaint was the cheap looking ribbon... but we'll change that out. Engraving looks wonderful.

Lovely
By
Cynthia S.

(Cave Junction, OR) - December 31, 2012 (
See all reviews by this customer
)
Beautiful keepsake ornament to enjoy for years to come.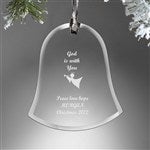 Just Beautiful
By
Shopper

(South Jordan, UT) - December 31, 2012
Ordered this in three for the grandparents. Each engraved with the grandkids name with a short Christmas message to them. These ornaments are surely wont left out every time grandmother put up their Christmas tree every December!

Special way to celebrate the holidays
By
James R.

(Ventura, CA) - November 19, 2012 (
See all reviews by this customer
)
Each year we design and give our children a unique Christmas tree ornament. Service is always extremely fast, prices are always reasonable and items are exactly as ordered. These ornaments are an annual family tradition!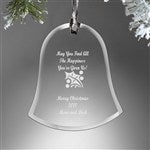 bell ornament
By
Shopper

(Dallas, GA) - July 23, 2012
I WAS VERY PLEASE WITH MY ORNAMENT. IT WAS SUCH A GOOD PRICE I WASN'T EXPECTING SUCH GOOD QUALITY. I CAN'T WAIT TO HANG IT ON MY CHRISTMAS TREE THIS YEAR.

Glass Bell
By
Teresa A.

(Virginia Beach, VA) - December 28, 2011 (
See all reviews by this customer
)
These were a very nice gift for Grandparents. I wish the glass had been a little thicker as it is a bit fragile.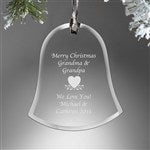 I'm happy
By
Jeremy T.

(Virginia Beach, VA) - December 8, 2011 (
See all reviews by this customer
)
and I hope my sister will be as well. This engraved ornament was perfect as it let me put everything I wanted it to say on there and had options for what design to have in the middle (I went with puppy paws because they got a dog). :)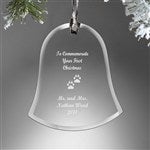 Cute Concept
By
Shopper

(Oakdale, MN) - December 6, 2011
I was slightly disappointed in this. The ornament looks really cute but the lettering was a little hard to read! I am still happy with the product overall!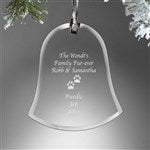 Nice gift
By
Sharon S.

(Caledonia, MI) - November 20, 2011 (
See all reviews by this customer
)
Exactly like the picture. Not as heavy as I expected, so it will be nice on the Christmas tree!



Nice gift.
By
Melissa F.

(Roebling, NJ) - August 13, 2011 (
See all reviews by this customer
)
4 stars b/c the white lettering is light.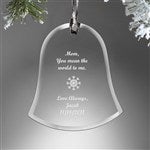 quick and courteous service
By
Shopper

(Woxall, PA) - February 18, 2011
I placed my order on a Sunday morning, received a call from a representative Sunday afternoon. My order was shipped on Monday and I received it on Thursday. Can't beat that service and the ornaments look exactly as I designed them on the computer.

Warning preview and picture don't match
By
Shopper

(Ventnor, NJ) - January 28, 2011
Don't go by Preview if it shows the inscription centered on the bell,as it's inscribed as shown on the picture. Its throughout the entire ornament field top to bottom.I'm using it as a wedding gift,inscribing with the wedding info. Line One did not support Our Wedding Day[15 characters] as it ended up into both bevel edges. Once I omitted the word Day, it fit. So be careful, I used apple chauncy font, the photo shows holiday font which seems a tad bit narrower than the other 2 fonts. The other lines would be OK as the bell gets wider.
Cust. Serv will work with you, but be prepared to contact them. When I reduced the number of characters on line one, it fit perfectly and looks fantastic. But it took 3 printings to get it right. They did change their site photo to reflect the item as done thru out the bell but on 1/28/11 when I entered their photo's wording using holiday font, the preview,still had the writing centered so that there is a space at the top and bottom of the bell. Truthfully, both ways look pretty. The product rates a 5 star as does customer service, the hassle made it 4

silver bells
By
Shopper

(Sunnyvale , CA) - January 10, 2011
Loved the bell shape ornament! You are able to personalize the "snowman" to various designs. It looks classy and it will be on my Christmas tree every year. Bonus: The ornament comes in a small cute bag that protects it

looks great
By
Ryan W.

(Los Angeles, CA) - December 29, 2010 (
See all reviews by this customer
)
It look exactly like I thought. thanks

nice ornament
By
cheranne W.

(edgartown, MA) - December 28, 2010 (
See all reviews by this customer
)
Ornament was very nice and receivers loved them. I would recommend this to people.

A Nice Memory
By
Nancy O.

(Lyndhurst, NJ) - December 28, 2010 (
See all reviews by this customer
)
I bought this bell ornament for a gift for my sister as a memory for her December wedding. She loved it. After being sent the wrong ornament the first time, personalization mall sent the correct one right away and it arrived before Christmas. I was so pleased!

satisfied customer
By
Jeanne A.

(Tampa, FL) - December 20, 2010 (
See all reviews by this customer
)
I loved it becasue I could personalize it with more than just a name so for those out of the ordinary or unique relationships or people in your life that you want to give a little something to, this was perfect. I could say what I wanted to, in the form of an ornament rather than a card.

A great gift for any purpose!
By
Cindy K.

(Staten Island, NY) - November 30, 2010 (
See all reviews by this customer
)
Being able to personalize this item in any way is a wonderful option! I was very happy with this purchase and plan to buy more of these as gifts in the future. The only reason I did not give this item 5 stars is that I would have liked the writing to stand out a little more. Other than that little criticism, this item is great!