I recommend
This is a great product. It's easy to use, it's so pretty, and very thoughtful to give or receive! Nothing bad about this, besides the fact it's only a sticker. It won't protect your phone but it'll make it look like your own.

iphone skin
By
Shopper

(Stuart, FL) - June 11, 2013
very cute! lots of complements on my first grandsons pic on my cellphone! Bought a 2nd also, and will buy more in the future, great prices on these!

Great sticker!
By
Phuong D.

(Wilkes Barre, PA) - January 7, 2013 (
See all reviews by this customer
)
I purchased 2 photo stickers during the holiday promotion. The quality of the print is great and the cut-outs line up perfectly with the iphone4. It is wonderful for the price that I paid, but would not value it at original cost.

Unique
By
Shopper

(New Egypt, NJ) - December 25, 2011
I purchased this item as a gift for my husband. The clarity of the picture I chose was wonderful. It actually looks like the original photo. My husband was amazed with the product and could not not believe how good the photo turned out on this type of product. It seemed easy for my husband to apply the skin to his phone. I would recommend this gift to anyone.

very disappointed
By
Pamela J.

(Knoxville, TN) - December 17, 2011 (
See all reviews by this customer
)
This was not what I thought I was ordering. Its basicaly a sticker. I thought it was a case with a picture etched in. Having said that, I thought it was of good quality,and it was very clear. The mistake was of my doing by not reding the description more thouroghly.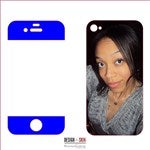 VERY COOL
By
Kimberly K.

(Louisville, KY) - December 10, 2011 (
See all reviews by this customer
)
This is a very cool phone cover....

Awesome
By
Shopper

(Thomas, OK) - August 11, 2011
The skin turned out great! The picture turned out clear, and it sticks to my phone very well. Nobody else has one like it, I love it!

Great gift idea
By
Aubrey S.

(Mesa, AZ) - June 26, 2011 (
See all reviews by this customer
)
I had this made for my sister's b-day and she loved it! She has had it on her phone for 3 months now and it still looks great! This is really great for those high tech gadget lovers!

Looks Great!
By
Shopper

(Hackensack, NJ) - June 21, 2011
I purchased this for my husband who is very into phones for fathers day with our daughter's picture. I ordered it in sepia and he loves the look; shows it off to everyone who also admires it. Came out really neat. He actually blow dries it to make sure the sticker stays put even neater. He is used to getting skins for his phones and sort of a pro :). He didnt use the front portion of the sticker. Its good quality and looks really nice. I think its a bit pricey for being a sticker but worth it specially with our daughters cute little face!

For looks, not protection!
By
Robyn S.

(Greensboro, NC) - June 20, 2011 (
See all reviews by this customer
)
If you are just looking for an idea to personalize your phone, then this is a great idea. The picture quality is good and it adheres to the phone very well...no bubbles or lifting so far and I have been using it for several weeks. However, the front pieces are a complete waste and I did not use them...very cheap looking! Be aware that this is not a protective cover so you should know that before you purchase...still a great idea as long as you add a clear protective case over the Design-A-Skin.

Adhesive lifts a little
By
Millene S.

(Mason, OH) - June 14, 2011 (
See all reviews by this customer
)
I liked this item... the print job is great, better than I expected.
I recommend getting a clear/transparent cover for your phone so that this adhesive one does not lift up with wear or from air bubbles.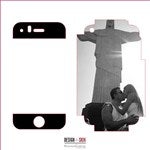 Design-A-Skin
By
Allison B.

(Canada) - April 3, 2011 (
See all reviews by this customer
)
Product is great, we get many compliments on the picture on my phone. The picture is a touch blurry and the sticker isn't quite strong enough. It has started to peel on one edge so we have to be careful... we want to keep this picture on!

design a skin
By
Mary K.

(Lincoln, DE) - March 29, 2011 (
See all reviews by this customer
)
Looks great - love it