Water bottle
By
Tricia J.

(Dallas, TX) - May 20, 2014 (
See all reviews by this customer
)
Smaller than expected but quality is fine.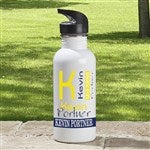 Satisfied customer
By
keith P.

(Hurst, TX) - March 18, 2013 (
See all reviews by this customer
)
All components are exactly as they appear in picture. Only minor negative was not knowing exactly how large the bottle was.

Great Quality - wish it had a strap
By
Shopper

(Morristown, NJ) - September 24, 2012
My daughter loves the water bottle we bought with her initials on it. It's very good quality and the 2 lids are very convenient. We wish it would have a strap to help us keep better track of it.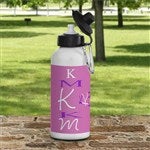 Water bottle
By
Kathelene Y.

(Murfreesboro, TN) - September 24, 2012 (
See all reviews by this customer
)
I like the water bottle, but for what you pay, the color and name(s) should go all the way around the bottle and not for just 3/4 of it. Smaller than I thought it would be, too.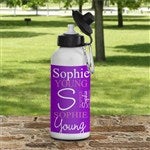 Product features that I do not like~
By
Shopper

(Atlanta, GA) - August 13, 2012
IT'S NOT EASY TO DRINK FROM, BUT THEY ARE CUTE GIFTS!

Satisfied
By
Shopper

(Los Gatos, CA) - August 3, 2012
This was a very appropriate and charming gift that my 10 yr. old daughter chose for her dad for his birthday. I am pleased with the seeming quality of the bottle and the personailzation. However, I did expect a considerable level of quality due to the rather high price. If the personalization holds up to reasonable wear, I'll be very, very happy and will purchase additional bottles! (I do a lot of volunteering and the number of unclaimed and unlabelled durable water bottles that end up getting tossed is a crime.)

Great
By
Lilly S.

(Louisville, TN) - July 8, 2012 (
See all reviews by this customer
)
The bottles are great and the printing job is fantastic but the metal ring that holds the clip is flimsy but just remove the flimsy ring and just use the carabiniere and not the metal ring. We used it for a Family reunion and everyone loved them. We did loose one to it bursting due to someone filling it with water and putting it in the freezer. :( Over all they are wonderful!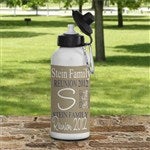 Great gift for band kid
By
Mindy B.

(Centerville , IN) - June 4, 2012 (
See all reviews by this customer
)
This bottle was a great gift for my daughter but was smaller then expected. I should have read the size but expected it to be the standard however it was shorter then most I have seen. Overall a great gift.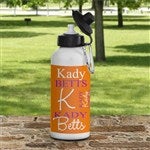 Nicely done
By
Shopper

(Sullivan, ME) - April 30, 2012
Printing was great, done promptly, colors a bit muted but good. my only hesitation was that they were a bit smaller than I had expected.

Pretty, but
By
Barbara B.

(Spring Grove, IL) - April 22, 2012 (
See all reviews by this customer
)
I love the design and the bottle itself,but it is way smaller than I expected. I should have read the ounce size and compared it to my home ones. This was intended for an adult at the gym and will be too small, my bad....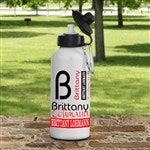 Water bottles
By
Ann L.

(Silver City, NM) - April 17, 2012 (
See all reviews by this customer
)
The graphics ar nice and clear and colors are just like in the picture. THey are smaller than most "Kleen Canteen" type bottles.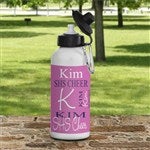 Happy!
By
Shopper

(Watertown, CT) - February 11, 2012
Happy with purchase. Agree with what others said, opening not large enough for ice cubes, on the small side and may ding easily. So it's not perfect. Love the personalization. Came out great. Overall very happy with purchase and would buy these again, especially for gifts, they have a bit of the wow effect.

Nice but the bottle is small!
By
Shopper

(Fairfax, VA) - December 19, 2011
This present was for my dad but it was a little childish. The water bottle was kind of small and would work better with a child. Otherwise the colors were crisp and it was a cool gift!

Nicely done
By
Shopper

(Brockport, NY) - November 21, 2011
The personalization was correct and nicely done, but it was only one-sided. The product description did not indicate that it would be on all sides; I just visualized it as such.


Colors
By
Shopper

(Warren, MN) - September 27, 2011
My daughter loved the water bottles with her name on it. (We purchased two). I would have given it "5 Stars" except the color orange was a muted shade and not a orange, orange like it showed on their web site. Also the black background looked like a dark green. Otherwise~~very quick shipping and a really neat personalized gift! Only need to improve the quality of their colors on their products.

Impressive
By
heather R.

(buffalo, NY) - September 20, 2011 (
See all reviews by this customer
)
I was very impressed by this water bottle for the price... not only is it Aluminum but the personalization is NOT just some sticker wrapped around it. Very nice and my daughter loves having a bottle with HER name on it. So with her so happy, I had to go and order my other two younger kids (a 1 and 2yr old) one too, for the future.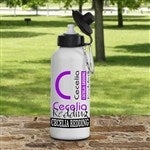 Love the personalization
By
Megan E.

(Kennesaw, GA) - August 29, 2011 (
See all reviews by this customer
)
I like the personalization and quality of the bottle but I wish the opening was larger and there was a straw option....it is hard to put ice in because cube's from the ice maker are larger than the opening so you have to break them up or wait for them to melt a little.

Great Item!
By
Rae D.

(Grand Rapids, MI) - August 20, 2011 (
See all reviews by this customer
)
The price point for these aluminum personalized water bottles was the selling point for me. They were half the price of the competitor. My four children loved picking out their own color scheme. I only wished they had a few more patterns to choose from. Great find!

Great Gift
By
Heather H.

(Alexandria, VA) - May 7, 2011 (
See all reviews by this customer
)
The design is great, colors are bright and true, and super-fast delivery.

Two small wishes - larger capacity and wrap-around design.