Soccer Hoody
By
Patty H.

(Foristell, MO) - March 11, 2013 (
See all reviews by this customer
)
I purchased this for my grandson's birthday. It looks great!! It's not quite as heavy as I was expecting, but overall I love it! Haven't given it to Hayden yet, but he's going to love the fact that it has his school colors. Would definately recommend it to others. :)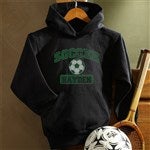 This sweatshirt is a big hit!
By
Jenelle B.

(Littleton, CO) - January 7, 2013 (
See all reviews by this customer
)
I have ordered this sweatshirt for my family and some teammates and its always a big hit. The only downfall is that the wording starts to breakdown and come off after a few washes. The sweatshirt itself is great quality and still looks good so I will still highly recommend the product.

Quality
By
Shopper

(San Diego, CA) - December 20, 2012
The personalized name on the sweatshirt bright and noticeable from afar.(color purple). The sweatshirt is not very heavyduty.

Great for kids
By
Shopper

(Little Elm, TX) - December 7, 2012
My daughter could not wait to get this sweatshirt. A friend of hers had one and she had to have it. My oly suggestion is order it a size larger than you normally wear because it runs small.

Sweatshirts run small
By
Missy L.

(Granger, IN) - October 23, 2012 (
See all reviews by this customer
)
I ordered a basketball sweatshirt size 10-12 youth for my daughter. The color and quality are great and I received it a little over a week after ordering. I rated it 4 stars instead of 5 because of the inaccurate sizing. My daughter is transitioning from size 8 to size 10 so most clothing sized 10-12 I buy her is a little too big. I figured this would be okay for a sweatshirt. It does fit her, but barely. The hood is quite tight getting over her head and there is not a lot of 'give' to it. She will likely grow out of it before basketball season is over. I would recommend buying 1 size bigger than what your child wears now (even if they are at the low end of that size range).

Hooded sweatshirt - youth sizes run small
By
Deborah F.

(Bedford, TX) - May 13, 2012 (
See all reviews by this customer
)
Youth hooded sweatshirt run small. Order two sizes larger. I will reorder from personalization.com. I was disappointed when I reordered that the "swimmer logo" changed.

Great Christmas gift
By
Shopper

(Coon Rapids, MN) - December 29, 2011
Good quality, very comfortable.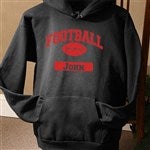 The good and the bad
By
Betty N.

(Raleigh, NC) - December 26, 2011 (
See all reviews by this customer
)
pleased with the product and the quickness of the shipment. Just wish that the item would have been offered in a 2X size. The XL appears to be alittle "small" for an XL.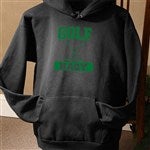 sports hoodies
By
julie W.

(Elton, WI) - December 8, 2011 (
See all reviews by this customer
)
ordered 3 hoodies...for my husband, daughter and son...all with a different sport and each with our last name on it. They will all open them at the same time for Christmas...and they can trade when they want a change! Fun!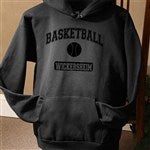 Nice Sweatshirt Too Bad I Didn't Order Larger
By
Kelly I.

(Melrose, MA) - December 4, 2011 (
See all reviews by this customer
)
I bought this sweatshirt in the past for my son who was and is now 12/13years old and also 2 of the tee shirts with the hockey logo and ordered the correct size for him in the Mens sizes. I knew when I order this sweatshirt for my petite 10 year old daughter I should have gone to the adult Small. I ordered the 14/16 for her and was disappointed that it will just fit her with just alittle room and not a full fit like the kids like to wear sweatshirts. She would have maybe gotten 2 seasons if I ordered the small/adult.
She wanted the Softball in the blue/color and we did our "City Name" as the Personal part. Now that we are only getting 1 season and it is black It wasn't worth it for me this time. I really wish they would offer these Hooded Sweatshirts and Tee's in the gray color so they can wear them into the spring and summer months. I love the quality and lettering as usual. Size up when ordering!!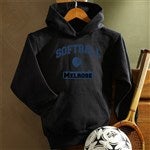 Sizes
By
Shopper

(Greensboro, NC) - November 21, 2011
The sweatshirt looks good, however the sizes run very small. I ordered a youth large and it was still way to small!

Susan
By
Susan V.

(Sagamore Hills, OH) - November 13, 2011 (
See all reviews by this customer
)
First of all, I am a loyal PM buyer and LOVE their products, but this was my first purchase (out of probably 50) that I was concerned about. The sweatshirt was adorable, but it appeared to run small. I purchased a 6-8 for a just turning normal size 6 year old and I am concerned it will not fit him. I think the next size up would be huge but just an FYI. Thanks for all the wonderful products and excellent customer service PM!

awesome sports hoodie
By
Cassie B.

(MACOMB, MI) - December 23, 2010 (
See all reviews by this customer
)
My fiance loves it! I just wish the material was a little bit thicker for our cold months here in michigan.

Friday Night Football Sweatshirt
By
Luann T.

(Lynn, NC) - October 4, 2010 (
See all reviews by this customer
)
I ordered this sweatshirt for my 12 yr old son to wear to Friday night high school football games. We choose the school colors as this is where he will be attending in a few years. He loves it. The reason I only gave it four stars was because of the string coming from the hood. One side was much longer than the other and it was stitched inside the hood so it couldn't be pulled out. Other than that it is a great sweatshirt. For average 12 yr old the adult lg was big but he will grow into it.

Small
By
Sylvia S.

(Garland, TX) - August 18, 2010 (
See all reviews by this customer
)
The lettering was smaller than I thought it would be. My grand-daughter picked it out so it was what she wanted tho. Quality of product seems good. It is for her b-day so am sure she will love it.

Great Gift
By
Seema K.

(Elgin, IL) - December 24, 2009 (
See all reviews by this customer
)
Everyone loves these sweatshirts! It's so easy to customize a gift for the sports fan/athlete in your home. The only reason I didn't give it 5 stars in the lack of choice of sweatshirt color (though you can pick the color of the personalization). It should come in a variety of colors, so one can customize for school teams, etc. Overall, I'd highly recommend this and would buy it again!

would and have reordered
By
Christina W.

(New Bloomfield, PA) - November 30, 2009 (
See all reviews by this customer
)
The sweatshirt wasn't as thick as I assumed it would be but still good quality and the print on the sweatshirt looked really nicely done. First time placing order from this store. After I recieved my order and liked what I got I have since placed another order for more people on list.

Sweatshirts
By
Lisa A.

(Marion, IA) - November 23, 2009 (
See all reviews by this customer
)
I purchased 2 personalized sweatshirts for my boys for christmas and they look awesome! They seem like they are true to size and will wash/wear nicely. I will know more after the holidays. I received them in just a few short days of placing my order. I have ordered from here on a few occassions and have always been pleased!

We loved it
By
Selina P.

(Somerset, NJ) - November 12, 2009 (
See all reviews by this customer
)
We loved the sweatshirt.... But can you have other color available.

Watch the size
By
Margie P.

(Menomonee Falls, WI) - November 2, 2009 (
See all reviews by this customer
)
very nice product except they run VERY small I suggest ordering 2 sizes larger than you think you need. I have purchased both the t-shirt and the sweatshirt and the size is an issue with both,.

great item- make sure you order larger than usual
By
Susana D.

(Houston, TX) - October 20, 2009 (
See all reviews by this customer
)
My son loved his sweatshirt. the material is very soft and warm. Fortunately I read the reviews and knew to order a larger size. He is a small 8 yr old but the size 10-12 fits perfectly on him.

Nice shirt but runs REALLY small
By
April C.

(Frankfort, IL) - October 8, 2009 (
See all reviews by this customer
)
I received this quickly and it was done well. I had bought it for my daughter's 12th birthday and bought a youth 14/16. She currently wears around a 10/12, so thought it would be a good fit and could wear it for awhile while she keeps growing. It was REALLY small. Would have to go up to an adult small or medium, probably medium so she'd have more time to wear it. Unfortunately, it can't be exchanged for a larger size as it is personalized. She won't get to wear it as long since it's so small. Other than the size, the hoodie itself is good.

Nice Sweatshirt - Not big enough
By
Arrin L.

(Beaver Dam, WI) - October 8, 2009 (
See all reviews by this customer
)
Very nice sweatshirt, however, the Adult Large runs very small. I bought this for my husband, who's maybe 190 pounds, and it's not as big as I hoped.