Valentines Gift for Newlyweds and New Home Owners
By
Shopper

(Bridgewater, VA) - January 31, 2014
I was hesitant to order these after reading some of the low ratings from people with concerns of low quality of the rugs. However, it was a great idea for my two daughters for valentines day - one is a newlywed and the other is getting her first home. so I took the chance and I am glad I did. Yes they are thin,but using them inside under a door they can work. I really love the names and presentation of them and am looking forward to giving them to my daughters!!


Nice Design
By
Cindi C.

(Coconut Creek, FL) - July 9, 2013 (
See all reviews by this customer
)
I bought this rug for one of my daughter's bridal shower gifts ..it is adorable the colors are bright and vibrant , the design and colors are perfect..It will look great at their front door ...on the downside it is not very thick in fact it's pretty thin and will not hold up for very long as a mat ..it is not a strong shoe mat quality.. But as for looks it is perfect and very cute..Might be better used inside the house but not for wiping dirty shoes on.....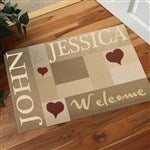 Nice Design
By
Joleen K.

(Elkhart, IN) - May 24, 2013 (
See all reviews by this customer
)
The colors and design are as expected. I have ordered personalized door mats before. Wish they all were a little more heavy duty though. They are very light weight, but gift receivers have liked them.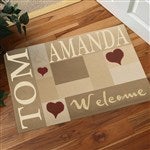 Quick delivery
By
Fred E.

(Riverside, CA) - December 6, 2012 (
See all reviews by this customer
)
Can't believe how quick we got the delivery. All was perfect.

Like
By
Shopper

(Vassar, KS) - December 6, 2012
Love it, just wish it was heavier so the wind wouldn't blow it away

Great personalized gift
By
Shopper

(Spring Hill, FL) - November 19, 2012
This is going to go in the cabin my husband and I are building up north, it's a Christmas gift for my husband. He will love it!

Floor mat
By
Shopper

(Concordia, MO) - October 23, 2012
Very nice printing and looks great!

Doormat looks very nice
By
Walter K.

(Spring City, TN) - August 15, 2012 (
See all reviews by this customer
)
The doormat looks very nice. The backing on the rug could be a little better quality. All-in-all a good purchase for the price.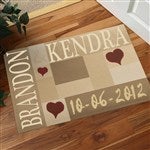 Looks great1
By
Delores R.

(Loganville, GA) - August 2, 2012 (
See all reviews by this customer
)
I love this doormat. I want everyone that comes into my home to feel welcome, and it starts at the front door. This doormat is something I would give as a gift.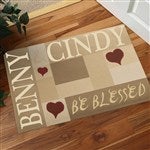 Very happy with my order
By
Shopper

(Clark, NJ) - May 7, 2012
As always, I am very happy with my latest order. The Loving Hearts doormat together with the matching picture frame was a big hit at the bridal shower.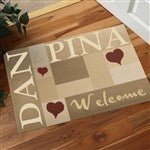 Adorable House-Warming Gift
By
Elizabeth F.

(Framingham, MA) - March 21, 2012 (
See all reviews by this customer
)
Although this says "indoor/outdoor", I would only use this INDOORS. Lovely gift. I only wish you could change the color pallette!

very nice door mat
By
Shopper

(Dallas, GA) - March 19, 2012
I really like this door mat but wish it was thicker than it is in order to ensure it will hold up long term.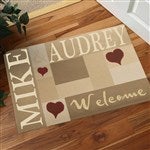 Cute welcome mat
By
Maria Pia G.

(West Harrison, NY) - March 12, 2012 (
See all reviews by this customer
)
A crowd pleaser. Everyone wanted to know where to get one. The colors were beautiful, it's a nice size. The only drawback I saw was that the nap of the rug was tiny. I don't know how much dirt this rug will take. I love the rubber backing making it non slip.

Valentines gift for the Inlaws
By
Charlene H.

(Oakboro, NC) - February 3, 2012 (
See all reviews by this customer
)
The doormat was exactly like it showed in the picture! Great price for the product...I loved that you can personalize and see what it will look like before making that final purchase. I can't wait to give it to my inlaws for Valentine's day! They are going to love it...I am going to order me some for every season and holiday! They are a great product...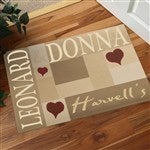 Personalized Couples Doormat (Sooo Cute !!!)
By
Shopper

(SEAT PLEASANT, MD) - December 28, 2011
I purchased this for my daughter and new son-in-law as a little gift. Even though I didn't get to see it (as I live on one coast and they live on the other), my daughter says that it is very nice. As I have decided to do with a similar doormat that I purchased for my home, she will mount it on the wall in the entry way for all to see. It's definitely much too pretty to be stepped on..:)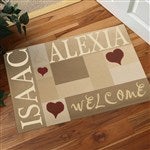 door mat
By
Shopper

(Warren, OH) - November 1, 2011
fast delivery, very nice product but would recommend using indoors (especially in Ohio weather) as it is not real thick, neatly lettered, will be a nice addition to the home

doormats
By
Shopper

(Pisgah, AL) - September 23, 2011
The doormats are really cute and the colors are just like you see on the website. I do wish the mats were a little thicker but they are still nice.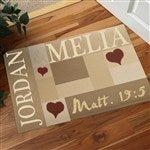 Too cute
By
Kathleen R.

(Lafayette, IN) - May 5, 2011 (
See all reviews by this customer
)
This doormat was really cute. It came really quick after I ordered it and was just what I wanted.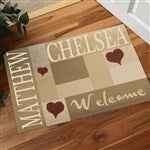 Great Housewarming Gift
By
Sharon S.

(Mukwonago, WI) - April 10, 2011 (
See all reviews by this customer
)
Perfect for a housewarming gift if the couple already has an established household. Something different instead of a typical plant or bottle of wine :)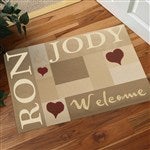 Great gift idea for housewarming or newlyweds!
By
Lissa M.

(Wildwood, FL) - February 11, 2011 (
See all reviews by this customer
)
Very nice item. Colors are vibrant. It is not as thick as I thought but still a great addition to our new home.