Very nice
By
Anna B.

(Schenectady, NY) - July 23, 2014 (
See all reviews by this customer
)
I ordered this as a wedding gift. It is very nice and is made of good quality materials. The only thing I did not like is the letter "M" at the top of the frame was missing ink as you can see in the picture... I called customer service to ask if this was supposed to be like this or if it was a defect. They told me that is the way the letter M is designed. I think they should change this as it doesn't fit with the design because no other letters look like this. It makes it look as though there is a piece of the letter missing.

Fast delivery but scratch
By
Shopper

(davie, FL) - April 22, 2014
Product looked great expect the corner was scratched

Perfect for wedding gift.
By
Shopper

(Marysville, OH) - April 6, 2014
Gave for a wedding present yesterday (4/5/14). Ordered the white frame with dark lettering-beautiful with their black and white invite. I used that picture announcement/invite in the frame and gift wrapped.
Seemed to be a well crafted frame with elegant personalization.
The only reason I didn't mark all stars was the backing to set the picture in-needed to have an option to stand on mantel.


5X7 wedding frame
By
Shopper

(Saint Paul, IN) - November 1, 2013
Really liked the frame except for the long looping engraving on a couple of the letters, didn't really care for that. But other than that I really liked it. Very fast. Wish they would leave their deals on longer. Just got ready to order an item that was 40% off & it went off sale. Was so disappointed. Or offer free shipping. Just some ideas. :) Have ordered a lot here & haven't been disappointed yet in product.

Wedding Frames
By
Celia L.

(Carrollton, GA) - September 15, 2013 (
See all reviews by this customer
)
I ordered four of these frames for wedding gifts. They all looked great. These frames are always a hit at showers. My only disappointment was that the frame either has to be hung on a wall or put in a stand. There is no stand attached to the frame.

Really Cute!
By
Shopper

(Ottsville, PA) - June 19, 2013
This frame turned out so nice! Good quality and well made. Only thing is, I wish it was a little bit bigger. It's going to be a great and meaningful gift to my girlfriend for her wedding. Glad I got it for such a good price!

memorable wall frame
By
carolanne S.

(cape coral, FL) - June 17, 2013 (
See all reviews by this customer
)
ordered this frame as a gift for a friend...the only thing I wish was that you had a choice to display on shelf/table or hang on the wall...was a little disappointed that you have to hang the frame.

The New Bride Loved It!
By
Holly D.

(Manchester, NH) - May 31, 2013 (
See all reviews by this customer
)
I have been exceedingly happy with the products purchased through Personalization Mall and this was no exception. There was some slight discoloration in the upper left. I believe this may have been due to the cutting of the frame, but it was only visible if the light hit it. The frame overall, was beautiful and the new bride thought it was amazing. I would definitely buy a similar item.

Very nice
By
Misty B.

(Baltimore, MD) - March 16, 2013 (
See all reviews by this customer
)
Ordered this frame as a gift, it is very nice and lovely. Only surprise was it feels more like a heavy plastic than wood. I would still order again, it's absolutely lovely.

Very Pretty
By
Shopper

(Kingsford, MI) - October 22, 2012
Very pretty - you won't be disappointed. I purchased this for a couple who has everything & they loved it!

beautiful
By
Shopper

(KALONA, IA) - October 6, 2012
I liked the photo frame. was a bit more expensive, but worth it. I only wish the frame would come with its own stand, not a separate easel.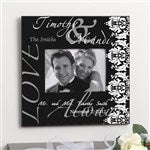 Great buy
By
SHARICA G.

(HOUSTON, TX) - September 4, 2012 (
See all reviews by this customer
)
Very beautiful. Only downside was frame didnt come with a stand. Must hang on wall or buy stand

Nice!
By
Shopper

(Deer Park, TX) - August 1, 2012
Love the frame: however, it had a dented corner which allowed me to see that the body of the frame was layers of paper sandwiched together. The frame is still beautiful and looks impressive regardless of the cheap construction, AND Personalization Mall gladly and promptly replaced the damaged frame.

Very Nice
By
Shopper

(Las Vegas, NV) - June 25, 2012
Came quickly and was really nice. I wish they would wrap the item before sticking it directly into the cardboard box. I felt like it could get easily scratched as it was a shiny black material.
If you order the gift box, beware. It has the company name and logo on the top of it. Kinda tacky to wrap as a wedding gift.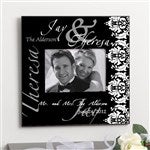 Great Product
By
Shopper

(Nottingham, MD) - May 31, 2012
I ordered this frame as a wedding gift and unfortunately it arrived slightly damaged on one corner. The company was fast and pleasant to deal with and they sent a replacement right away. I was very pleased after dealing with them for a few years to know that problems are handled so well. The frame is beautiful and the bride loved it!

Lovely gift
By
Shopper

(Macomb, MI) - May 7, 2012
I just received this item in the mail and was very impressed when I opened it. The quality of the frame is very nice. It was larger than I thought which I liked. I've ordered other items from this company and have been very pleased with their customer service. I will be a return customer for sure.

Cute
By
Maribeth N.

(Homer Glen, IL) - May 5, 2012 (
See all reviews by this customer
)
This turned out very nice and I was very happy with its appearance. I am excited to see how the couple will feel about it after their wedding.

Dust magnet
By
Shopper

(Westminster, CO) - May 5, 2012
The frame is beautiful, and I received it very quickly. I purchased the black one, and it is very shiny (lacquer finish). I can't get the dust off of it! I think another color would have been better for hiding dust. Nonetheless, it is a very nice wedding gift.

Perfect!
By
Crystal P.

(Downey, CA) - April 17, 2012 (
See all reviews by this customer
)
I bought this for a friends bridal shower and everyone told me that I picked the best gift! Many people asked where I got it from and adored it. Perfect gift for someone who is about to get married and excited to hang new pictures! I have bought many items on this website and have ALWAYS been happy with the items (as well as the recipients) and quality! I don't even look at other personalization websites- I come directly here because I have always been so satisfied!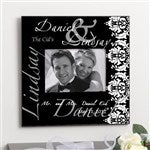 Looks great
By
Shayna R.

(Houston, TX) - December 9, 2011 (
See all reviews by this customer
)
What a wonderful wedding gift. Can't wait to give it to the bride - - I know she will love it.
Would have given it 5 stars but there was glue on several parts of the frame. It easily came off but an unwanted step.

Not quite the right color, but still a unique gift
By
Shopper

(Indianapolis, IN) - November 30, 2011
Bought this frame after receiving a similar black and white one for my own wedding. I ordered one as a gift in tan and brown to match a friend's home and found the tan background color to be slightly pink. Not crazy about that, but it looks great otherwise!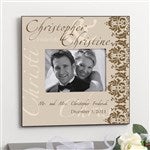 Great Gift!
By
Shopper

(Madison, IN) - November 30, 2011
These personalized frames are great for gifts! People really love to receive them. I have purchased several in the past and they were wonderful, however this past one I received had a minor flaw at the top of the frame...bubbles from where they had not successfully applied the personalization template.

Packaging was inadequate
By
Kim G.

(Falcon, MO) - October 21, 2011 (
See all reviews by this customer
)
I paid $6.95 for a box for the gift. Box arrived smashed and we have to purchase another one to put the frame into. The frame is nice.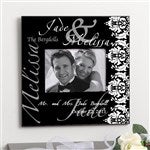 Dont EVER buy the gift boxes $4.95 is a rip off!!
By Shopper (ALBUQUERQUE, NM) - September 19, 2011
The frame was beautiful ...but the girft boxes I paid $4.95 each for were crushed and thin paperlike boxes definitley not worth the money for the gift boxes

Great quality, color not what I expected
By
Jen N.

(Pacifica, CA) - August 19, 2011 (
See all reviews by this customer
)
Overall I love love love the frame but I ordered gray and it wasn't exactly what I would consider gray. It looked more beige, not sure how that is possible. Overall, I would buy it again, but be cautious the color is not what you would expect.

Nice gift
By
Elizabeth E.

(Chicago, IL) - July 26, 2011 (
See all reviews by this customer
)
I purchased 2 of these frames for friends who recently got married. I purchased one in Black and one in White. They were very nice but they only thing that I did not like was that they had a glossy/shiny finish (almost plastic looking). I was expecting them to be good-quality wood frames (I have purchased a wood frame from here before and it was very nice). So.....I was a little disappointed :(. But overall they were a nice gift (I just think they would be a great gift if the frame was wood). But, like always, service was great.....my order came super fast!

Love it!
By
Shopper

(Bel Air, MD) - July 23, 2011
Great gift idea for a couple that already has everything. Unique. Will last forever and not be forgotten like money or a salad bowl. I think the bride and groom loved it!