Great gift
By
Shopper

(Cedar Hill, TX) - January 31, 2014
I bought this as a retirement gift for my dad and he absolutely loved it. We went eith the khaki lettering.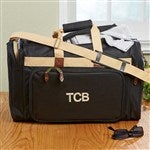 Great 50th Bday Gift
By
Shopper

(Ooltewah, TN) - March 12, 2013
Got this 'last minute' 50th birthday gift for the Boss' 50th bash. Came in time and was a hit. The bag is nice and masculine, but the straps could be of a little higher quality. Would purchase this item monogrammed again.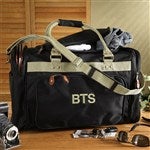 Great Weekender!
By
Shopper

(Eagle, ID) - February 12, 2013
Ordered for my husband as he's always putting his stuff in my bag...urr...anyway, I opened it up and so far it looks great; just big enough to throw in an extra pair of clothes; a jacket and his shaving kit for a night away from home. We do a lot of exploring and spend frequent nights away from home; this should be great for him.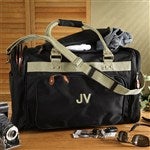 SO. HAPPY!!!'
By
Shopper

(Pacific Grove, CA) - November 21, 2012
I was roaming around Amazon looking for Sport Bags.All of a sudden I was redirected to this website. Wow! So glad I was! The order process was spot on, fast delivery, and a very nice product.The only thing i would improve would be the shoulder strap. But it really deserves 5 Stars!!! I'll be back!!!! P.S. Price was right too!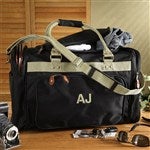 My brother loves it!
By
Pelumi A.

(bronx, NY) - November 18, 2012 (
See all reviews by this customer
)
This is one special gift for a gym, workout, sports fanatic. My brother has track practice six days out of the week. With his special bag, he stand out from the rest of his team-mates and most especially no confusion on whose bag is whose because it has his initials on it. Baam!! Problem solved lol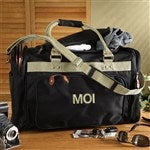 Birthday present for my son.
By
Shopper

(Ironton, OH) - August 4, 2012
When the bag arrived I was really surprised how big it was. Very attractive. I checked all the zippers and they seemed to be working fine. It will not be used until next month because it is a birthday present. I am very satisfied with this purchase, I can hardly wait to give this to my son. He may get this a little early.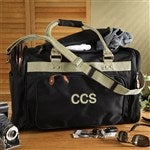 weekend bag for Fathers day
By
Shopper

(Gulf Breeze, FL) - June 25, 2012
Nice roomy bag. Came quickly. The initials were stitched into the fabric, not printed on which was nice.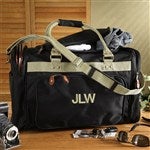 Deluxe Weekender Dufffel Bag
By
Shopper

(Highland Park, , IL) - June 5, 2012
The bag was delivered very quickly and the recipient was thrilled with the gift. However, some of the people who reviewed this bag were not happy with the quality, so I'm waiting to see if this bag holds up.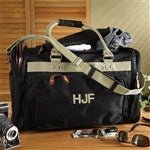 Very nice bag
By
Shopper

(Port Allen, LA) - April 16, 2012
Just received today and one of the zippers was defective. I called customer service and they said that they would send another bag right away. Wow! Excellent customer service!! It's a very nice bag and perfect for a weekend getaway or a carry on.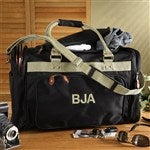 WEEKENDER DUFFEL
By
Shopper

(Greenfield, WI) - February 21, 2012
Bought 2 of these duffels. Very nice duffel bags for my 2 grandsons (teens) for their birthdays. Only thing I wish was that the main zipper was a little stronger, but very nice for the price. Picture is exactly how it looks. Very nice personalization.

He loved it!
By
Shopper

(rocky hill, CT) - February 19, 2012
I purchased this bag for my boyfriend for valentines day and he loved it! Quality is great! He was impressed with the personalization. My only complaint is it smelled like plastic/gasoline...not sure if I got a bad one or if this is due to the material used. I didn't have a lot if time to air out dining as to give it that way :(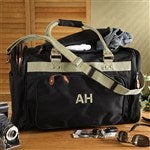 Nice gym bag
By
Shopper

(Avon, OH) - February 17, 2012
I bought this as a Valentine's gift for my boyfriend who was in need of a new bag for the gym. It is a sturdy bag but the handles and zippers feel a little on the cheap side. So I hope it lasts a long time - we will see. But he did love the bag and was thrilled with the monogram... so I was happy.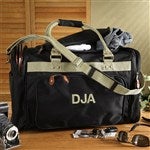 Very Pleased dispite returned item.
By
laura L.

(salem , MA) - January 9, 2012 (
See all reviews by this customer
)
First time customer . Ordered 6 Duffel Bags,(all monogrammed) delivered as promised, one arrived with a defunked zipper. Called the next day, they immediately began the process to replace and ship out new one. Fast and courteous service in all depts. Will definitely order more from this co.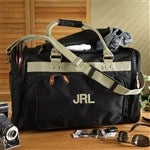 Great bag
By
Shopper

(Carlsbad, CA) - December 31, 2011
Really is a weekend bag! Great for a grad gift for coming home for a quick trip! Quality looks and feels good!

Great, roomy bag!
By
Angel O.

(Lincoln, NE) - September 12, 2011 (
See all reviews by this customer
)
Just got this so can't speak for longivity but it appears to be a well made bag. It's very large and roomy with compartments on both sides for shoes. Love the black w/ taupe trim and personalization. Would definitely recommend to others.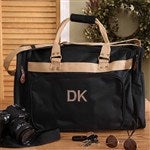 Great value
By
Shopper

(Florence, SC) - July 5, 2011
Great product which arrived on schedule. My husband loved the monograming. Perfect gift for a male.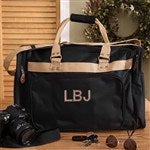 Love The Bag
By
Jean L.

(Noblesville, IN) - July 1, 2011 (
See all reviews by this customer
)
We had a trip we had to go on. The bag came in time for my husband to enjoy. It ended up to big enough to hold mine and his clothes for the two day trip we made. The craftsmanship is well done. I love the monogram on the front. It makes it more personal. I would recommend anyone should buy it if they are looking for a big enough bag to hold all your belongings for a three day trip. It is amazing and so many roomy pockets.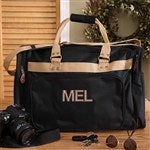 Just what I hoped for Father's Day
By
Lisa J.

(Beaverton, OR) - June 23, 2011 (
See all reviews by this customer
)
The bag was good quality, pretty simple, but he doesn't need a lot of flash. It is a good size for overnight travel. Thank you!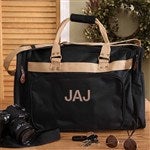 Twins 21st Birthday
By
Robin S.

(Albany, NY) - May 31, 2011 (
See all reviews by this customer
)
Having no children myself, I didn't know what to get as gifts for my friend's son and daughter, who are twins, for their 21st birthday. After hours of searching for ideas, among other sites, I came across Personalization Mall. Still unsure of what to buy, I did know that I wanted to purchase from Personalization Mall. End result...Deluxe Weekender Monogram Duffel Bag for both of them.

But I am also picky when it comes to gift giving. And although the bag looks nice in the picture, I was still leery of what I would receive and unsure if the twins would like their gifts.

Anyway, I placed my order on Tuesday, Wednesday it was shipped and I received it on Friday. I was pleasantly surprised too! The bag is large and has plenty of room. The monogram is VERY nice and quite frankly, IT IS what makes the bag!

Bottom line is...the twins both loved them! So now I will be purchasing more as gifts for future birthday's and even Christmas.

Thank you so much Personalization Mall!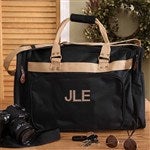 Great gift to use for business or pleasure
By
Barbara S.

(Westwood, NJ) - May 29, 2011 (
See all reviews by this customer
)
I was very pleased when I received the personally monogrammed bags I ordered recently. I purchased two for two of my sons to use when traveling to business and perhaps also use for an overnight stay. The various compartments are so practical and helpful in this smart-looking bag

Great idea
By
Shopper

(Woodbury, MN) - May 15, 2011
The duffle bag is great and was sent so quick.
The lettering color is a bit off of the trim color but acceptable.
Great idea, and having a great time filling it up! Thank you,

Good tote bag.
By
Melinda G.

(Groves, TX) - May 9, 2011 (
See all reviews by this customer
)
This bag has lots of storage and it is well made. Overall good bag!

Monogram Duffel Bag
By
M B.

(Kingman, AZ) - May 8, 2011 (
See all reviews by this customer
)
I received this monogram duffle bag as a gift. Not only were the letters embroidered, the quality of the bag is superb. Thanks for a durable and versatile bag. I will use this in the office, while traveling, and in the gym!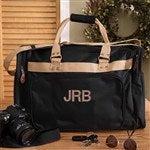 Good deal
By
Shopper

(Golden, CO) - April 11, 2011
I baught this as a gift for my boyfriend who has been traveling a lot for his job in the miltary. He loves it and so do I. It works perfect as a carry on for plane rides, or fits nicely under bus seats. When it first arrived i had to unzip all of the pockets and let it air out for a few days because it had a very strong oder. It aired out and was fine after that though. A very nice product for the price.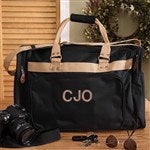 Decent product
By
Lauren B.

(Denton, TX) - February 11, 2011 (
See all reviews by this customer
)
After reading the previous reviews, I was confident about purchasing this bag for my fiance. If my fiance was pleased with the bag,we planned on getting it for his groomsmen as well. The bag shipped quickly and the embroidery was correct. In my opinion the bag is okay, but I definitely wouldn't buy it for the groomsmen (I would want to buy something that looks higher quality). My fiance has used it for a couple of trips now and it's held up well. He is impressed with all of the pockets and leather pulls. All in all, it's a good bag.

Very Nice
By
Marlene B.

(Greensburg, PA) - December 13, 2010 (
See all reviews by this customer
)
This looks like a very well constructed bag. The monogram is done well. There are some zippered compartments for organized storage. I didn't give it 5 stars because the main zippered area was often stuck due to the bulging seam near the zipper.

Best X-mas Gift
By
Tyisha G.

(Philadelphia, PA) - December 11, 2010 (
See all reviews by this customer
)
I'd been looking all over the internet for the perfect christmas gift for my father. Then suddenly I came across this website & found the weekender bag. So I just have to say the price along with free personalization made this a one of a kind gift for my father.

Great quality
By
Kristin M.

(Charlotte, NC) - September 9, 2010 (
See all reviews by this customer
)
The bag was great quality and looks just like the picture. I got an "M" in my monogram that had a few extra sewn in pieces on the right side part. It was a quick fix to just cut them out though! I would recommend this to a friend.

Nice Groomsman Gifts
By
Kelly B.

(Bolingbrook, IL) - July 27, 2010 (
See all reviews by this customer
)
Great gift at a great price!

Perfect Timing
By
Karen C.

(Tamarac, FL) - June 23, 2010 (
See all reviews by this customer
)
I purchased this for a friend for his 26th b-day. It shipped to his home within 3 days so the delivery was faster than expected. He called to thank me and said that its something he really needed. He said within the past year, he has gone through two duffel bags because of poor quality; however, this one seemed perfect. He also mentioned the size was great (ideal for airplane compartment) and he would be using it next week for a business trip to Pheonix for 4 days. I am so happy I purchased this as a gift since he was very pleased!.

Great for Weekend Trips
By
Joseph R.

(Walkersville, MD) - June 21, 2010 (
See all reviews by this customer
)
The bag arrived within excellent timeframes, and is a great sixe for an overnight or weekend trip-the extra pockets (2 zippered on each end, along with 2 open on each end) were extremely beneficial for last minute items. The bag seems to be durable.

Impressive
By
Paula K.

(Orlando, FL) - May 10, 2010 (
See all reviews by this customer
)
Was very happy with the monogrammed bag. Intend to purchase this again for graduation gifts. Impressed with the prompt delivery. Thank you. Paula K.







Hopefully as good as it looks
By
Margaret L.

(Myrtle Beach, SC) - January 2, 2010 (
See all reviews by this customer
)
I bought this for our son who travels home/ to friends every weekend. He loved the size, color, momogram - everything about it. My husband and other son have requested one also,so I am waiting to see how durable it is and then will order two more.
I also like the idea of the idea as a grooms' gift.
If this bag works out well, I will be buying the shaving kit as well for birthdays and/ or next Christmas. I espcially like the monograming on all your products.

Deluxe Weekender
By
Martha B.

(Bryan, TX) - November 30, 2009 (
See all reviews by this customer
)
These were given as gifts. They looked great
but we they have not been utilized yet. We
were pleased with the shipping time though.

Graduation gift
By
Vickie J.

(Mechanicsville, VA) - October 8, 2009 (
See all reviews by this customer
)
This was a graduation gift for a young man. He has already used it and will use it quite often on weekend trips home.