Fun (and Practical)
By
Josephine F.

(Stephens City, VA) - May 9, 2014 (
See all reviews by this customer
)
I got one of these for my mother and one of these for my mother-in-law. They both are on-the-go all the time, and are all the time breaking their tote bags because they get used so frequently. These tote bags are super durable and they loved having all of their children's and grandchildren's names on them!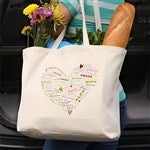 What you see is what you get
By
Rudy H.

(Triangle, VA) - March 11, 2014 (
See all reviews by this customer
)
its a decent size & the printing looks nice, i just wish it was bit bigger & on both sides.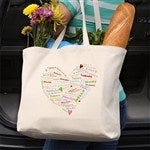 Cute Gift for teachers friends
By
Amanda S.

(Coraopolis, PA) - December 17, 2013 (
See all reviews by this customer
)
This tote is a great gift for your friends or teacher, it is lightweight and practical for everyday use. It is a bit flimsier than I had hoped but I would recommend!

Really cute tote
By
Shopper

(Morgan Hill, CA) - December 15, 2013
This tote is useful and cute! The canvas seems like it will hold up for a long time. The only thing that I was a little disappointed in was that the colors were more muted than the picture showed.

Nice tote
By
Shopper

(Holmen, WI) - December 10, 2013
This is what I expected when I ordered it. Nothing spectacular but a nice tote.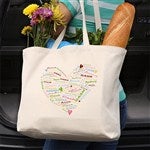 Perfect gift for Grandma
By
Susana R.

(San Diego, CA) - May 15, 2013 (
See all reviews by this customer
)
I really loved this tote! It was the perfect gift for my mom. It included all of her grand kids names and the different fonts and colors really gave it that special touch.

gift for daughter
By
Shopper

(sanford, FL) - December 28, 2012
bought this to give my daughter for christmas as the one she carried back and forth to work was very small for all she carried, she loved it. only thing i think would have made it better is if it was printed on both sides, then it would be perfect.great job!!

Great gift
By
Katie P.

(Manassas, VA) - May 22, 2012 (
See all reviews by this customer
)
This was a great gift for mother's day. I did it for my grandmother with all the grandkids names.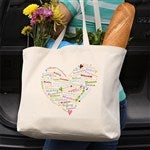 Nice gift
By
Lora P.

(Chino Hills, CA) - May 18, 2012 (
See all reviews by this customer
)
I really liked this bag and that you can put so many names on it. I put in 6 of the 8 names allowed but some of the same names were right next to each other. That is the only reason I didn't give this bag a 5 star review.

Heartfelt
By
Eleanor M.

(New York, NY) - May 14, 2012 (
See all reviews by this customer
)
The recipient of this tote was delighted to see the names of all her children and grandchildren attractively displayed. It was a great Mother's Day gift and would make a great gift for any special occasion.

Great Shopping/Beach Bag
By
Shopper

(Stowe, VT) - April 23, 2012
The bag is made of a sturdy canvas and the personalization came out very clear and tasteful. The only drawback, and why I rated it 4 stars versus 5, is that an inside pocket or 2 would be helpful. Overall a great large personalized bag.

Great product, great service!
By
Shopper

(Mission Viejo, CA) - September 25, 2011
The product was great quality and looked exactly how they said it would! Fast and great service! We only wish we had a little more choice in colors, but overall we love our new product!

Extremely fast delivery!
By
Trude Y.

(Franklin, TN) - August 1, 2011 (
See all reviews by this customer
)
Liked the quality and the delivery time was sensational! Since this was an anniversary gift from fellow workers, it worked out great that all of our names fit on the bag. We loved that it would be a useful item as well as humorous.

GREAT GIFT FOR SISTER
By
Shopper

(Sainte Genevieve, MO) - July 18, 2011
Love the personalized gift. Great gift for my sister!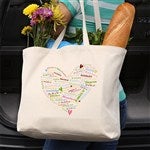 New Addition
By
Shawn Y.

(Laredo, TX) - July 8, 2011 (
See all reviews by this customer
)
I ordered this for my mother after her 8th grandchild was born. The heart is so colorful with all of her grandchildren's names shaping the heart. She carries a tote bag along with her when traveling by car and I thought this would be extra special to her.

The product is very nice. If I would change one thing, it would be to add a zipper so the bag can be closed if you choose.



Love it!
By
Kelly L.

(Monroe, NC) - May 27, 2011 (
See all reviews by this customer
)
I got this tote bag for my mother-in-law for her birthday. She loved it, it was exactly what I was looking for.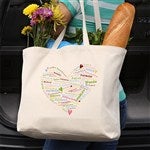 Cute gesture
By
Jenna W.

(Hampton, VA) - May 24, 2011 (
See all reviews by this customer
)
I bought this tote for my mom on mother's day. Not only did she love the idea of all the people she loves names on one bag but so did my whole family. It was nice to include them in my gift as well. The material is pretty strong. I was pleased with my purchase.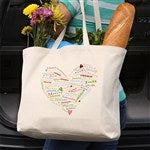 Cute and practical
By
Shopper

(Brookfield, WI) - May 17, 2011
This bag turned out better than I expected. It's very good quality and the heart names turned out beautifully.

not as cute as the picture
By
Shopper

(norwalk, OH) - May 7, 2011
Don't get me wrong i think my mother in law will love this, it is just darker fabric that you actually get. Also i really wish the straps were more heavy duty, i am sure if they were it would be able to hold more things and be more useful. The design is really cute though.