unique
By
gloria B.

(Morristown, NJ) - September 6, 2014 (
See all reviews by this customer
)
Love the frames because they are truly one of a kind gifts. The recipients also give rave reviews which makes me happy I chose this gift

Very Nice!
By
Jaquez A.

(Midland, TX) - August 4, 2014 (
See all reviews by this customer
)
It is very nice, I ordered it as a wedding gift for a couple. I love the tan color & the names on the frame turned out very nice & very visible. The only thing that I did not like was the fact that it had no glass in the frame, so the picture will be open in the front. The product also had a little scratch on the frame when I received it, not too bad or very visible, but it is still a scratch on it. Other than these things, it will turn out to be a nice gift."


Beautiful frame
By
Shopper

(ventura, CA) - July 5, 2014
Great frame. I paid extra for the box. Next time i won't. It had the company's name right across the top so that was the star of the box. Booo

great
By
Shopper

(HOUSTON, TX) - February 19, 2014
Love the frame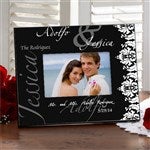 Personalized wedding frame
By
Shopper

(Erie, CO) - January 13, 2014
The personalization on the frame was done very nicely. My only complaint is that the frame had a small chip in the wood on the backside at the top. I still gave the frame as a gift, but the chip was definitely visible. The frame arrived within the timeframe they noted.

Great gift!
By
Shopper

(Valdosta, GA) - August 16, 2013
Great gift for newlyweds!! The bride loved it!!!

Perfect Gift
By
Shopper

(Orono, ME) - August 10, 2013
I was really impressed with the price and quality of this picture frame. We have used it as a gift for three weddings so far and it's always a huge hit. Our friends and family love getting personalized things for their wedding and I loved the fact that it didn't have to be super expensive. We will definitely be purchasing more in the future!

Just Lovely!!
By
maria M.

(levittown, NY) - August 6, 2013 (
See all reviews by this customer
)
This Frame was lovely! I am so excited to give this to the couple-I know they will be touched. The quality and style is just perfect. My only wish was if the color could have been a bit richer in the beige it would have looked even more impressive! OVERALL...4 star product!!!


Fast delivery
By
Shopper

(Waipahu, HI) - July 22, 2013
this was a nice wedding shower gift. the time we had to wait for delivery was very reasonable.

Perfect touch
By
Shopper

(Oakland, NJ) - June 4, 2013
I bought this for my son and his wife in black and white. She loved it. It is the perfect size,not too big and on the stand it is lovely in their living room curio. The gift box is not worth $6 but the canvas and stand are well worth the money.

Perfect Wedding Gift
By
Kavitha G.

(Lexington, MS) - April 15, 2013 (
See all reviews by this customer
)
This was perfect for my friend's wedding.

cute
By
melissa G.

(everman, TX) - April 8, 2013 (
See all reviews by this customer
)
It looks really cute and I like the idea of it being personalized

Best shower gift
By
Nancy M.

(Milledgeville, GA) - March 23, 2013 (
See all reviews by this customer
)
This picture frame is so personal for the new couple. It is a perfect size and of excellent quality. It's the best gift for a shower present.

Beautiful
By
Shelly L.

(New Palestine, IN) - February 3, 2013 (
See all reviews by this customer
)
Great quality! I'd love to receive a gift like this! The only thing I see room for improvement on is the spacing of first names at the very top of the frame. The couple we purchased the frame for both only have four characters in their name and it doesn't auto format to accommodate therefore there is weird spacing between the first persons name and the & symbol.

Predictably Pretty!
By
Deborah B.

(Moore, OK) - January 22, 2013 (
See all reviews by this customer
)
You can't go wrong purchasing this frame. It's a great combination of subtle and stark personlization on the white background.

Better in Person
By
Tim J.

(Mosinee, WI) - October 23, 2012 (
See all reviews by this customer
)
I bought this item for a wedding gift, when looking at the picture I was a little unsure how it would look. I didn't want it to look cheap. When I got this item in the mail It looks much better in person than it does in pictures. I would recommend this item!

Not 100% Personalization
By
Shopper

(Lusby, MD) - October 22, 2012
I ordered this as a wedding gift for my brother. We have a lot of Johns in our family so he goes by John Paul or JP. The nickname doesn't allow for 2 capital letters. I had to type it as J. P., minor I know but I/we prefer JP. Other than that it looked great.

Very nice frame
By
Shopper

(Hillsborough, NJ) - September 23, 2012
The is a very nice frame, just wish you could eliminate certain fields during the personalization process. I couldn't find a frame that could be personalized 100%.

classy
By
Jamie O.

(Elmont, NY) - August 11, 2012 (
See all reviews by this customer
)
great price, great quality, awesome personalization. i'm so impressed at personalization.com. i've ordered sooo many things from them on so many different occasions and theyve never made an error with name spelling or anything :)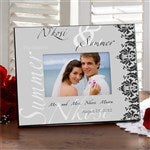 Loved the picture frame
By
Nancy S.

(corning, NY) - August 2, 2012 (
See all reviews by this customer
)
I orderd this frame twice and each time it came out beautiful! I gave as a wedding gift and as a aniversery gift. I love the fact you can personalize the frame to fit any event. The price is great and the shipping is fast. I am sure I will need another one somtime and will order again..

Great gift
By
Susan H.

(Gillette, WY) - August 1, 2012 (
See all reviews by this customer
)
I gave this personalized wedding couple picture frame for a wedding gift. I was very pleased with how it turned out and the couple loved this frame!! I have not been disappointed with any purchase from Personalization Mall. They are great!!!

Pretty good product
By
Shopper

(Sacramento, CA) - June 21, 2012
This product was really cool and creative, like nothing I had seen before. I was a bit disappointed with the quality of the frame. I thought it was going to be more sturdy (for instance heavier and thicker, maybe a different material). But for the price it was a good product and the bride (my BFF) really liked it!

lovely gift item
By
Shopper

(Bergenfield, NJ) - June 18, 2012
this frame is very attractive in the black and white. The different lettering is done beautifully. I gave it as a engagement present and they loved it. It seems like a quality item.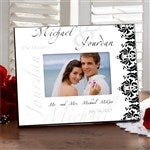 really unique gift
By
Shopper

(Toulon, IL) - May 9, 2012
a really unique gift idea, the frame was absolutely gorgeous & the happy couple adored it... thought it would be a little bigger than it was when it arrived, but again, it really is a great, unique gift idea AND it arrived in like 2 days, that doesn't happen any more - loved the quick ship!

Nice Gift
By
Gloria S.

(Levittown, NY) - May 7, 2012 (
See all reviews by this customer
)
This is a very nice frame to give as a gift. However, the only problem I encountered with it is that the insert should be padded better because it is loose when you open the box and everything pops right out. I nearly broke the glass when I went to check it and had to tie everything together so the recipient could open it safely. I suggest they use corrugated cardboard for the insert instead of flat cardboard.

Almost perfect
By
Shopper

(Newton, NJ) - May 7, 2012
It is a beautiful frame but there was a thin part of the "M" in Micheal that never made it on the frame leaving a little space that can really only be seen up close but other then that it was great!

wedding frame
By
Shopper

(cincinnati, OH) - May 5, 2012
I bought three different wedding couple frames, two pictures seem to fit wonderfully but one frame backing seem to be a bit loose fitting, but the picture seem to stay in place so we kept it. All three frames came with the correct spelling, perfect handwriting and fast delivery. I thought i needed to print on a 5 by 7 picture but i must not read it took a reg. size print, so i spent more on the bigger pic than necessary. What i wish to maybe would be a great feature if you could take a picture from your computer insert it in the different color of frames for a preview so you know which picture would like the best in what frames. Download pictures and be able to have a preview picture in all of your different frames to pick which would be the most fit. I've bought many things from this website, enjoyed each one of them so far. Thank you.

Too shiny!
By
Shopper

(St Peters, MO) - May 4, 2012
Was pleased with frame.... Buy was not happy about the shiny finish on frame... Other than it turned out great!!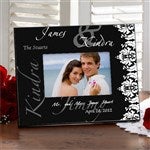 Lovely remembrance
By
linda V.

(andover, MA) - May 4, 2012 (
See all reviews by this customer
)
I found this frame intending to send it to my girlfriend as a remembrance of her daughter's beautiful wedding. I ordered it the day after the wedding and had it sent directly to her. She received it by the end of the week and called me absolutely loving it. It is such a special keepsake and beautifully made. I'm keeping this in my memory bank for when I'd like to send a little something again. You won't be sorry.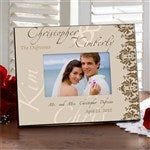 my new go-to gift!
By
carmen C.

(broussard, LA) - May 1, 2012 (
See all reviews by this customer
)
love! only wish someone got me one when i got married! i love how there are several color options- i try to coordinate the frame with the color theme of the wedding! slightly annoyed that i keep receiving coupon codes for the frames AFTER i buy them:(

Classy and Elegant
By
Shopper

(Alexandria, VA) - April 24, 2012
I ordered this frame for an engagement gift and was very pleased. The quality was excellent and it is even more beautiful on person than it looks online. The couple loved it!

Wedding Couple
By
Shopper

(Middletown, MD) - April 13, 2012
The newlyweds are going to be thrilled with this gift!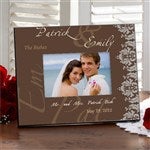 Pleased
By
Gena T.

(Dearborn, MI) - April 9, 2012 (
See all reviews by this customer
)
Good product for the price (I git it on sale)

Sweet Frame
By
Shopper

(Mineral Point, WI) - March 10, 2012
This frame was my sister's bridal shower show stopper! All the women loved it. Truly a unique gift.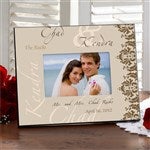 A good item; just one observation!
By
Shopper

(Brooklyn, NY) - March 2, 2012
I reviewed this the last time; I still find a problem with the font that you use for the capital M. It seems to be broken and could be improved greatly. It just so happens that I had people to buy this for whose name begins with M-- both times! Otherwise, it is a lovely gift.

thanks.

Beautiful
By
Melissa F.

(Otsego, MN) - February 23, 2012 (
See all reviews by this customer
)
Another great gift! I seem to only give personalizationmall.com frames to people for their weddings, they make such great gifts. This one is no different, beautiful especially with the variety of color choices. The only downside is that I ordered the steal blue color and the white script on it was rather light and a little harder to see. But the recipient loved it and will treasure it.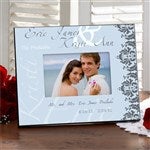 Happy Bride-to-Be
By
Laurie Ann A.

(Cedar Park, TX) - January 23, 2012 (
See all reviews by this customer
)
Bought this for my brother and his fiance and she absolutely fell in love with it. I was pleased with the quality and shipping was quick.


Nice item
By
Shopper

(Northville, MI) - December 20, 2011
I ordered gray, but it looks lavendar. Luckily the couple receiving it won't mind. The spacing seems a little off on the top two names also. Otherwise it's a great gift and I think the recipients will really like it. Love the lace detail on the right edge.

Looks great
By
Shayna R.

(Houston, TX) - December 9, 2011 (
See all reviews by this customer
)
This product looks really good and like it cost way more than it does.
I've ordered gifts from personalizationmall many times and I haven't been let down yet. I gave it 4 stars only because this frame had several spots of glue on it which easily came off but a pain to have to 'clean' a gift.

pretty frame!
By
Joanna F.

(Boardman, OH) - November 1, 2011 (
See all reviews by this customer
)
Frame is very nice and looks exactly how it does in the picture!